Why Are Sewing Machines Loud and 6 Easy Fixes You Can Try!
Noise from sewing machines can be quite bothersome, particularly when working in your home. Whether you're in a fabric store or an industrial setting, the sound of an operating sewing machine can be distracting. But why are they so loud?
Sewing machines generate noise due to a combination of factors such as poor lubrication, lint build-up, out-of-balance surfaces, and incorrect upper threading. High speeds of the needle, feed dog, bobbin, and motor also contribute to the noise level.
To reduce the noise from your sewing machine it is important to maintain it regularly with oiling and cleaning up lint. Make sure that it is placed on an even surface to avoid vibrations that can make them louder. Additionally, some sewing machines are designed to be louder so they can be heard over other machinery noise.
How Much Noise Does a Sewing Machine Make?
To illustrate the differences in sound levels, here is a comparative chart of various vehicles and engines to an ordinary sewing machine:
| Source | Noise Level (dB) |
| --- | --- |
| Sewing Machine | 60-90 |
| Passenger Car | 70-80 |
| Motorcycle | 80-90 |
| Diesel Truck | 85-90 |
| Jet Engine | 120-140 |
Prolonged exposure to noise levels above 85 dB can cause permanent hearing damage, and the Occupational Safety and Health Administration (OSHA) has established a maximum allowable limit of 85dB over an 8-hour period.
On the other hand, any sound level higher than 140dB will immediately result in hearing loss.
5 Reasons Why Your Sewing Machine Is So Loud
These are the main reasons why sewing machines can be so noisy.
1. Poor Lubrication
One possible cause of a noisy sewing machine is poor lubrication. When sewing machines aren't regularly oiled, their moving parts start to grind against each other, creating noise as well as potentially damaging the machinery. This can be prevented by regularly oiling the machine and ensuring that it is properly taken care of.
2. Lint Build Up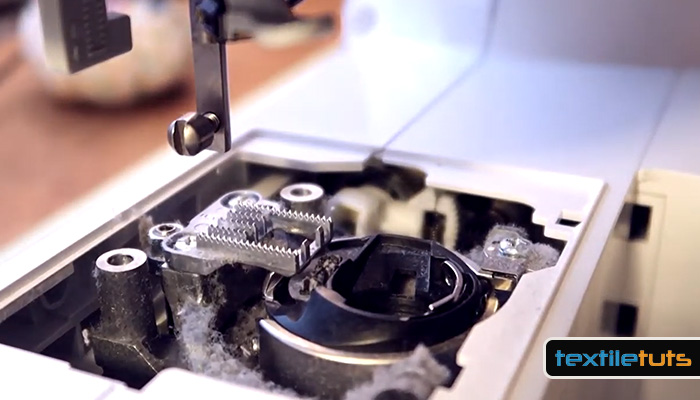 Another potential cause of loud sewing machines is lint build up in the rotary hook area. As fabric passes through the machine, small pieces of lint become trapped in the moving parts, which then leads to excess friction and thus more noise. Regularly cleaning out the rotary hook area with compressed air or a vacuum will help reduce this issue.
3. Incorrect Threading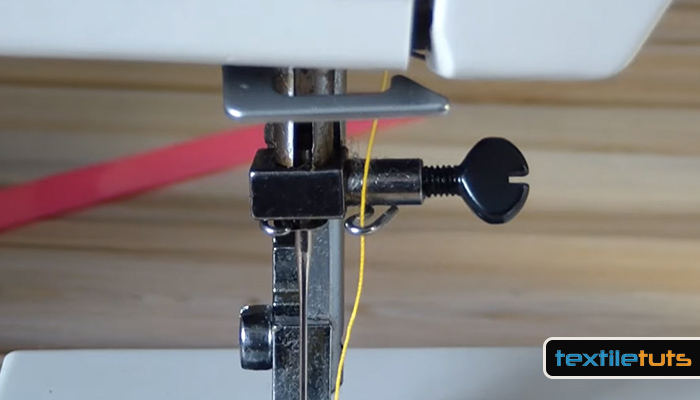 If your upper threading or tension is incorrect on your sewing machine, it will cause excessive noise when running at high speeds. This is due to an unequal amount of tension being applied to the fabric and thus causing additional vibrations which create more sound. It's important to make sure that you thread your machine correctly every time you use it.
4. Vibration Caused By Surface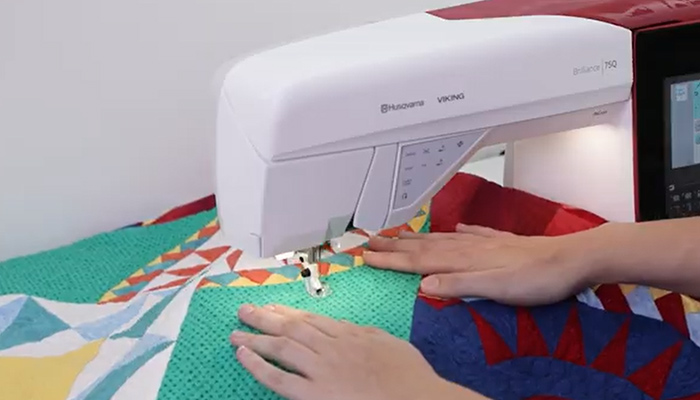 The surface that your sewing machine is placed on can also affect its noise levels. If there isn't adequate balance or evenness on the surface then it will create extra vibrations when running at high speeds which causes louder noise production from the machine itself. To avoid this issue make sure that you place your sewing machine on an even and stable surface such as a table or countertop.
5. Noise From Internal Parts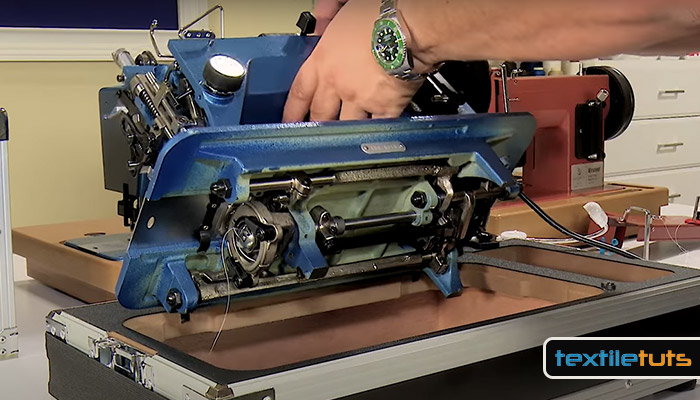 The internal parts such as needles, feed dog, bobbin, and motor of a sewing machine all produce some level of noise when running at high speeds. This excess sound production makes it more difficult for people working in loud environments such as industrial settings to hear their machines over other machinery operating around them.
Additionally, some models are designed with louder motors specifically so they can be heard over other nearby noises.
6 Easy Fixes You Can Try to Reduce Sewing Machine Noise
Noise from sewing machines can be a frustrating distraction, especially when trying to perform other tasks that require concentration. Fortunately, there are a few simple steps you can take to reduce the noise and make your workspace more productive.
1. Level and Sturdy Surface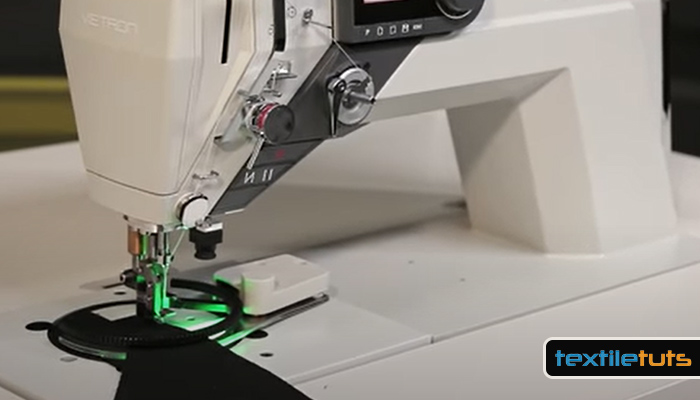 Not having an even surface will cause the sewing machine to vibrate more and make more noise. Take the time to ensure your machine is firmly secured on a level surface.
2. Use Soundproofing or Vibration Pads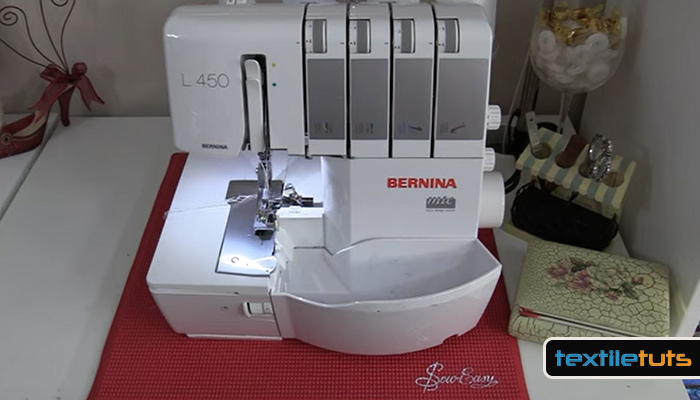 Using soundproofing or vibration pads beneath or around the sewing machine can absorb some of the sound that is emitted when in use. This is especially helpful if multiple people are occupying the same space.
3. Identify Source of Noise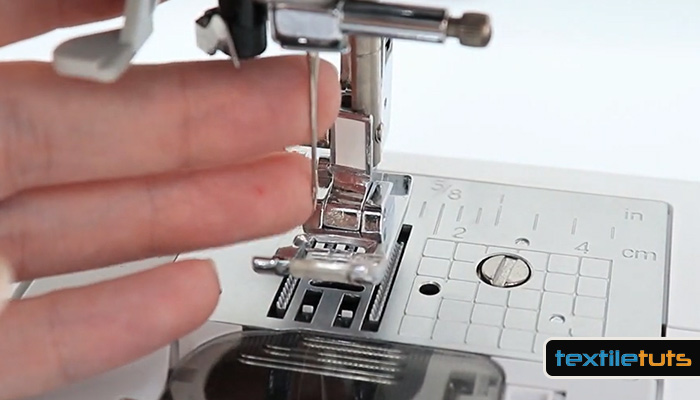 Sometimes, a strange noise coming from your sewing machine may be caused by something as simple as needing to change needles or lubricating components. Make sure you regularly inspect your machine and its components for any potential issues.
4. Regular Maintenance
Performing regular maintenance on your sewing machine helps it run smoothly without making too much noise. This includes replacing needles every 8 hours, removing lint with compressed air, cleaning all parts using recommended lubricants and servicing it regularly according to manufacturer instructions.
5. Invest in Thicker Table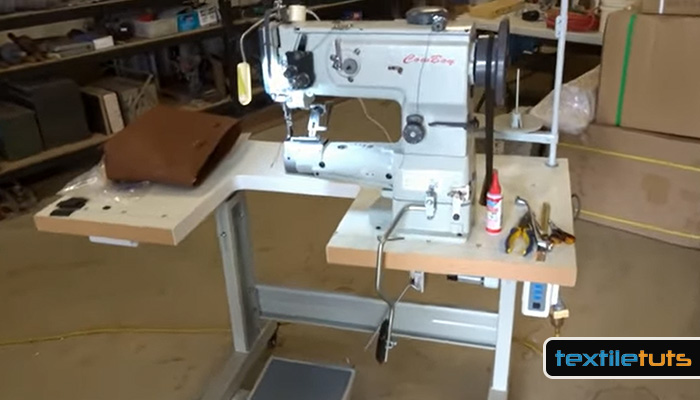 An additional way to reduce echoes when using your machine is by investing in a thicker sewing table. The thickness of the table will act as an insulator against vibrations and help reduce any unwanted noise.
6. Decrease Speed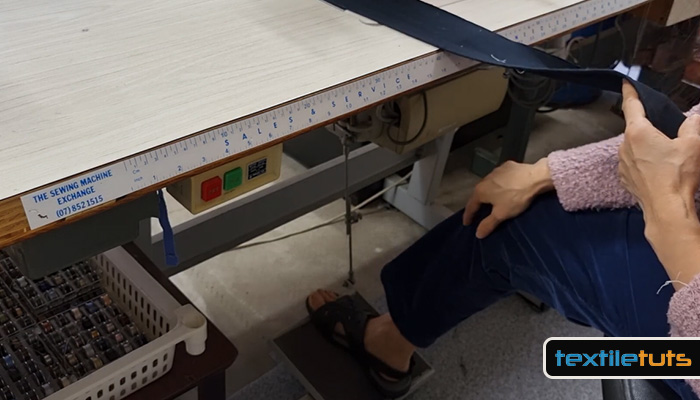 When possible, try decreasing speed while using your machine by pressing midway on the foot pedal rather than full speed. This will create less strain on the motor and thus lead to less noise output.
Are Industrial Sewing Machines Louder Than Domestic Ones?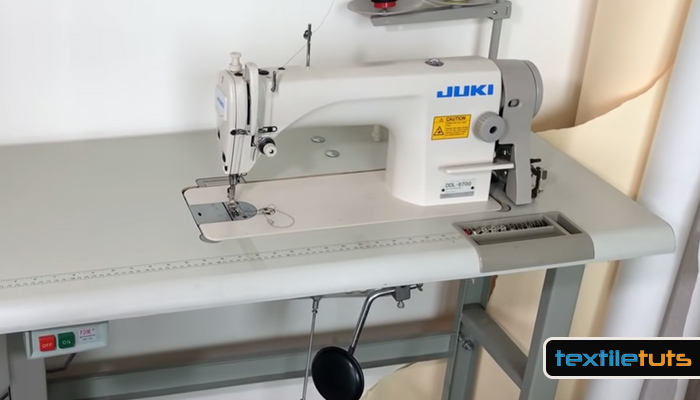 Unfortunately, the answer isn't that simple. Because you have to first consider whether the industrial sewing machine is of an older make or newer. Older heavy-duty industrial sewing machines are notorious for their high noise production on the sewing floor.
But the newer computerized ones make way less noise. Some of them are a lot quieter than your domestic ones.
Then again, you may hear loud noises emitting from that area. In this instance, the noise isn't generated by the sewing machine itself. Maybe the placement of the machine is wrong! Or there might be some other underlying causes.
The sewing machine manufacturers, including Singer, Brother, Janome, and Juki, are putting special emphasis to make their industrial sewing machines quieter. Why? Organizations that work with worker safety (including OSHA) are putting more and more effort to make the sewing floor less noisy since most factories maintain an 8-hour shift.
Which Type of Sewing Machine Noise Should Alert You?
Knowing which type of sewing machine noise should alert you can help you keep your machine in good condition. When it comes to sewing machines, any sudden or unusual noises should be taken seriously and addressed as soon as possible.
1. Grinding or Squeaking Noises
Grinding or squeaking noises are a sign that something may be wrong with the moving parts of the machine, such as the motor, gears, bearings, or bobbin. If not addressed quickly, this could lead to increased wear and tear on the machine and require future repairs. If the noise is coming due to your sewing machine jamming underneath, then you follow the tips we have discussed in the linked post.
It is best to take your machine to a professional for diagnosis if these types of noises occur.
2. Clicking or Knocking Sounds
A clicking or knocking sound coming from your sewing machine could be an indication that something is loose or misaligned internally. This misalignment can cause the stitches to become uneven and possibly even skip stitches altogether. If left unchecked, this could lead to further damage so it's important to address this issue quickly.
3. Whirring or Buzzing Sounds
While whirring and buzzing sounds are generally normal for a sewing machine, if they become much louder than usual then it could be a sign that something is wrong with the motor or other internal components. It's best to have a professional check out your sewing machine if this happens.
Is Juki Sewing Machine Noisy?
Many people wonder about the noise level of Juki sewing machines. The features of juki sewing machines vary depending on the model, but overall, they are known for their durability, excellent stitch quality, and advanced technology.
While some users may find them a bit noisy, others appreciate the powerful motor and smooth operation. It's important to consider your personal preferences and sewing needs when choosing a Juki sewing machine.
Conclusion
Sewing machines can be quite loud due to poor lubrication, lint build-up, incorrect threading and out-of-balance surfaces. Many simple fixes such as soundproofing/vibration pads, maintaining and cleaning the machine, and investing in a thicker table are effective ways to reduce noise levels.
Industrial machines may be louder than domestic ones but newer models have been designed to minimize sound.
All in all, it is important to pay attention to the causes of loudness in order to prevent any permanent hearing damage that could be caused by long-term exposure.