Does Yellow Shea Butter Stain Clothes?
Shea butter remains one of the undisputed favorites for skin care. With its intensely pigmented color, it's understandable to be concerned about potential staining, but does yellow shea butter leave marks on clothes?
Yes, clothes can get stained by yellow shea butter. The natural plant-based shea butter is extracted from the nuts of shea trees and is often used in cosmetics and skin care products due to its moisturizing qualities. However, its rich, yellowish color derived from the natural nutrients, fats, and oils in the butter can potentially stain fabrics.
This blog post will explore the factors that affect Shea Butter's potential to stain clothes. I will also provide tips and recommendations on how to prevent yellow shea butter stains on clothes and how to remove them if they occur.
Can Clothes Get Stained by Yellow Shea Butter?
Shea butter is a natural fat extracted from the nuts of the shea tree and is often used in skincare and cosmetic products for its moisturizing and nourishing properties. However, like many oils and fats, shea butter can stain fabrics.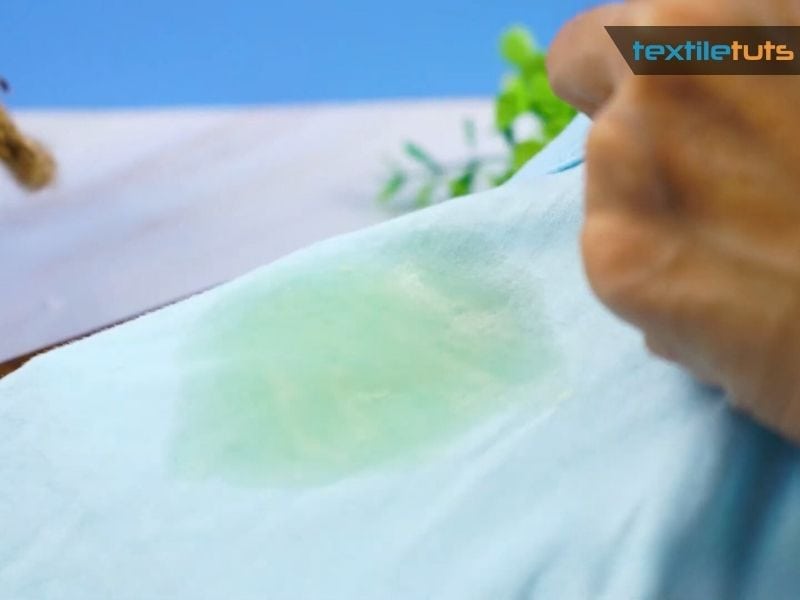 Yellow Shea Butter contains natural oils and pigments that can transfer onto fabrics and cause discoloration or staining. If it comes into contact with clothing, it might leave a greasy stain that can be difficult to remove.
The intensity of the stain will depend on the type of fabric, the amount of shea butter involved, and how long it has been on the fabric before washing.
Delicate and lighter-colored fabrics are more prone to noticeable stains. Similarly, if a large amount of butter is smeared onto the clothes, it will leave a more visible stain.
Additionally, if the butter is not cleaned off promptly and allowed to be set into the fabric, it can be more challenging to remove.
To prevent staining, it's a good idea to be cautious when applying shea butter, especially if you're wearing delicate or light-colored fabrics.
Factors That Influence Shea Butter Stain
The likelihood and severity of a shea butter stain on clothing or fabrics can be influenced by several factors. Here are some factors that can affect how shea butter stains:
Type of Fabric
Different fabrics have varying absorbency levels and susceptibility to staining. Natural fibers like cotton, linen, and silk might absorb the oils more readily than synthetic fibers like polyester or nylon.
Color of Fabric
Light-colored fabrics are likelier to show stains than dark-colored fabrics. Yellow shea butter can leave noticeable stains on light or white fabrics.
Type of Shea Butter
Shea butter can come in different forms, including raw, refined, and mixed with other ingredients. Some variations might have a higher likelihood of staining due to differences in texture, oil content, and pigments.
Quality and Purity of the Shea Butter
High-quality, pure shea butter tends to stain less than lower-quality ones. Impure or low-quality shea butter often contains other oils or additives that might cause staining. Also, the unrefined African Shea butter is deep yellow, which is more staining than refined Shea butter, which is white.
The concentration of Fatty Acids
Shea butter contains various fatty acids, including oleic acid, stearic acid, linoleic acid, palmitic acid, and arachidic acid. Different concentrations of these fatty acids can influence how easily shea butter stains clothing. For instance, higher concentrations of oleic acid can cause more significant and harder-to-remove stains.
Amount Applied
The quantity of shea butter applied also affects the degree of staining. Using a large amount can result in a higher chance of staining, increasing the likelihood of the butter coming into contact with the fabric.
Rubbing and Absorption
Shea butter is preferentially designed to be absorbed by the skin. But if it is not rubbed in correctly and fully absorbed, it can quickly transfer onto clothing or fabric, resulting in a stain.
Temperature
Heat can make the stain worse. Warm or hot water can cause the shea butter to penetrate deeper into fabric fibers, making it more challenging to remove the stain.
Time
The longer a shea butter stain remains on the fabric before cleaning, the more the stain is likely to set and the harder it will be to remove.
Removing Stains: Quick Laundering Solutions
Removing shea butter stains from clothing can be challenging, but you can improve your chances of success with the right approach. Here's a quick laundering solution to help you remove shea butter stains: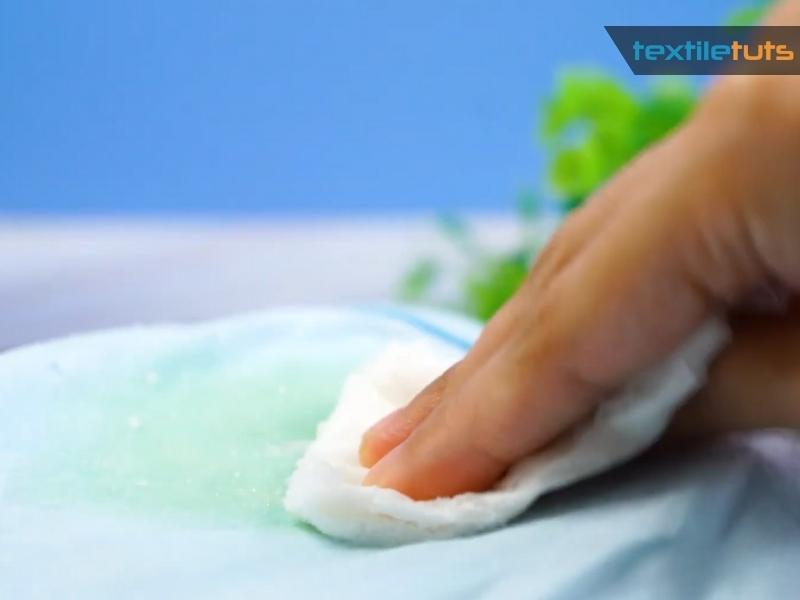 Materials Needed
Blot Excess Shea Butter
Start by gently blotting the excess shea butter from the stained area using a clean white cloth or paper towel. Avoid rubbing, as it can spread the stain.
Pre-Treat the Stain
Apply a small amount of liquid dish soap or laundry detergent to the stained area. Gently rub the fabric together to work in the soap or detergent. You can also use a commercial stain remover following the product's instructions.
Let It Sit
Allow the soap, detergent, or stain remover to sit on the stain for 10-15 minutes. This will help break down the oils in the shea butter.
Wash the Garment
Wash the stained garment in the washing machine using the warmest water temperature recommended for the fabric. Check the care label for specific washing instructions. Avoid using hot water, as it can set the stain.
Check Before Drying
After the wash cycle, check if the stain is completely removed. Do not dry the garment if the stain persists, as heat can set the stain. Repeat the pre-treatment and washing process if necessary.
Air Dry the Garment
Once the stain is entirely removed, you can safely air-dry the garment. Avoid using high heat settings on the dryer, as heat can set residual stains.
Inspect and Repeat (if needed)
After air drying, inspect the garment under good lighting to ensure the stain is completely gone. If any traces of the stain remain, repeat the pre-treatment and washing steps until the stain is gone.
Tips
Always test any stain removal method on an inconspicuous area of the fabric first to ensure it doesn't cause any adverse effects.
Act quickly to address the stain before it has a chance to set.
Avoid using hot water and high heat settings in the washer, as they can set the stain and make it more difficult to remove.
Consider taking the garment to a professional cleaner for particularly stubborn or large stains.
Preventing Shea Butter Stains: Best Practices
Preventing shea butter stains is a proactive approach that can save you time and effort in the long run. Here are some best practices to help you avoid butter shea stains on your clothing and fabrics:
Apply Shea Butter Carefully
When applying shea butter, do so with care. Use a small amount and ensure it is well-rubbed into your skin before contacting fabrics.
Use Lighter Products
If you're concerned about potential staining, consider using shea butter products that have been refined or have a lighter color. These might have a reduced likelihood of leaving noticeable stains.
Wear Dark-Colored Clothing
If you know you'll use shea butter, consider wearing darker-colored clothing. Dark fabrics are less likely to show stains than light ones.
Wait Before Dressing
Allow a few minutes for the shea butter to fully absorb into your skin before putting on clothes. This reduces the likelihood of transferring excess oils to your clothing.
Choose Synthetic Fabrics
Synthetic fabrics like polyester and nylon are less absorbent than natural fibers like cotton and silk. Opting for synthetic fabrics can reduce the chances of oil absorption.
Wash Hands After Application
After applying shea butter, thoroughly wash your hands to remove excess oil before touching your clothing.
Follow Garment Care Labels
Pay attention to the care labels on your clothing. Follow the recommended washing instructions to minimize the risk of damage while removing stains.
Be Cautious with Delicate Fabrics
Delicate fabrics like silk and satin are more susceptible to staining. Be extra cautious when using shea butter while wearing delicate garments.
Final Words
Yellow shea butter is a popular ingredient in various skincare products and is known for its many benefits. While it is a natural product, it can cause staining on clothes if not used appropriately.
Applying it sparingly and rubbing it well before putting on clothes is essential. Additionally, wearing darker clothing or clothing that is not easily stained when using yellow shea butter is recommended.
Taking these precautions can help prevent any unwanted stains and allow you to enjoy the benefits of this nourishing and moisturizing product without any adverse side effects.