Does Yellow Amoxicillin Stain Clothes? – Prescription Precautions
Amoxicillin is an antibiotic commonly used to treat bacterial infections such as bronchitis, pneumonia, and strep throat. One of the common concerns of patients who take amoxicillin is whether it can stain their clothes, mainly yellow amoxicillin.
Yes, liquid forms of amoxicillin, which are often a yellow-orange color, can stain clothes. If spilled, removing and washing the affected clothing immediately is suggested to help prevent a stain from setting. However, The capsules or tablets are unlikely to cause stains unless crushed or dissolved.
In this blog post, together, we will explore the factors that influence the likelihood of amoxicillin staining and what steps you can take to prevent it.
Can Yellow Amoxicillin Cause Stains on Clothing?
The yellow or orange variety of amoxicillin can potentially cause stains on clothing. This is due to the nature of the compound and its ability to adhere to fabrics.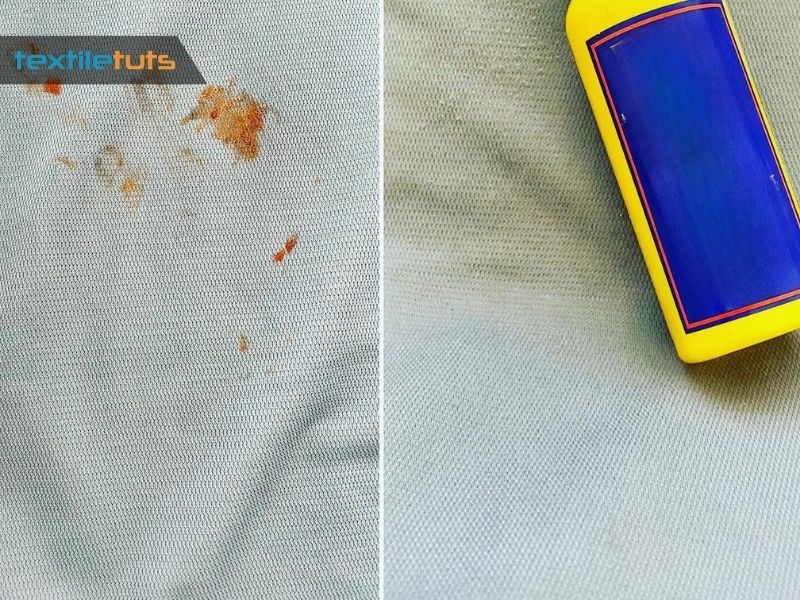 Amoxicillin is an antibiotic that belongs to the penicillin group of drugs. Some forms, especially the chewable tablets or suspension, can be yellow or orange due to the presence of dye.
If the liquid suspension or chewable tablet comes into contact with clothing, it can lead to stains. These stains may be difficult to remove, especially if they are not addressed promptly.
To prevent staining, taking precautions when administering amoxicillin is a good idea to avoid spills or contact with clothing. If a stain does occur, it's best to act quickly by rinsing the stained area with cold water and then treating it with a stain remover or detergent before laundering the clothing.
Also Read:
Factors Contributing to Clothing Stains
There are several factors contributing to clothing stains by Amoxicillin.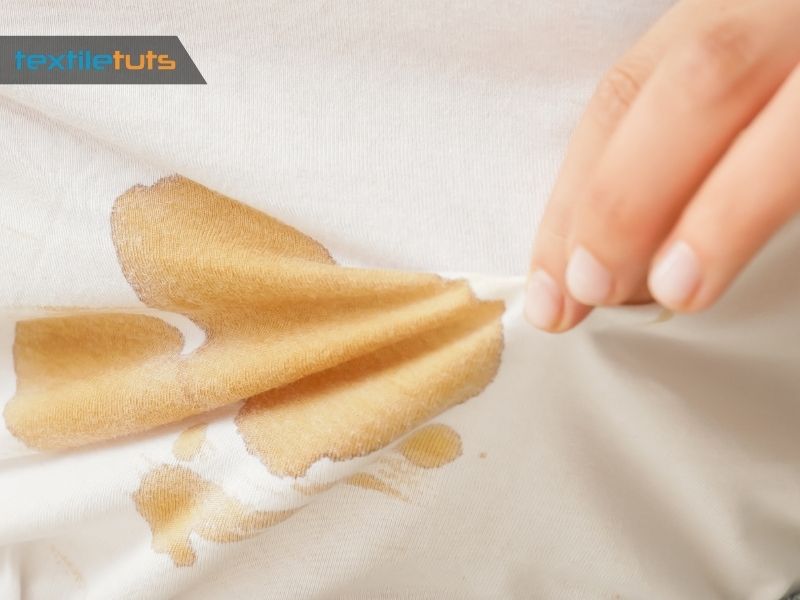 Type of Fabric
The fabric of the clothing often plays a role in stain intensity. Certain fabrics absorb dyes, spills, and leaks differently. For instance, synthetic fabrics like nylon and polyester have tighter weaves and repel stains better than natural fibers like cotton or silk due to their inability to absorb liquid well.
If you spill Amoxicillin on absorbent fabric, it may soak in and leave a more extreme stain.
Concentration of Amoxicillin
The concentration of the drug can significantly affect the degree of staining. Higher concentration levels can result in more robust and intense stains due to the higher content of pigments present in the suspension.
The Color of the Clothing
Light-colored clothing tends to show stains more prominently than darker fabrics. This is because the white or light-colored background provides an excellent contrast for the stain to stand out.
Presence of Other Substances
If Amoxicillin is mixed with other substances, like food or beverages, it can contribute to a more severe or different type of stain. Reinforcing agents such as dyes or other chemicals might modify the stain properties, making it more complicated to treat.
Drug Formulation
Amoxicillin comes in various forms including capsules, tablets, chewable tablets, and oral suspensions. Oral suspensions are likely to cause more visible stains due to their liquid nature and added colorants.
Immediate Action
The faster a stain is treated, the less likely it will stick to the fabric permanently. If Amoxicillin is spilled on clothing and not immediately washed off, it can set into the fabric fibers and lead to a stubborn stain that's difficult to remove.
Washing Practices
Incorrect washing practices can also reinforce stains. This may include using the wrong type of detergent, incorrect washing temperature, poor washing techniques, or drying the stained clothes in a dryer. All these practices can fix the stain on the fabric, making it challenging to remove.
How to Remove Stains Caused by Yellow Amoxicillin?
To remove stains caused by yellow amoxicillin from clothing, you can follow these steps: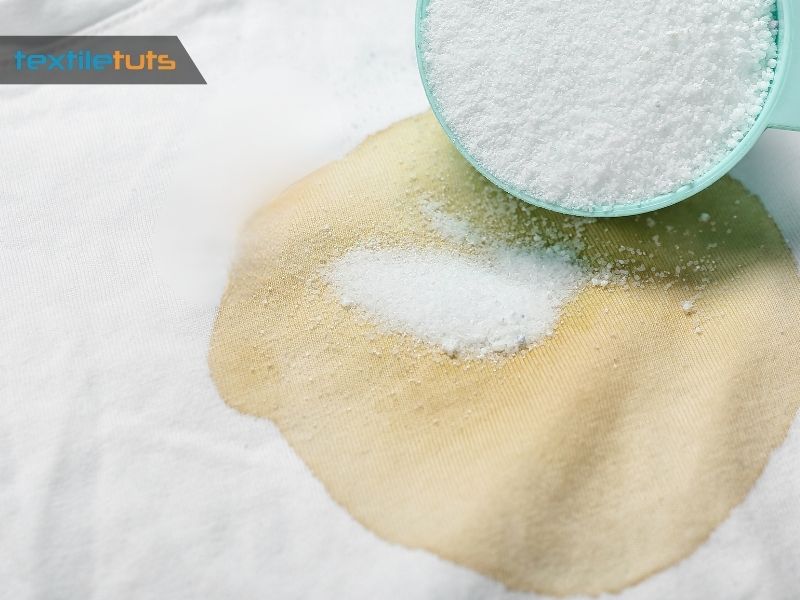 Act Fast
The first rule of thumb for almost every type of stain is to treat it as soon as possible. The longer the stain stays on the fabric, the tougher it gets to remove.
Remove Excess
If there's any remaining Amoxicillin on the fabric, gently scrape it off with a blunt knife or spoon. Make sure not to rub it in deeper into the fabric during this process.
Pre-treat the Stain
Dampen the area with cold water, then apply a pre-treatment solution. This could be a specific stain-removing product or even liquid laundry detergent. Gently rub it in.
Let it Sit
Allow the treatment solution to sit on the amoxicillin stain for up to 15 minutes. This helps the solution to penetrate into the fabric and break down the stain.
Rinse
After allowing the solution to sit on the stain, rinse it off with cold water. It is ideal to rinse from the back to push the stain out of the fabric rather from the front, avoiding pushing it further into the fabric.
Check the Stain
Before you proceed with washing, check to see if the stain is gone. If it's still there, you may want to repeat the pre-treatment again.
Wash
If the stain is gone or faded significantly, wash the item as usual. Use the warmest water safe for the fabric according to its care label.
Air Dry
After washing, don't dry the item in a dryer until you're sure the stain is completely gone, as high heat can set the stain in permanently. Instead, air-dry the fabric and then check it for any traces of stain.
Repeat the Steps
If the stain still persists, repeat the entire process. Sometimes it takes several treatments before a stain completely disappears.
How to Prevent Yellow Amoxicillin from Staining Clothes?
Preventing yellow amoxicillin from staining clothes involves careful administration and handling of the medication. Here are some steps you can take to prevent stains:
Be Careful While Taking Medication
This is the most basic rule. Try to take the medication carefully to avoid spilling it on your clothes. Put on an old shirt or cover your clothes with a towel or bib, especially when giving the medicine to children.
Use a Medicine Dropper/ Syringe
Using a medicine dropper or syringe can help control the amount of medication being dispensed, thus reducing the risk of spills. Give medication over a sink or other easily cleanable area, not over upholstered furniture or carpeting.
Wash Hands Properly
Make sure to thoroughly wash your hands after handling the medicine to prevent transferring any residual medication to your clothes. Also, make sure to clean the outside of containers and lids.
Use Protective Measures
Use a plastic or waterproof mat under the bottle of medicine during administration to catch any spills.
Prompt Cleanup
If the medication does get on fabrics, blot the stain immediately, do not rub it! As soon as possible, rinse the fabric with cold water and apply a pre-wash stain remover. Then, wash the fabric as soon as you can with laundry detergent. Do not use hot water as it can set the stain.
Check Labels
Always check the care instructions on your clothes. Some clothes are more prone to staining and need special care.
Store Medicine Properly
Store your medicine in a safe and secure place, away from your clothes and other things that it could possibly stain.
Conclusion
Yellow amoxicillin has the potential to stain clothes due to its chemical composition. However, it is possible to prevent or remove the stains with proper care. Wearing a protective bib or apron when administering the medication is recommended to avoid contact with clothes.
In case of accidental spills or stains, immediate action should be taken to remove the stains using household remedies. You can consult a healthcare professional or a pharmacist for further guidance on using and handling medications to avoid potential side effects or damage.