Does TCP Stain Clothes? – The Real Threat To Fabrics
TCP, or Trichlorophenylmethyliodosalicyl, has long been a popular antiseptic solution used for its ability to kill bacteria and prevent infections. However, some users have had concerns regarding its potential to stain clothes.
Yes, TCP Liquid Antiseptic can stain clothes. The active ingredients in the antiseptic, such as alcohol and iodine, can potentially transfer onto clothing and cause discoloration or staining. It's essential to use cautiously and avoid getting it on clothing or other fabrics to prevent staining.
The causes of TCP stains on garments will be discussed in the following part of this blog post. I'll also provide some helpful advice on how to get rid of any stains of this nature and some possible prevention measures.
Can TCP Liquid Antiseptic Stain Clothes?
TCP Liquid Antiseptic is a disinfectant solution commonly used for wound cleaning and as an antiseptic mouthwash. TCP is a powerful chemical and can potentially stain fabrics or clothing if it comes into contact with them.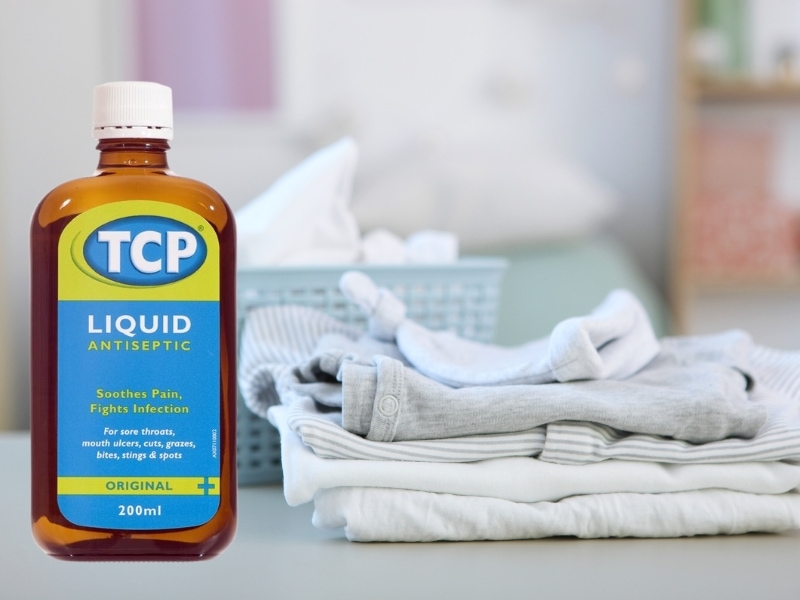 TCP contains active ingredients that can leave a noticeable yellow or brownish stain on fabrics. If spilled or accidentally applied to clothing, it's advisable to wash the affected area with water as soon as possible to minimize the risk of staining.
The effectiveness of stain removal will depend on factors such as the fabric type, the amount of TCP applied, and the duration of contact.
To prevent staining, be cautious when using TCP and take measures to avoid spilling or splashing it on clothing. If you get the chemical on your clothes, wash the stained area promptly and avoid using excessive heat until you are sure the stain is entirely removed, as heat can set the stain.
Please follow the product's instructions and guidelines when using TCP or any other chemical substance, and take necessary precautions to protect your clothing and other fabrics from staining.
Stain Removal Techniques for Liquid Medicine
Removing stains from clothing caused by liquid medicine can be tricky, but with the right approach, you can increase your chances of success. Here's a general guide on stain removal techniques for liquid medicine stains: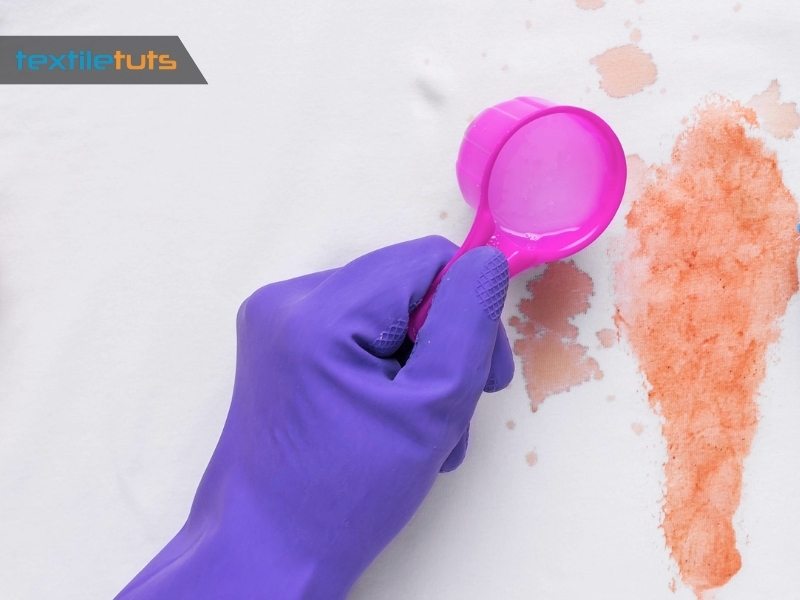 Note
Before you try any stain removal, please check the care label on your clothing to ensure you're using the appropriate methods for the fabric type. Additionally, perform a patch test in an inconspicuous area to ensure the stain removal method won't damage or discolor the fabric.
Materials You'll Need
Act Quickly
The sooner you treat the stain, the better your chances of successful removal. Blot the excess liquid medicine gently with a clean white cloth or paper towel. Do not rub, as it can push the stain deeper into the fabric.
Rinse
Flush the stained area under cold running water from the back of the fabric. This can help push the stain out of the fibers.
Pre-treat
Apply a small amount of liquid laundry detergent or dish soap directly onto the stain. Gently rub the fabric together to work in the soap. Let it sit for about 5-10 minutes.
Stain Remover
If you have a stain remover or pre-treatment spray, apply it according to the product's instructions. Allow it to sit for the recommended time.
Hydrogen Peroxide (for white or color-safe clothing)
Test this method on an inconspicuous area first. If your clothing is safe to treat with hydrogen peroxide, dampen the stained area with water and then apply a small amount of hydrogen peroxide. Blot with a clean cloth, and then rinse thoroughly.
Wash
Wash the garment according to the care label instructions. Use the warmest water temperature recommended for the fabric. Check the stain before putting the garment in the dryer. Heat can set the stain, making it harder to remove.
Check Before Drying
After washing, check if the stain is completely gone. If the stain persists, repeat the above steps before drying.
Air Dry
If the stain is gone, allow the garment to air dry. This will help you ensure the stain is fully removed before subjecting it to heat from the dryer.
Repeat If Necessary
Some stains may require multiple attempts to completely remove. Be patient and persistent in your stain removal efforts.
How to Get Rid of TCP Smell from Clothes?
TCP can leave a strong and lingering odor on clothing if it comes into contact with them. Here are some steps you can take to help get rid of the TCP smell from your clothes: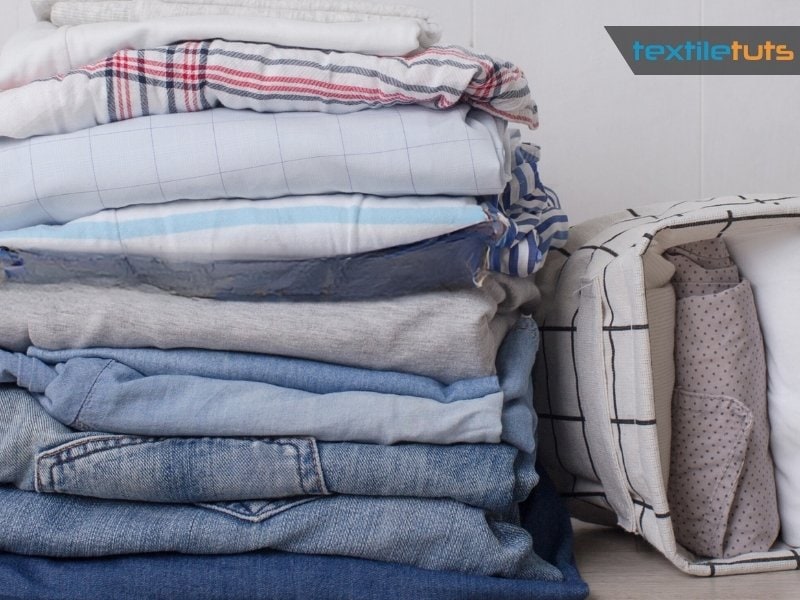 Ventilation
Hang the affected clothing outdoors in a well-ventilated area. Fresh air and sunlight can help dissipate odors over time.
Baking Soda
Sprinkle a generous amount of baking soda onto the affected areas of the clothing. Baking soda is known for its odor-absorbing properties. Let it sit for a few hours or overnight before shaking off the excess and washing the garment.
Vinegar Soak
Create a mixture of equal parts water and white vinegar. Submerge the clothing in this mixture for several hours, then wash it as usual. Vinegar can help neutralize odors. Be sure to rinse the clothing thoroughly after soaking.
Activated Charcoal
Place activated charcoal in a container or fabric bag and put it alongside the clothes. Activated charcoal is excellent for absorbing odors.
Citrus Peel
Rub the inside of citrus peels (orange, lemon, lime) on the affected areas of the clothing. Citrus oils can help mask and neutralize odors.
Washing
Wash the clothing using a good-quality laundry detergent. Consider adding a cup of white vinegar to the wash cycle to help neutralize the odor. Avoid using hot water, as heat can set odors.
Drying
After washing, hang the clothes to air dry in a well-ventilated area. Avoid using the dryer until you're sure the odor is completely gone, as heat can set odors.
Repeat If Necessary
Depending on how strong the TCP smell is, you may need to repeat some of these steps multiple times to completely eliminate the odor.
Professional Cleaning
If the smell persists after attempting these methods, consider taking the clothing to a professional cleaner, as they may have specialized products and equipment to remove stubborn odors.
Final Words
TCP, or trichlorophenol, possesses properties that could lead to staining fabrics. While it might not exhibit immediate or prominent staining effects, prolonged exposure or improper handling of TCP-containing substances could result in discoloration on clothing.
Handling TCP with care and taking precautionary measures to prevent any accidental spills or contact with fabrics is essential. If it does come into contact with clothing, rinse the affected area with cold water immediately and use a stain remover before washing.
Wear protective clothing, such as a gown or apron, when using TCP to avoid accidental spills or stains. With proper handling, TCP can be a valuable tool in maintaining good hygiene and preventing infections.