Does Aquaphor Stain Clothes? – Top 9 Hacks To Prevent Stains
Aquaphor is a famous skin moisturizer known for its ability to hydrate and protect the skin against dryness and irritation. It is widely used by people of all ages and skin types, from babies to seniors. However, there have been concerns and questions raised about whether Aquaphor stains clothes or not.
While Aquaphor is generally considered safe for skin use and is often used to moisturize dry or chapped skin, it can cause stains on clothes. The risk of staining largely depends on how the product comes into contact with clothing and the type of fabric involved.
I will explore the factors influencing Aquaphor stains clothes in this blog post. This writing will also give you some tips and tricks to help you prevent stains and remove them if they do occur.
Can Aquaphor Cause Stains on Clothes?
Aquaphor can potentially cause stains on clothes. It is a famous petroleum-based ointment used to moisturize and protect the skin, but its oily nature can lead to stains on fabric.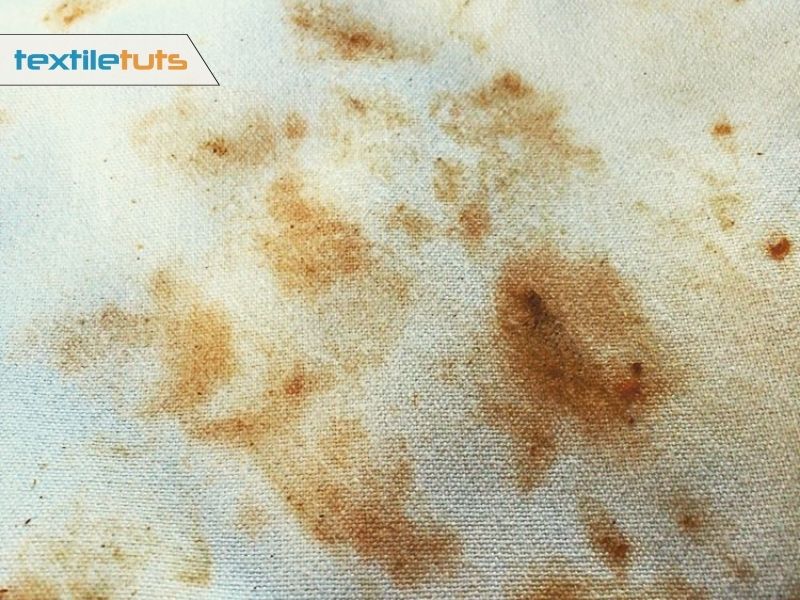 The ointment contains a mixture of petroleum jelly, mineral oil, and other ingredients that create a barrier on the skin, helping to lock in moisture and protect the skin from drying out. However, when it comes into contact with fabrics, it can leave behind greasy stains that are often difficult to remove.
Before applying Aquaphor on your skin, here are some factors to consider:
Residue
If you apply a thick layer of Aquaphor to your skin and then immediately put on clothes, there may be a higher chance of the ointment transferring onto the fabric, leaving oily or greasy stains.
Greasy Texture
Aquaphor has a greasy texture due to the petroleum-based ingredients. Greasy substances are more likely to leave stains on fabrics, especially if not washed off promptly.
Heat
Heat can liquefy the ointment, making it more prone to transferring onto fabrics. If you wear tight-fitting clothes or are in a warm environment, there may be a higher risk of staining.
Fabric Type
Some fabrics are more prone to staining than others. Synthetic materials like polyester may be more susceptible to oil-based stains than natural fibers like cotton or wool.
How to Clean Aquaphor Stains from Clothes?
Cleaning Aquaphor stains from clothes can be a bit challenging due to its greasy nature. However, with the right approach, you can effectively remove the stains. Here's a step-by-step guide on how to clean Aquaphor stains from clothes: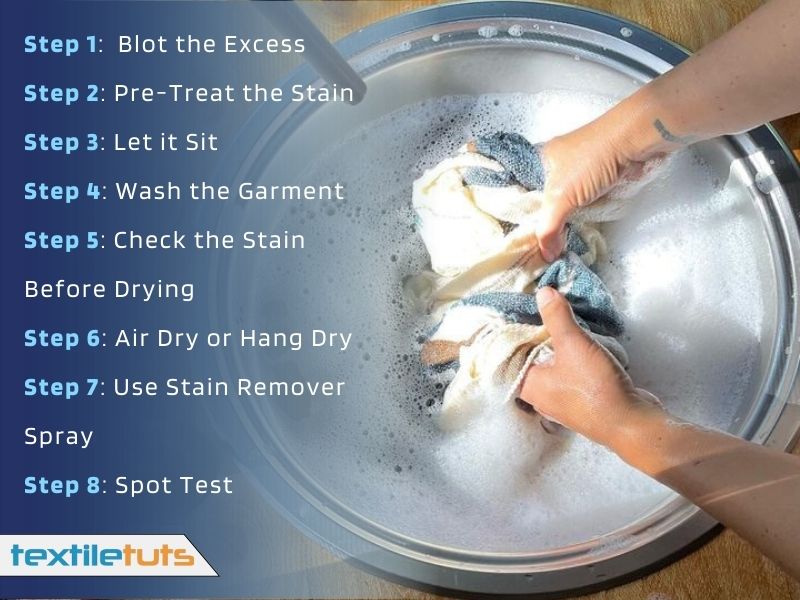 Step 1: Blot the Excess
If the stain is fresh, gently blot the excess Aquaphor with a clean cloth or paper towel. Avoid rubbing the stain, as it can spread it further.
Step 2: Pre-Treat the Stain
Apply a small amount of liquid dish soap, laundry detergent, or a specialized stain remover directly to the stain. Gently work the soap or detergent into the fabric using your fingers or a soft brush.
Step 3: Let It Sit
Allow the pre-treatment to sit on the stain for about 10 to 15 minutes. This gives it time to break down the oils in the Aquaphor.
Step 4: Wash the Garment
Wash the stained clothing separately from other items in the washing machine using cold water and a regular laundry detergent. Cold water helps prevent the stain from setting.
Step 5: Check the Stain Before Drying
After the wash cycle is complete, check the stain before putting the garment in the dryer. If the stain is still visible, repeat the pre-treatment and washing process.
Step 6: Air Dry or Hang Dry
If the stain is gone, you can safely dry the garment using your preferred method. If the stain persists, avoid using the dryer, as heat can set the stain. Instead, dry the garment or hang dry and repeat the stain removal process.
Step 7: Use Stain Remover Spray
If the stain is stubborn or has been set, use a commercial stain remover spray. Follow the instructions on the product carefully.
Step 8: Spot Test
Always spot test any stain removal method on an inconspicuous area of the fabric to ensure it doesn't cause any damage or discoloration.
Tips for Preventing Aquaphor Stains on Clothing
To prevent Aquaphor stains on your clothing, consider the following tips: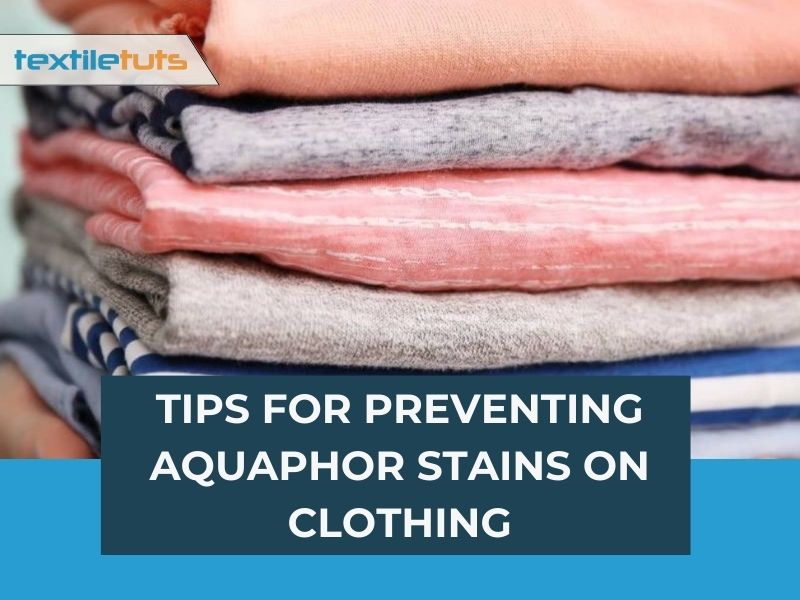 Apply a Thin Layer
Use only a small amount of Aquaphor and spread it evenly on the skin. A little goes a long way, and using too much increases the chances of residue transferring to clothing.
Wait for Absorption
Allow the Aquaphor to fully absorb into your skin before dressing. Give it a few minutes to soak in and create a barrier before putting on clothing.
Target Application
When you're using Aquaphor for a specific area of the body, target the application to that area only. Avoid applying it to larger areas that might come into contact with clothing.
Cover with Clothing
Apply Aquaphor before bedtime or when you can wear loose, comfortable clothing that covers the treated area. This can help protect your clothes from direct contact with the ointment.
Avoid Light-colored Fabrics
Consider wearing darker or older clothes that are less likely to show stains, if you know you'll be using a generous amount of Aquaphor.
Wash Hands Thoroughly
After applying Aquaphor, wash your hands thoroughly to remove any excess ointment. This will prevent accidental transfer to your clothes when you touch them.
Carry a Tissue or Cloth
Keep a tissue or cloth handy to blot any excess Aquaphor off your skin before getting dressed. This can help reduce the risk of transfer to clothing.
Use at Night
Consider using Aquaphor primarily at night before going to bed. This way, you can allow it ample time to absorb without worrying about staining your daytime clothes.
Spot Test New Fabrics
If you're using Aquaphor on a new piece of clothing or fabric for the first time, do a spot test on an inconspicuous area to check for any potential staining.
Final Words
Aquaphor is a highly effective skin protectant and moisturizer that is widely used for a variety of applications. While it is widely considered safe and gentle, it has been known to cause stains on clothing, particularly in cases where excessive amounts are used or it is not fully absorbed by the skin.
To minimize the risk of staining, it is recommended to use a small amount and allow it to absorb before dressing fully. Additionally, washing stained clothing with a stain-fighting detergent can help to remove any residual marks.
Overall, while Aquaphor may have some potential drawbacks regarding clothing, its benefits as a skin care product make it a valuable addition to any personal grooming routine.