Does Under Armour Shirts Shrink? – Facts You Don't Know!
Athletes and fitness fans frequently choose Under Armour shirts for their comfort and durability when working out. However, whether these shirts are susceptible to shrinking is a recurring worry.
Under Armour shirts are made of synthetic fabrics designed to be shrink-resistant. However, if they are made of cotton blend and are not treated carefully, especially if they are subjected to high heat in a washer or dryer, they could somewhat shrink. It's recommended to wash them in cold water and air dry or tumble dry low to maintain their original size.
In this article, I will explore the factors that can contribute to UA clothes shrinkage and offer tips on caring for your Under Armour shirts. So, if you're an enthusiast or simply looking for dependable activewear, read on to discover the truth about shrinkage and how to preserve your favorite sportswear.
Detailed Analysis: Do Under Armour Shirts Shrink?
Under Armour is a well-established brand in the sports apparel industry. Its products provide ultimate performance benefits such as moisture-wicking, heat retention, and durability. A commonly asked question among consumers is whether Under Armour shirts shrink after washing.
Under Armour designs their athletic wear, including shirts, to hold up under strenuous athletic conditions without compromising on their quality or fit. The brand often uses materials like polyester, elastane, cotton, and other synthetic fibers that are generally more resistant to shrinking than natural fibers like cotton.
However, despite the use of synthetic fibers, some Under Armour shirts can still shrink under certain conditions. A potential reason for shrinkage could be exposure to high heat when washing or drying. As with most clothing, improper care like washing in hot water or using a high heat dryer setting can cause fabrics to contract.
Most Under Armour shirts come with care instructions that the wearer is advised to follow to prevent any form of damage, including shrinkage. These usually include washing the shirt with like colors on a cold setting and air or tumble dry in low setting.
Further, some consumers have reported that Under Armour compression shirts, specifically, can feel a bit tighter after several washes, which could be misconstrued as shrinkage. However, these products are supposed to fit very close to the skin to provide their advertised benefits.
Properties of Under Armour Fabric: Analyzing the Quality
Under Armour Fabric is renowned for its unique properties that make it ideal for active and sportswear. The brand, Under Armour, utilizes cutting-edge fabric technology and has created innovative materials tailored to enhance the performance of athletes and fitness enthusiasts.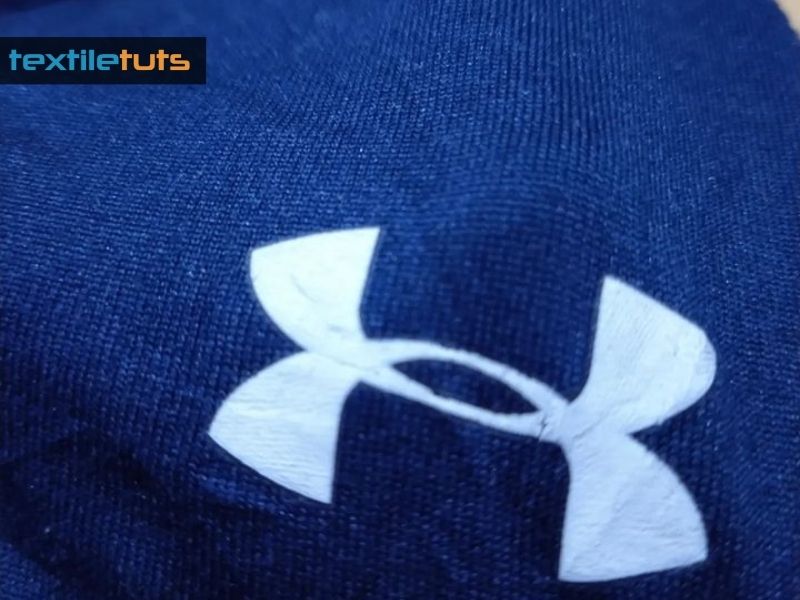 Moisture Wicking
One of the most significant properties of Under Armour fabric is its moisture-wicking ability. This means the fabric is designed to pull sweat away from the body, keeping the wearer dry and comfortable during activities.
Breathability
Under Armour fabrics help regulate body temperature. The company designs its fabric to be breathable, allowing for optimal airflow to prevent overheating while also serving as heat insulation in colder conditions.
Quick Drying
In addition to its moisture-wicking properties, Under Armour fabric can dry very quickly. This prevents sweat from soaking the fabric, making it ideal for high-intensity workouts or activities.
Stretchability
The Under Armour fabric is also known for its stretching properties. It offers a four-way stretch, this flexibility allows the fabric to return back to its original form while enhancing mobility and maintaining its shape.
Durability
Despite being lightweight, the fabric is both durable and robust. It can withstand high-intensity workouts and numerous washes without losing its quality and effectiveness.
Anti-Odor Technology
Some Under Armour fabrics incorporate anti-odor technology that prevents the growth of odor-causing microbes, which helps the clothing stay fresher longer.
UV Protection
Some lines of Under Armour clothing provide built-in ultraviolet protection that reduces the amount of harmful UV radiation that reaches the skin. This protection makes the clothing ideal for outdoor activities such as running, cycling, or hiking.
Comfort
Last but not least, Under Armour fabric is known for its ultimate comfort. The fabric systems they developed are designed to be ultra-soft, providing the wearer with a smooth, low-friction performance.
Factors That Influence a Shirt's Shrinkage
Shirt shrinkage can be an unpleasant surprise, especially when your favourite clothing piece no longer fits or looks the way it used to. While it might seem like all fabrics are prone to shrinking, some are more susceptible than others.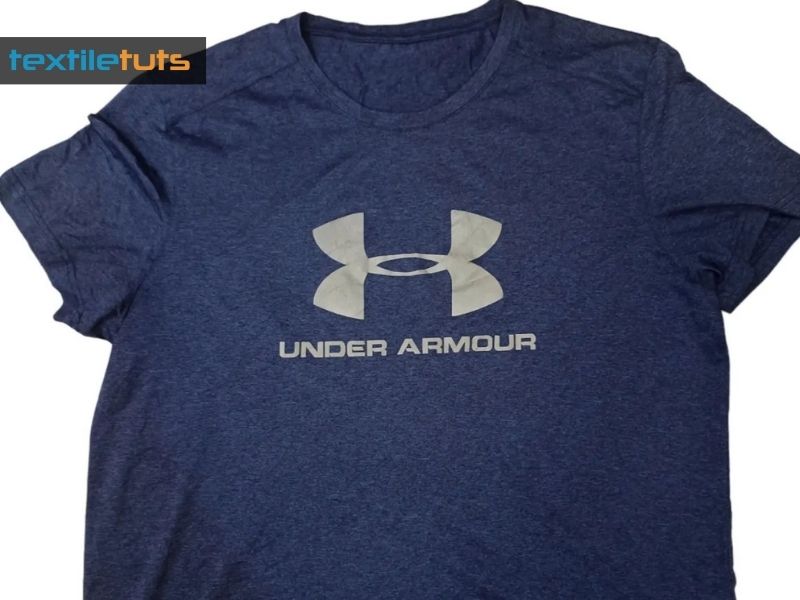 Several factors contribute to a shirt's shrinkage, including the fabric type, manufacturing process, washing method, and drying technique.
Fabric Type
The fabric composition of a shirt significantly influences its shrinkage. Natural fibers, including cotton, wool, and linen, tend to shrink more than synthetic fibers like polyester or nylon. This is because natural fibers have inherent moisture, and when they are exposed to heat and water, their structure contracts, causing the material to shrink.
Manufacturing Process
The way a shirt is made also significantly impacts its potential to shrink. For instance, pre-shrunk or sanforized cotton has been treated to reduce shrinkage during washing and drying. On the other hand, non-sanforized or raw denim will shrink significantly when washed for the first time.
Washing Method
How a shirt is washed can also lead to shrinkage. Hot water causes fibers to relax and then contract, leading to shrinkage. Hence, washing clothes in warm or hot water increases the chances of shrinkage as the fibers tend to swell and then contract.
Similarly, the use of harsh detergents can weaken the fabric structure, making it more susceptible to shrinkage.
Drying Technique
Heat is the primary culprit behind most shirt shrinkage, and the drying process usually involves more heat than washing. Using a hot dryer will cause more shrinkage than line drying or flat drying. Even if the shirt is washed in cold water, a hot drying process could cause the garment to shrink.
Age and Quality of the Garment
Over time, shirts can wear out, and fibers can break down, making them more likely to shrink. High-quality fabrics tend to withstand the test of time and resist shrinkage better than their thinner, less expensive counterparts.
How to Wash and Care for Under Armour Shirts?
Under Armour shirts are often designed with unique technologies to wick away sweat and keep athletes cool during games or workouts. However, these qualities need special care to maintain. Here is how you can wash and care for Under Armour shirts:
Pre-Treatment
Before washing, inspect your Under Armour Shirt for stains. If you spot any, pre-treat them with a stain remover. Make sure to follow the instructions provided by the stain remover manufacturer.
Washing
Under Armour recommends that their shirts should be washed in cold water with like colors. It's crucial not to use bleach as it can damage the fabric. It's also important to turn the garment inside out before washing. This helps protect the outer surface and preserves its colours.
Detergent
When choosing a laundry detergent, avoid using any that is designed to increase fabric softness. These often contain silicon and can trap the sweat in the clothing instead of removing it. Using an ordinary detergent should be sufficient.
Washing Machine Setting
Under Armour shirts should be washed on the gentle cycle. The spin cycle helps to remove as much water from the clothing as possible, reducing the drying time.
Drying
Rather than wringing out the shirts or putting them in a dryer, Under Armour recommends hanging them to dry. This helps prevent wrinkles and reduces the potential for damage from high heat. Do not iron or dry clean Under Armour shirts as it can cause harm to the fabric.
Storage
Once dry, fold and keep them in a cool and dry place. Avoid bunching them up to keep them wrinkle-free.
How to Prevent Under Armour Shrinkage?
To keep your under armour athletic wear in good condition, you need to avoid one common problem: shrinkage. Here are several effective steps on how to prevent your Under Armour clothing from shrinking:
Following the Care Instructions
Under Armour clothing comes with a care label. It is very important to follow these instructions as they are specifically designed for the fabric of your sportswear. The label tells you everything: from the maximum permitted temperature for washing and drying to whether you should use fabric softener or not.
Cold Water Wash
The key to preventing Under Armour shrinkage is washing it in cold water. Hot water can break down the fabric's fibers and lead to shrinkage. Therefore, it's always recommended to use cold water.
Gentle Cycle
When machine washing, opt for the gentlest cycle. High agitation in the washing machine can be very destructive to Under Armour's synthetic fibers, leading them to break down and cause shrinkage.
Do Not Iron
Under Armour's fabric technology is designed for comfort, breathability, and moisture-wicking, rather than withstanding high heat. So, to avoid shrinkage, do not iron your Under Armour clothing.
Avoid Chlorine and Bleach
Chlorine and bleach can also damage the fabric leading to shrinkage. So, always wash your Under Armour clothes separately from clothing items that require bleach. If you're a swimmer, rinse immediately after exposure to chlorinated water.
Do Not Dry Clean
Dry cleaning involves the use of strong chemicals, and heat both of which can break down the fabric leading to shrinkage.
Does Under Armour Charged Cotton Shrink?
Under Armour Charged Cotton, which is a special line of apparel designed to feel like normal cotton but performs like the usual moisture-wicking synthetic materials they popularly use.
When it comes to shrinkage, it naturally becomes a worry for many who purchase clothing items. However, Under Armour asserts that its Charged Cotton products are pre-shrunk during the production process. Therefore, it should not further reduce in size once in a customer's hands.
Nevertheless, this does not necessarily mean that all Under Armour Charged Cotton products are 100% shrink-proof. Charged cotton fabrics are made of cotton, polyester, and elastane mix. As it has some percentage of cotton in the thread, exposure to extremely hot water can cause some shrinkage.
Thus, for best results, it is advisable to follow the garment care instructions provided on the tag, which generally recommends washing in cold water and tumble drying on low heat.
Final Words
Consumers have mostly given positive feedback on Under Armour shirts' durability and longevity, even after multiple washes. While there might be a minimal amount of shrinkage due to normal wear and tear or improper washing and drying techniques, Under Armour shirts are generally designed not to shrink dramatically.
Concerns over Under Armour shirts shrinking should not be a significant deterrent from purchasing these products. Every piece of apparel wears over time and Under Armour shirts are no exception.
However, the company's use of high-quality materials helps reduce typical issues such as pilling, color fading, and even shrinking. As always, proper care is vital when it comes to maintaining the fit and quality of these shirts.