Does Ultrasun Stain Clothes? – A Comprehensive Analysis
Ultrasun sunscreen is one of the most popular choices thanks to its high SPF rating and water-resistant properties. However, some users have raised concerns regarding its potential to stain clothes, which can be a significant drawback for many.
Ultrasun sunscreen can potentially cause stains on clothing, particularly those that contain ingredients like avobenzone or oxybenzone. These ingredients can react with iron in water, leading to rust-colored stains.
It's advisable to let the sunscreen fully dry before dressing and to wash clothes soon after exposure to reduce the risk of staining. The following part of the article will explain the factors that can contribute to staining, the types of fabrics that are most susceptible to staining, and some tips and tricks for preventing and removing sunscreen stains.
Can Ultrasun Cause Stains on Clothing?
One common issue with sunscreen products is the possibility of leaving residual stains on garments, especially when they are not correctly applied or allowed ample time to dry properly.
Ultrasun is renowned for providing high-quality protection against harmful ultraviolet (UV) rays. Many users rave about its texture and capability to safeguard against sunburns and premature skin aging.
Ultrasun products are generally designed to be non-greasy and quickly absorbed by the skin, like any sunscreen, they can potentially cause stains on clothing if not applied and absorbed correctly.
All products from ultrasun is formulated for sensitive skin as it contains 0% perfume, 0% mineral oils, 0% emulsifiers, 0% preservatives, 0% silicones, 0% PEG/PPG, 0% Ethylhexyl Methoxycinnamate, 0% Octocrylene, 0% Avobenzone, and 0% Aluminum compounds.
These compounds are commonly responsible for causing stains on clothing. The absence of these chemicals in ultrasun products makes the brand a safer option than any other available brands on the market.
Many brands recommend allowing the product to absorb into the skin before dressing fully. This can typically take 15-30 minutes to minimize the chance of transferring the product onto clothing.
If transfer occurs, treating and washing the clothing as soon as possible is recommended to increase the chances of completely removing the stain.
How to Treat Sunscreen Stains on Clothes?
Removing sunscreen stains from clothes can be a bit challenging, but with the right approach and some patience, you can often successfully eliminate the stains. Here's a step-by-step guide on how to remove sunscreen stains from your clothing: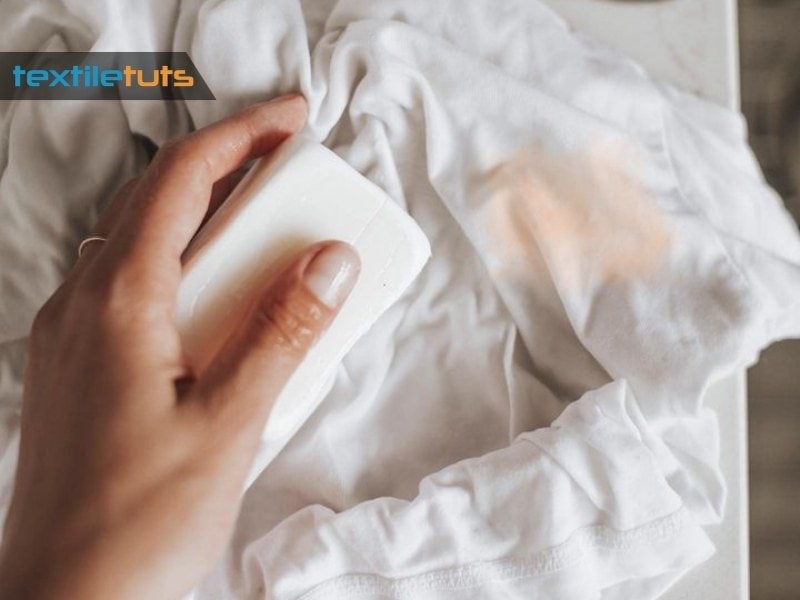 Supplies You'll Need
Liquid laundry detergent
Stain remover (optional)
A soft brush or toothbrush
Cold water
Step 1: Act Quickly
Try to treat the sunscreen stain as soon as possible. The longer it sits on the fabric, the harder it may be to remove.
Step 2: Blot Excess Sunscreen
Use a clean, white cloth or paper towel to blot (not rub) the stain. This will help absorb any excess sunscreen from the fabric.
Step 3: Pre-Treat the Stain
Apply a small amount of liquid laundry detergent directly to the stain. You can also use a commercial stain remover designed for oily or greasy stains. Gently rub the fabric together to work the detergent into the stain.
Step 4: Let it Sit
Allow the detergent or stain remover to sit on the stain for about 5-10 minutes. This gives it time to break down the sunscreen residue.
Step 5: Brush Gently
Using a soft brush or an old toothbrush, gently scrub the stained area in a circular motion. Be careful not to scrub too hard, as this can damage delicate fabrics.
Step 6: Rinse with Cold Water
Rinse the stained area with cold water. Hold the fabric under running cold water or use a clean cloth soaked in cold water to rinse out the detergent or stain remover.
Step 7: Check the Stain
After rinsing, check the stained area to see if the stain has been completely removed. If it's still visible, repeat the pre-treatment and rinsing process.
Step 8: Wash as Usual
Once the stain is gone or significantly reduced, you can wash the clothing as you normally would, following the care label instructions.
Step 9: Inspect Before Drying
Before putting the clothing in the dryer, inspect the stained area one more time to make sure the stain is completely gone. Heat from the dryer can set the stain, so it's essential to ensure it's fully removed.
Step 10: Air Dry (If Necessary)
If any trace of the stain remains after washing, avoid using the dryer, as heat can set the stain further. Instead, air dry the garment and repeat the stain removal process.
How to Prevent Ultrasun from Staining Clothes?
To prevent Ultrasun or any sunscreen from staining your clothes, you can follow these steps: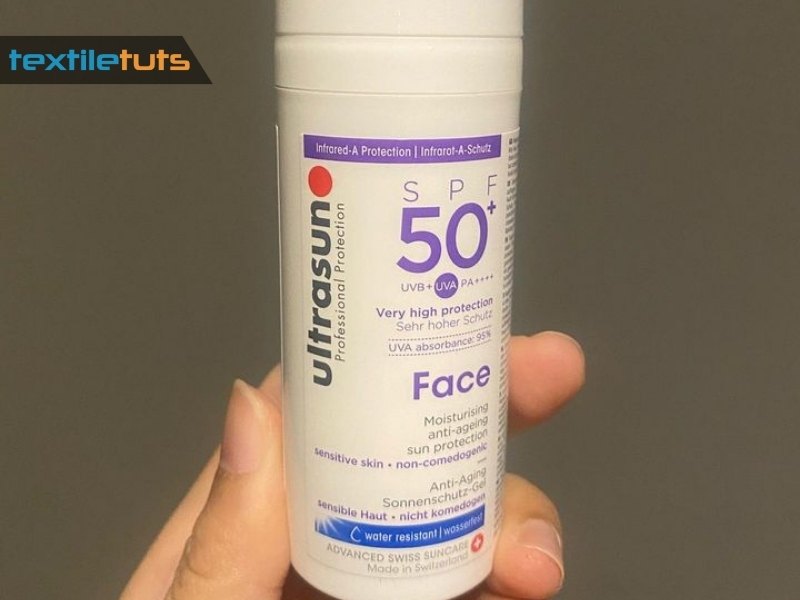 Apply Sunscreen Properly
Apply a sufficient amount of sunscreen to cover all exposed skin. Using too much can increase the likelihood of residue transferring to your clothing.
Ensure that you thoroughly rub the sunscreen into your skin until it's fully absorbed. This can help minimize excess residue on the surface of your skin.
Allow Time for Absorption
Apply sunscreen at least 15-20 minutes before putting on your clothing. This allows the product to absorb into your skin and reduces the chance of it transferring to your clothes.
Choose the Right Sunscreen
Opt for sunscreens with non-greasy or dry-touch formulations. These are less likely to leave residue on your skin and clothing. Consider using a sunscreen stick or spray for areas where you're concerned about staining. These formats may be less prone to transferring onto clothes.
Wear Protective Clothing
If you're concerned about staining and spending extended periods in the sun, consider wearing protective clothing like rash guards, cover-ups, or sun-protective clothing. This reduces direct contact between sunscreen and your clothing.
Be Cautious with Mineral Sunscreens
When you're using a mineral sunscreen (containing zinc oxide or titanium dioxide), take extra care to ensure it's well rubbed into your skin to minimize the white cast that can transfer to clothing.
Reapply Strategically
In case need to reapply sunscreen during the day, do it when you're not wearing your most delicate or light-colored clothing. This reduces the risk of staining on your favorite garments.
Wash Hands After Application
After applying sunscreen, wash your hands thoroughly to remove any residue. This can help prevent transferring sunscreen onto clothing when you touch them.
Read and Follow Instructions
Always read the instructions on the sunscreen product for specific guidance on application and reapplication. Following the manufacturer's recommendations can help minimize staining.
Stain-Resistant Clothing
Consider wearing clothing made from stain-resistant or water-repellent fabrics. These materials are less likely to absorb sunscreen or other liquids.
What Kinds of Clothes is Ultrasun Most Likely to Stain?
The likelihood of staining can depend on factors such as the fabric's composition and color, the specific sunscreen formulation, and how the sunscreen is applied.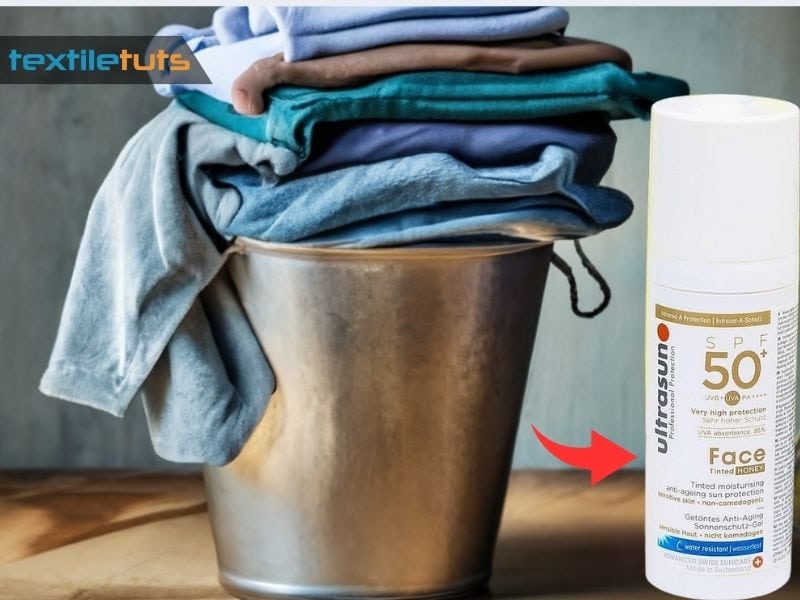 Here are some factors that can make certain clothes more susceptible to staining by Ultrasun or similar sunscreens:
Light-Colored Fabrics
Light-colored clothing, especially white, is more prone to showing sunscreen stains because the residue is often visible against a lighter background.
Delicate or Sheer Fabrics
Silk, chiffon, and lace are more prone to discoloration because they are more absorbent and less resistant to oils and liquids.
Loose-Weave Fabrics
Loose weave or texture, such as linen, may allow sunscreen to penetrate more easily and become trapped in the fibers.
Thick or Heavy Fabrics
Fabrics like denim or canvas can trap sunscreen in their fibers, making it more challenging to remove stains.
Natural Fiber
Cotton and linen can absorb oils and liquids more readily than synthetic fibers, which can increase the likelihood of staining.
Fabrics with Texture or Patterning
Fabrics with texture or intricate patterns may make it harder to notice sunscreen stains until they become more prominent.
Clothing with Stretch
Stretchy fabrics like spandex or elastane may trap sunscreen more easily due to their tighter weave.
Conclusion
Ultrasun sunscreen is a highly effective and reliable sun protection product that provides long-lasting coverage. At the same time, some users may experience staining on their clothes. However, this is rare and can be easily prevented by following the manufacturer's instructions.
Apply the sunscreen at least 15 minutes before putting on clothes to allow it to fully absorb into the skin before coming into contact with clothing. Additionally, if any staining does occur, it is best to treat the affected area immediately with a stain remover and wash the garment as soon as possible
Overall, Ultrasun sunscreen is a top-performing product that should be considered by anyone in need of high-quality sun protection