Do Black Velvet Hangers Stain Clothes?
Black velvet hangers have become popular for many years because of their sleek appearance and ability to hold onto even the most delicate garments without slipping. However, a common concern among fashion lovers is whether these hangers can potentially stain clothes.
Yes, Black Velvet Hangers can cause stains on clothing. The dye from the hanger's velvet covering could transfer onto garments, leading to staining. Testing the hangers on less visible clothing areas or using protective layers between hangers and clothes to prevent potential staining is advisable.
This blog post will go into the topic of velvet hanger cloth stains and examine the characteristics of the fabric used in it as well as the causes of stains. You will also learn how to take care of your black velvet hangers and prevent stains to reduce the possibility of harming your clothing.
Can Clothes Get Stained by Black Velvet Hangers?
Clothes can get stained by black velvet hangers. While velvet hangers are often praised for their non-slip properties and their thin profile, which saves closet space, there are instances where the black dye used on the velvet can discolor light-colored or delicate garments. This is particularly likely if the clothes get damp while on the hanger.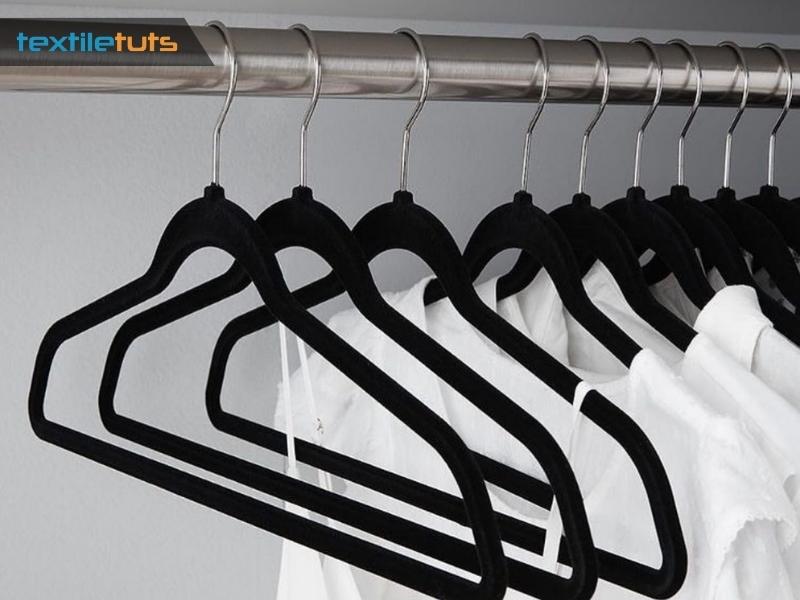 If you hang a wet white shirt on a black velvet hanger, the moisture could cause the dye on the hanger to transfer onto the clothes. Similarly, long-term storage and high humidity levels can increase the risk of such staining.
In general, velvet hangers are more likely to cause dye transfer than plastic or wooden hangers. This is due to the texture of the velvet, which is more prone to shedding and dye transfer than other smoother materials.
Why Do Velvet Hangers Stain Clothes?
Velvet hangers are popular for their slim design and the soft, textured surface that helps prevent clothes from slipping off. However, some users have reported issues with velvet hangers causing stains on their clothes. This staining issue is usually attributed to a combination of factors:
Dye Transfer
Velvet hangers are often made by applying a layer of fabric or foam over a plastic or metal core. The velvet-like material is essentially a fabric that can have dyes or pigments.
If the dye used in the velvet isn't properly set or is of lower quality, it can transfer onto clothes when they come into contact with the hanger's surface, especially if the hanger is new or hasn't been properly treated to fix the dye.
Low-Quality Dyes
If the manufacturer uses low-quality dyes, it's more likely these will bleed onto your clothes. Some dyes aren't as fast or permanent as others and are more prone to bleeding.
Moisture and Heat
Velvet hangers can sometimes retain moisture, especially in humid environments. This moisture and heat can cause the dyes in the velvet to bleed or transfer onto clothes. When clothes are hung on damp hangers, the dye can transfer onto the garment fibers, leading to stains.
Friction and Pressure
The textured surface of velvet hangers provides a good grip on clothes, reducing slippage. However, the friction between the hanger and the fabric, combined with pressure, can create abrasion. This abrasion can cause the fabric's dye or color to transfer onto the hanger or other clothes nearby.
Storage Conditions
If velvet hangers are stored in a place where they are exposed to sunlight or high temperatures, the dye on the hanger's surface could become less stable and more prone to transferring onto clothes.
Factors to Consider When Using Black Velvet Hangers
When using black velvet hangers, there are several factors to consider to ensure that your clothes are properly cared for and to prevent any potential issues like staining or damage. Here are some important factors to keep in mind: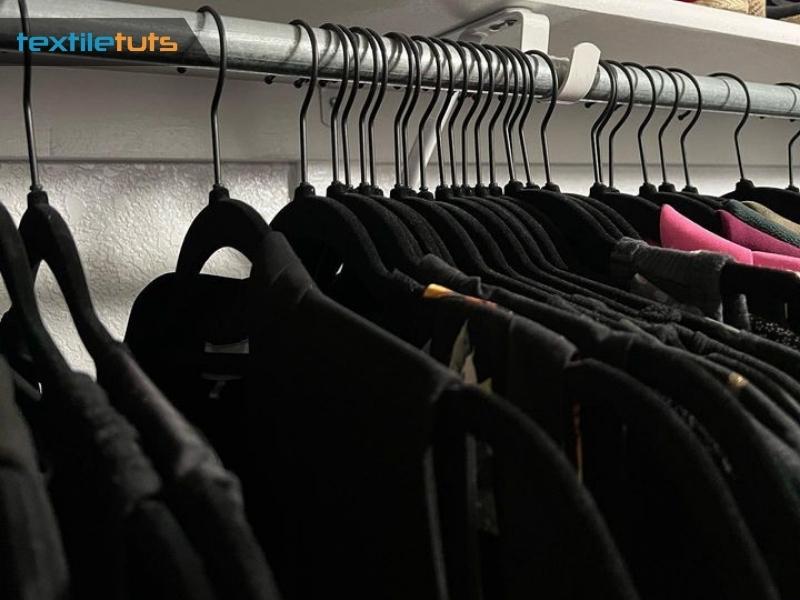 Quality of Velvet Material
Invest in high-quality black velvet hangers. Cheaper hangers might have lower-quality velvet that can shed, transfer dye, or cause other issues. Look for hangers with well-attached, smooth velvet that is less likely to shed onto your clothes.
Pre-Wash or Pre-Treat Hangers
As mentioned earlier, new velvet hangers can sometimes have excess dye or residue. Wipe them down with a clean, damp cloth before using them to remove any potential transferable materials.
Clothing Material
Consider the type of fabric you're hanging. Delicate fabrics like silk or satin might be more prone to picking up dye from the hangers. You could use protective garment bags or covers for such clothing items.
Moisture Control
Avoid hanging damp or wet clothes on velvet hangers, as moisture can cause color transfer and potentially damage the fabric. Make sure your clothes are fully dry before hanging them.
Rotate Clothes
Rotate the clothes on the hangers periodically to distribute any potential friction and pressure points, which could help prevent excessive wear on specific areas of the garment.
Spacing
Avoid overcrowding your closet. Proper spacing between clothes can prevent friction and rubbing, which could lead to fabric damage or dye transfer.
Storage Conditions
Store your black velvet hangers in a cool, dry place away from direct sunlight and heat. This can help prevent the velvet from deteriorating and losing its quality.
Avoid Hanging Heavy Items
While velvet hangers are generally designed to hold most types of clothing, avoid hanging heavy items like winter coats or heavy jackets on them. The added weight might strain the hanger or cause stretching.
Regular Maintenance
Check your hangers periodically for any signs of wear, damage, or loose velvet. Replace any hangers that are showing signs of deterioration to prevent potential problems.
Test Before Hanging
If you're concerned about color transfer, you might want to test the hangers on a less-visible part of a garment first to see if any dye comes off.
Choosing the Right Hangers for Your Clothes
Choosing the right hangers for your clothes is essential to maintaining the condition and longevity of your wardrobe. Different types of clothing require different hangers to ensure they are adequately supported and protected.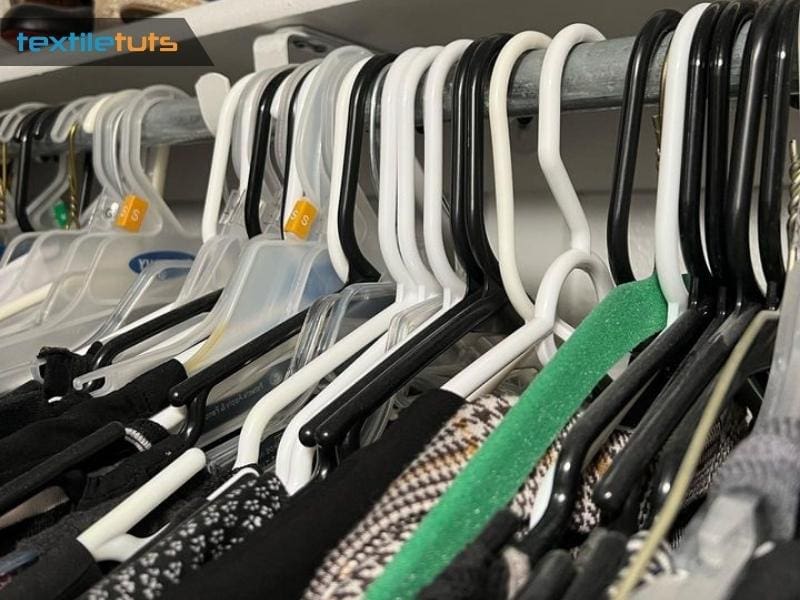 Here's a guide to help you choose the right hangers for your clothes:
Wooden Hangers
Wooden hangers are sturdy and offer a classic, elegant look. They are suitable for a wide range of clothing, especially heavier items. They help maintain the shape of garments and are great for suits, coats, blazers, and dresses. Look for hangers with a broad shoulder width to support the shape of your garments.
Padded Hangers
These are gentle on delicate fabrics like silk, satin, and lingerie. The padding prevents the material from creasing or slipping. They are ideal for items needing more care to maintain their condition.
Plastic Hangers
This type of hanger comes in various styles, from basic to more contoured shapes. They are versatile and affordable, making them suitable for different clothing items, including shirts, tops, pants, and lightweight jackets.
Wire Hangers
While wire hangers are common and often come with dry-cleaned clothes, they are not the best choice for everyday storage. They can misshape garments and leave creases or marks. It's better to use them sparingly or for short-term storage.
Clip Hangers
These hangers have clips attached and are perfect for hanging skirts, pants, or other bottom wear. Make sure the clips have a rubber or protective coating to prevent fabric damage.
Cedar Hangers
Cedar hangers are great for preventing moths and other pests from damaging your clothes. They also impart a pleasant cedar scent to your closet.
Hanger Materials
When choosing hangers, please pay attention to the materials they are made of. Smooth surfaces and rounded edges are gentler on fabrics. Avoid hangers with rough edges that could potentially snag or damage clothes.
How to Prevent Damage From Black Velvet Hangers?
Preventing damage from black velvet hangers involves taking certain precautions and adopting proper storage and handling practices. Here are some steps you can take to ensure your clothes remain in good condition while using black velvet hangers: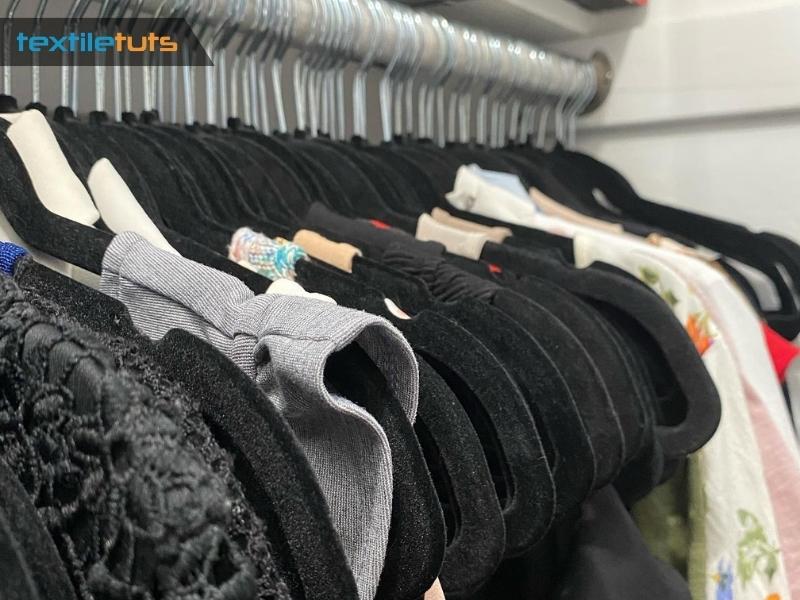 Inspect the Hangers
Before using black velvet hangers with your clothes, give them a quick inspection. Gently rub them with a white cloth to see if any color transfers. If it does, you might want to consider washing or wiping the hangers before use.
Use Quality Hangers
Invest in high-quality black velvet hangers. Well-made hangers are less likely to shed or transfer dye onto your clothes.
Pre-Wash the Hangers
If you're concerned about potential staining, you can pre-wash the hangers. Wipe them down with a slightly damp cloth to remove any excess fibers or loose color. Allow them to dry before using them with your clothes.
Test with Less Important Items
Test the hangers with less important or less delicate clothing items before using them with your more valuable or delicate pieces.
Avoid Damp Clothes
Do not hang damp or wet clothes on black velvet hangers. Moisture can cause color transfer, damage the fabric, or lead to mold and mildew growth.
Avoid Prolonged Contact
Consider using other types of hangers, such as wooden or plastic ones if you own delicate fabrics, to avoid any risk of staining altogether.
Use Alternatives
For light-colored fabrics, opting for alternative hanger types like wooden or plastic ones can eliminate the risk of staining.
Cleaning and Maintenance of Black Velvet Hangers
Cleaning and maintaining black velvet hangers is essential to ensure their longevity and prevent potential damage to your clothes. Here's a how to keep your black velvet hangers in good condition:
Regular Dusting
Dust your velvet hangers regularly with a soft, lint-free cloth. This helps remove any surface dust and prevents it from settling into the fabric.
Avoid Wet Cleaning
Velvet is sensitive to moisture, so avoid wet cleaning methods unless absolutely necessary. If you need to clean more stubborn stains, use a small amount of mild detergent mixed with water.
Dampen a cloth with the solution and gently dab the stained area. Rinse the cloth with clean water and blot the area again to remove any detergent residue. Allow the hanger to air dry completely before using it.
Avoid Harsh Chemicals
Avoid using harsh chemicals, solvents, or abrasive cleaners on velvet hangers, as they can damage the fabric.
Velvet Brush
To revive the texture and remove any flattened areas, use a soft velvet brush. Gently brush the surface of the hangers in the direction of the velvet fibers. This can help restore the plushness of the velvet.
Store Properly
When not in use, store your black velvet hangers in a cool, dry place away from direct sunlight and heat. This helps prevent deterioration of the velvet material.
Use Hanger Covers
Consider using hanger covers or garment bags for special or delicate items. These can provide an extra layer of protection between the hanger and the fabric.
Gentle Handling
When placing clothes on or removing them from the hangers, handle them gently to avoid stretching the fabric or causing damage to seams, buttons, or zippers.
Use a Lint Roller
If you notice lint or fibers accumulating on the hangers, you can use a lint roller to gently remove them.
Air Circulation
Occasionally, allow your hangers to have some air circulation to prevent any mustiness from developing, especially if they are stored for an extended period.
Avoid Excessive Sun Exposure
Prolonged exposure to direct sunlight can cause fading or deterioration of the velvet material. Store your hangers in a shaded area.
Conclusion
Black velvet hangers may have the potential to stain clothing; this can be prevented by selecting high-quality hangers that are designed in order to avoid this issue. Additionally, proper storage and maintenance of your clothing can also help to prevent stains and damage.
Ultimately, the decision to use black velvet hangers will depend on your personal preferences and needs. Still, with careful consideration and attention to detail, it is possible to safely and effectively use these hangers without causing any damage to your clothing.