Does Nipple Cream Stain Clothes? – Facts And Solutions
Nipple cream is a must-have for new moms who are breastfeeding. It helps soothe sore and cracked nipples, making breastfeeding a comfortable experience. However, many women have concerns about nipple cream staining their clothes.
Yes, nipple cream, particularly ones that contain lanolin, can cause stains on clothing. Lanolin is a waxy substance extracted from sheep's wool that is often used in various skin care products, including nipple creams. It's very thick and can leave oily residues on clothes that are hard to remove.
This blog post will explore how nipple cream can affect your clothing, how you can clean stains, and some tips to prevent it from happening.
Can Nipple Cream Cause Stains on Clothing?
Nipple creams, used mainly by breastfeeding mothers for relieving sore and cracked nipples, can sometimes leave stains on clothes.
Lanolin-based nipple cream can potentially cause stains on clothing. These creams are often quite thick and greasy, which can lead to stains if it comes into contact with the fabric.
Since lanolin is a waxy substance produced by sheep, it has a yellowish color that can potentially cause visible spots or marks on clothing.
The chances of staining increase significantly if the cream isn't fully absorbed into the skin before dressing or if an excess amount is used. Lanolin, due to its oily nature, is not water-soluble and hence, it might not easily come off in a regular wash.
The water's temperature and the type of detergent used can also affect whether a stain from nipple cream will come out in the wash.
Factors Influencing Staining on Clothes
There are several factors that can influence nipple cream staining on clothes: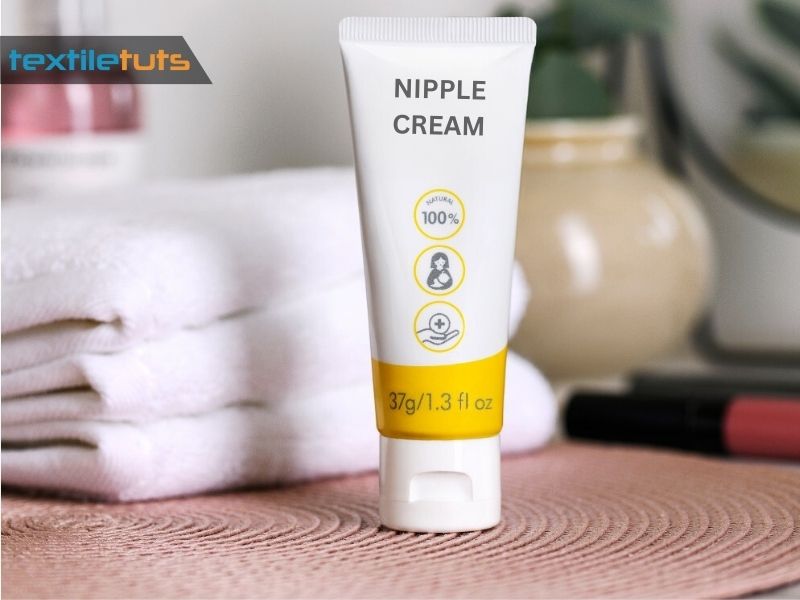 Cream Composition
Some nipple creams are made of lanolin, which is a natural, oily substance extracted from sheep's wool. The oily nature of this substance can cause staining on clothes. Other creams, based on petroleum jelly or other oils, can also cause similar stains.
Quantity Of Application
The more cream you apply, the higher the chance of it coming in contact with your clothing and causing a stain. Some people tend to over-apply the cream which leads to residue transferring to the clothing.
Type Of Cloth
The material of the clothing can also influence the staining. Certain materials like silk, nylon, or other delicate fabrics are more prone to staining than cotton or other absorbent materials.
The color and pattern of the clothing can also play a role. Light-colored clothes, for instance, are likely to show stains more readily than darker ones.
Cream Absorption
How well the skin is able to absorb the cream can also be a factor. If the skin absorbs most of the cream, fewer residues will be left to make contact with clothing.
Method Of Application
If the cream is not properly applied and is left sitting on top of the nipple, it will likely come in contact with the clothing and cause a stain.
Duration Of Contact
The length of time the cream remains on the fabric before it is washed can affect the severity of the stain. The longer a stain is left untreated, the tougher it becomes to remove.
Washing Technique
The way the stained clothing is washed can influence the stain removal. Clothes stained with nipple cream should ideally be treated with a stain remover before machine washing. Warm water is more effective at removing oil-based stains than cold water.
How to Remove Nipple Cream Stains?
Nipple cream can leave stubborn stains on your clothes if not properly dealt with. Here are the steps to remove nipple cream stains from your clothing: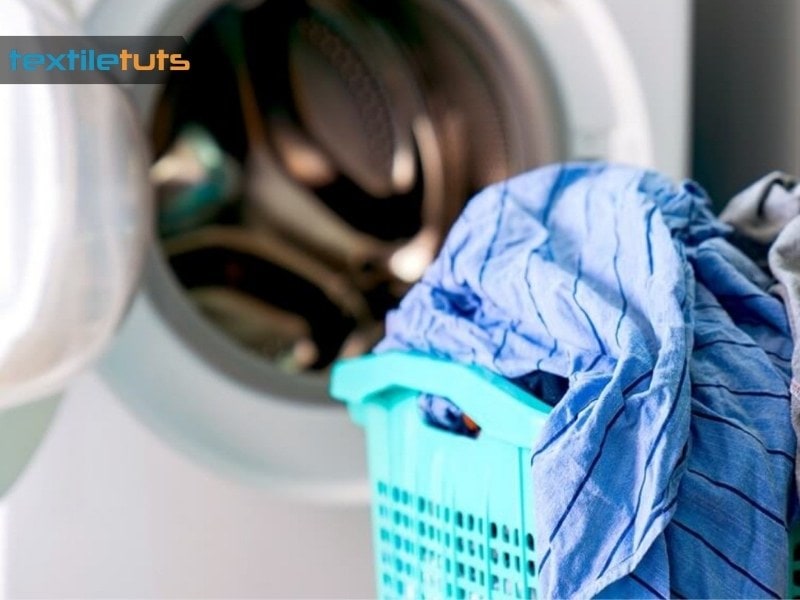 Step 1: Remove Excess
Start by scraping off the excess nipple cream gently using a spoon, tissue or plastic scraper. Be careful not to rub in the stain further.
Step 2: Pretreat the Stain
Soak the garment in warm water mixed with laundry detergent or dish soap. You can also use pre-wash stain remover. Apply it directly on the stained area, let it sit for about 15 minutes.
Step 3: Wash Your Clothing
After pre-treating the stain, wash your clothing as usual. If it's machine washable, wash it in the warmest water possible according to the fabric's care label. If not, hand wash gently.
Step 4: Check the Stain
After washing, make sure the stain has been fully removed before drying the garment. Drying can set the stain, making it more difficult to remove.
Step 5: Repeat if Necessary
If you still see the stain, repeat the steps. It might require a few rounds of treatment and washing before it completely disappears.
Tips
Test the stain remover on a hidden area of the garment before applying on the visible area to ensure it doesn't discolor or damage the fabric.
Lanolin, one of the key ingredients in many nipple creams, is a fatty substance that can be particularly difficult to remove. You might need a degreasing dish soap to help with breaking down the substance.
Be patient. Stain removal is not always instant, and rushing the process could harm the fabric.
Steps to Prevent Nipple Cream Staining
With careful use and a few simple tricks, you can prevent nipple cream from staining your clothing. Following are a few tips on how to avoid nipple cream stains: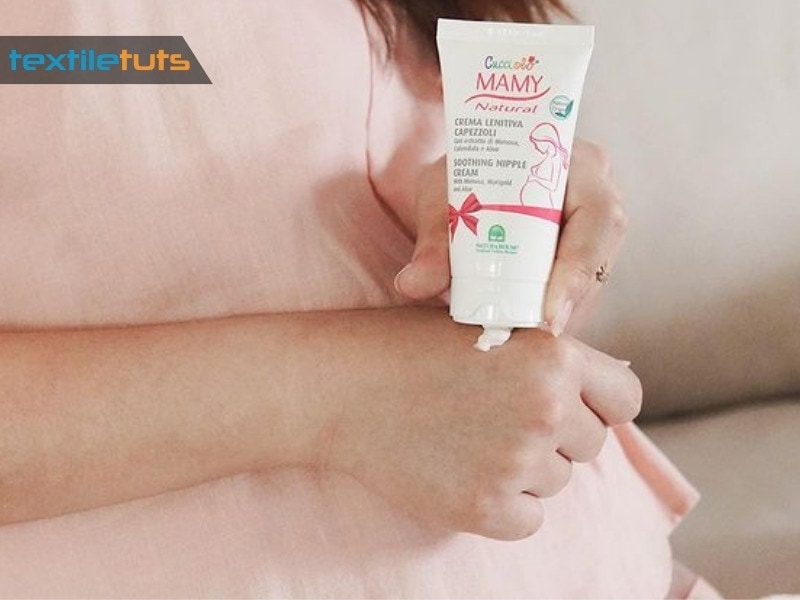 Apply Sparingly
One of the main reasons nipple cream stains clothes is due to overapplication. So, you can only apply the required amount of cream. Too much can seep through your bra and onto your clothes, leading to stubborn oil stains.
Allow for Absorption
Allow the cream to absorb into your skin before getting dressed. If you dress right away, the cream tends to rub off onto your clothes, causing stains. Giving it time to soak into your skin will help prevent this.
Use Nipple Pads
Consider using breast or nursing pads as an extra line of defense. They can help absorb any excess cream and prevent it from coming into contact with your clothes.
Choose Your Clothes Wisely
Try to wear dark colored clothes as stains are less noticeable on them. Alternatively, you can opt for clothes made of fabrics that do not absorb oil stains easily.
Spot Clean
If you do end up getting cream on your clothes, spot clean it immediately. Rub a small amount of dish soap on the stain and rinse it under hot water. The soap will help break up the oil and lift it out of the fabric.
Regular Laundering
Timely and regular laundering can help in preventing the stains from setting in. Applying a stain remover before washing can be beneficial. Remember to avoid drying until the stain is completely gone as the heat can set the stain.
Purchase Non-Greasy Nipple Cream
Some nipple creams are specifically formulated to be less greasy, which can help prevent staining. Check the product labels when purchasing or ask for recommendations.
Conclusion
Nipple creams can be a lifesaver for new mothers experiencing sore or cracked nipples. While some may be concerned about potential staining, there are nipple creams available that are specifically formulated to avoid staining clothes.
It's important to carefully read the label and do a patch test before using any nipple cream to ensure it's safe and effective. If you experience staining, act quickly and follow the appropriate stain-removal process to avoid permanent damage to your clothing.