Does P20 Stain Clothes? – The Stain Fiasco
Yes, P20 sunscreen can stain clothes. This happens because it contains Avobenzone, a common ingredient in sunscreens that can cause staining, especially on lighter fabrics.
The stains are often yellow or orange and can be difficult to remove, even with stain removers or bleach. The marks are also often not visible until after the fabric has been washed and dried, making them even more challenging to treat.
To prevent this discoloration, it is recommended to let sunscreen fully dry before putting on clothes. If possible, stay away from white-colored fabrics when applying P20 sunscreen.
Apart from Avobenzone, a few more key ingredients in the sunscreen can lead to staining. Following part of my writing, you will learn about those chemicals, the types of fabrics that are most susceptible, and how to prevent and remove any stains.
Does P20 Sunscreen Stain Clothes?
P20 sunscreen, while effective at protecting your skin from harmful UV rays, does come with a potential downside – it can indeed stain clothes. This unfortunate outcome can be attributed to the presence of Avobenzone, a common ingredient found in many sunscreens.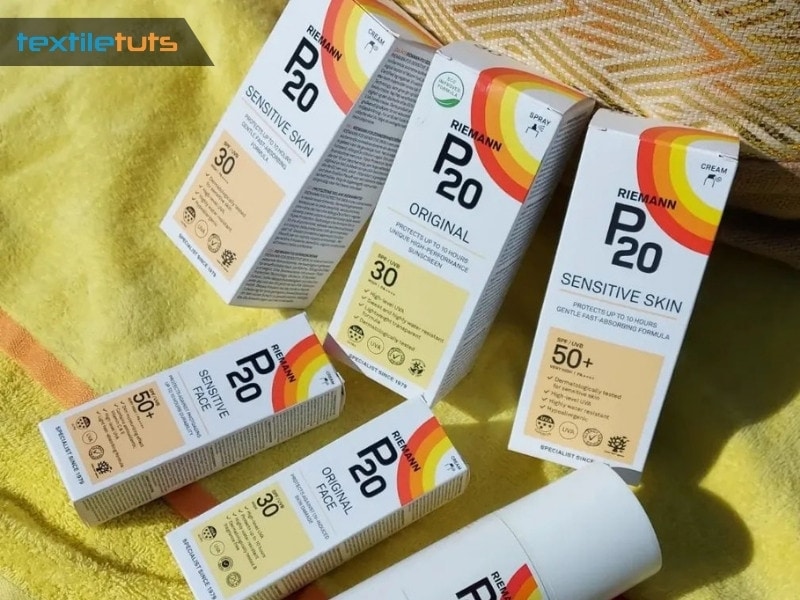 Avobenzone is a chemical compound that helps absorb and dissipate UVA and UVB rays, making it an essential component in broad-spectrum sun protection. However, its interaction with fabrics, notably lighter ones, can result in staining issues.
The stains caused by P20 sunscreen are often shades of yellow or orange and can be notoriously stubborn to remove.
These stains might not be immediately visible when applying sunscreen, but they tend to reveal themselves after the fabric has gone through a wash-and-dry cycle. This delayed appearance can complicate stain removal efforts, as the stains might have already set into the fabric.
Unfortunately, typical stain removers or even bleach might not always be effective in completely removing these sunscreen-induced stains. This can be quite frustrating, especially when dealing with clothing items that you hold dear.
The difficulty in treating these stains can lead to the premature retirement of garments that otherwise still have plenty of life left in them.
Factors Leading to Potential Staining
P20 sunscreen is a popular sunscreen known for its long-lasting and water-resistant properties. However, one of the issues some users encounter is staining. Here are some factors that could potentially lead to P20 sunscreen staining:
Concentration Level
P20 sunscreen contains a high level of organic UV filters, like Avobenzone and Ensulizole. These filters have orange or brownish colors, which can discolor clothes, swimsuits, towels, and even jewelry.
Incorrect Application
Sometimes, staining is due to the incorrect application of the product. Typically, P20 sunscreen should be allowed to dry completely (15 minutes) before getting dressed. If it is not fully dry, it may rub off onto fabrics, leading to stains.
Over Application
Overuse of the product could also result in staining. It's important to apply just enough P20 sunscreen to cover the skin.
Use on Wet Skin
Applying P20 sunscreen to wet skin can also result in staining. It is recommended to use this product on dry skin and allow it to absorb and dry before entering the water.
Fabric Type
Different fabrics react differently to sunscreen. Synthetic fabrics like polyester and elastane are more likely to suffer from staining compared to natural fabrics such as cotton.
Use with Other Products
If P20 sunscreen is applied on top of other skin care products such as oils or creams, this might increase the chances of the sunscreen transferring and staining fabrics.
Long-term Exposure to Sunlight
While P20 sunscreen is designed to be durable in the sun, prolonged exposure can cause the organic UV filters to break down and discolor the skin and subsequently, your fabric when you sweat.
Poor Product Storage
If the sunscreen is not stored properly, it could lead to changes in consistency and composition, which can increase the chances of staining.
How to Remove P20 Stains from Clothes?
Removing P20 sunscreen stains from clothes can be challenging due to the specific ingredients in the sunscreen that cause the stains. However, there are some steps you can take to try and minimize or eliminate the stains.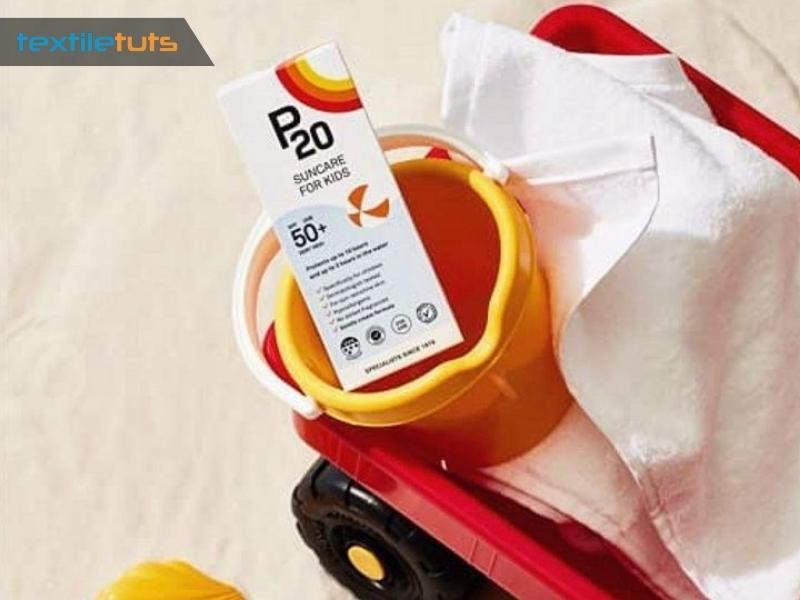 Keep in mind that the effectiveness of these methods may vary based on the fabric type, the age of the stain, and other factors. Here's a general guideline to help you tackle P20 stains:
Materials Needed
Liquid dishwashing soap
Baking soda
Warm water
White vinegar
Old toothbrush or sponge
Laundry detergent
Step 1: Spot Treatment
As soon as you notice the stain, treat it immediately. The longer the stain sits, the harder it is to remove.
Apply a few drops of liquid dish soap directly to the stain and gently rub it in. The degreasing agents in the soap will help break down the sunscreen's oils.
Step 2: Baking Soda Scrub
Sprinkle a generous amount of baking soda over the treated stain. Then, using an old toothbrush or sponge, gently scrub the baking soda into the stain. Baking soda is great for absorbing oils and lightening stains.
Step 3: Rinse and Check
Rinse the area with warm water. Whether you're done now depends on the severity of the stain; if it's light, this might be enough. If you still see any residue of the stain, proceed to the next step.
Step 4: Vinegar Soak
Pour a small amount of white vinegar onto the stained region. Gently rub it using a sponge or an old toothbrush, then let it sit for about 30 minutes. Vinegar acts as a natural bleaching agent and can help lift those stubborn stains.
Step 5: Rinse and Check Again
Rinse the vinegar from the clothing and assess the stain. If it's still there, you might need to repeat the vinegar soak once or twice more.
Step 6: Wash as Usual
When you're happy that the stain is mostly or completely gone, wash your garment on a normal cycle, following the clothing's care instructions.
Alternative to P20 Sunscreen that Doesn't Stain
If you're looking for alternative sunscreens that are less likely to cause staining on clothing, several options are available on the market.
Remember that, no sunscreen can claim to be 100% stain-proof, and individual experiences can vary. So it's a good idea to conduct a patch test before using a new sunscreen to ensure it works well for your skin and clothing. Here are some alternative sunscreens to consider:
Neutrogena Ultra Sheer Dry-Touch Sunscreen
With a high SPF, it provides strong protection against both UVA and UVB rays. Its dry-touch formula ensures that it feels light on the skin and does not leave any oily residues that could cause stains. It is also waterproof, making it a reliable choice for beach trips or intense physical activities.
Aveeno Positively Mineral Sensitive Skin Sunscreen
Designed specifically for sensitive skin, this mineral-based sunscreen is as gentle as it is effective. Besides not staining clothes, it's also free from potentially irritating elements like fragrance, oils, and dyes.
EltaMD UV Clear Broad-Spectrum
This sunscreen is another great alternative, especially for those prone to acne, rosacea or hyperpigmentation. This oil-free sunscreen doesn't leave residue on the skin or clothes, making it a non-staining solution for all day outdoor activities.
Biore UV Aqua Rich Watery Essence
It is a non-staining sunscreen. Despite being water-resistant, it doesn't leave behind a sticky or greasy finish on your clothes or skin. It has a high SPF and broad-spectrum protection against UVA/UVB rays, making it suitable for all seasons and skin types.
CeraVe Ultra-Light Moisturizing Lotion SPF 30
This is not just a sunscreen but also a moisturizer. It's oil-free and doesn't stain clothing, making it perfect for everyday use.
Types of Clothing P20 Could Stain
P20, like many sunscreens containing avobenzone, can potentially stain various types of clothing, especially if not allowed to fully dry before coming into contact with fabric.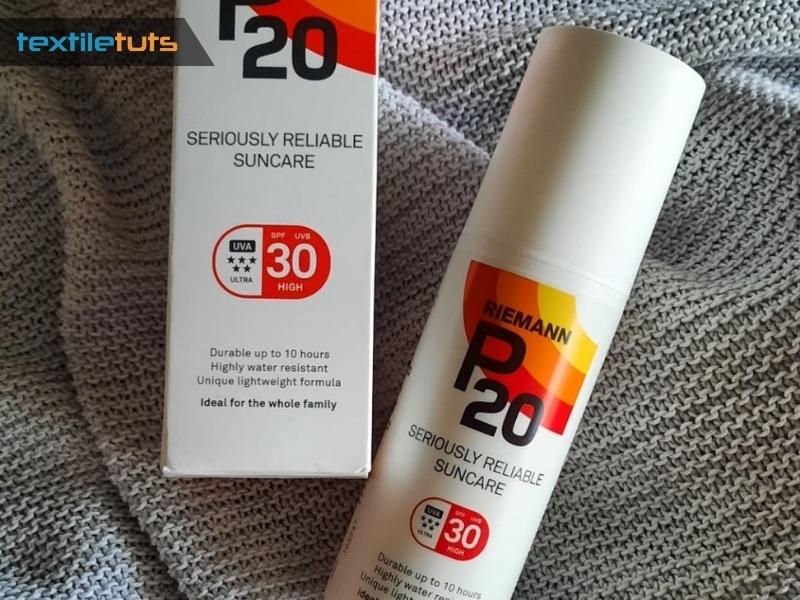 Here are some types of clothing that are more susceptible to staining from P20 sunscreen:
White Clothing
P20 sunscreen, like many others, can leave yellowish or rusty spots on white clothes, often seen after washing. The chemicals in the sunscreen, especially the avobenzone component, react with water and metal elements in laundry water or detergents, causing these unsightly stains.
Light-Colored Fabrics
Light-colored fabrics, especially whites and pastels, are more likely to show stains from sunscreen due to the contrast in color. The yellow or orange stains caused by avobenzone can be particularly noticeable on these types of fabrics.
Synthetic Fabrics
Clothing made from synthetic fabrics like polyester, nylon, or acrylic is more prone to sunscreen stains. These fabrics are less absorbent and likely to show oily spots or marks.
Delicate Fabrics
Thin and delicate fabrics, such as silk, satin, or chiffon, can become discolored by P20 sunscreen. These fabrics can be easily stained, and washing them could remove the sunscreen stains.
Activewear
Activewear and sportswear are often made of special performance fabrics. These types of clothing are more susceptible to sunscreen stains due to constant sweating and friction.
Sunscreen stains on activewear may be more challenging to remove due to the performance-based materials used.
Swimwear
Swimsuits, especially those with light colors or synthetic materials, can be at risk of staining. Sunscreen can be used while swimming, and the combination of sunscreen and water can increase the likelihood of stains.
Hats and Caps
Hats and caps made from fabrics like cotton or synthetics are often in direct contact with sunscreen-covered skin, which can result in staining over time.
Towels and Cover-Ups
Towels and cover-ups that come into contact with sunscreen-treated skin can also become stained. The staining might not be immediately visible, but it can become apparent after washing.
Clothing with Texture
Clothing with texture, such as ribbed or woven patterns, can trap sunscreen particles, leading to potential staining.
Cotton Fabrics
Although cotton is exceptionally absorbent, it can still get stained by P20 sunscreen. This type of fabric often shows an oily stain where the sunscreen is applied.
Colorful Printed Clothes
The oily residue from the sunscreen can affect the color of the prints, causing them to fade or change color. Depending on the quality of the print, this could either lead to a permanent stain or an area where the color has been noticeably changed.
How to Minimize and Prevent Staining?
Minimizing and preventing P20 sunscreen staining on clothing involves using careful application techniques and protective measures.
While it might not be possible to eliminate the risk of staining completely, following these guidelines can significantly reduce the chances of encountering stubborn sunscreen stains:
Apply Early
Apply your sunscreen at least 15-20 minutes before you get dressed. This allows the sunscreen ample time to dry and fully be absorbed by your skin, reducing the chances of it rubbing off onto your clothing or swimwear.
Allow Absorption
Let the sunscreen absorb into your skin for a few minutes before getting dressed. This can help reduce the amount of residue that could transfer to clothing.
Avoid Direct Contact
Do your best to avoid direct contact between your clothing and areas on your skin that have been applied with sunscreen. This can be achieved by wearing loose clothing that doesn't stick onto your skin.
Choose Clothing Wisely
You can wear darker colored dresses. Darker fabrics are less likely to show sunscreen stains. Also, consider wearing long-sleeved shirts, pants, hats, or cover-ups made from materials designed for sun protection.
These can help shield your skin and minimize contact between sunscreen and clothing.
Allow Ample Drying Time
Wait until your skin is completely dry and the sunscreen is absorbed before putting on clothes. This can minimize the chances of transferring the product to your clothing.
Wash Immediately
If your clothing or swimwear comes into contact with the sunscreen, try to wash it off immediately with warm water and detergent. Avoid rubbing the stain as it can push it deeper into the fabric.
Wash Your Hands
Wash your hands thoroughly after applying sunscreen to avoid accidentally touching and staining your clothing.
Final Words
P20 has been a popular sunscreen brand for many years, and while it offers great protection from the sun, it unfortunately has a tendency to stain clothes. Its main ingredient, Avobenzone, can leave stubborn orange or brown stains on your garments once exposed to water or sweat.
The chances of this happening can be trimmed down by allowing the product to fully dry before dressing. However, completely eliminating the risk might be difficult. Therefore, it is advisable to care for the garments properly and following advice on stain removal from fabrics.
If staining does occur, it is best to treat the area immediately with a stain remover or a mixture of baking soda and water.