Do Downy Unstopables Stain Clothes?
The long-lasting fragrance of Downy Unstopables is undeniably a game-changer in making your laundry smell amazing for a more extended period. However, behind its inviting scent hides a potential concern that many users have experienced.
According to several reports, Downy Unstopables can leave a mark on your clothes, especially when not completely dissolved before mixing with clothes and in cold water. Even though plenty of individuals have not encountered this predicament, the product has been found to potentially stain various fabric types, including cotton and dark-colored clothing.
In this blog post, we will take a closer look at the potential impact of Downy Unstopables on clothes and the factors that influence this product to leave marks on clothing and most effective solution to remove them.
Can Downy Unstopables Cause Stains on Clothing?
Downy Unstopables are fabric conditioning products intended to provide long-lasting fragrance on clothing. The product formulated to dissolves in water in your washing machine, binding with fabrics to infuse them with a fresh scent.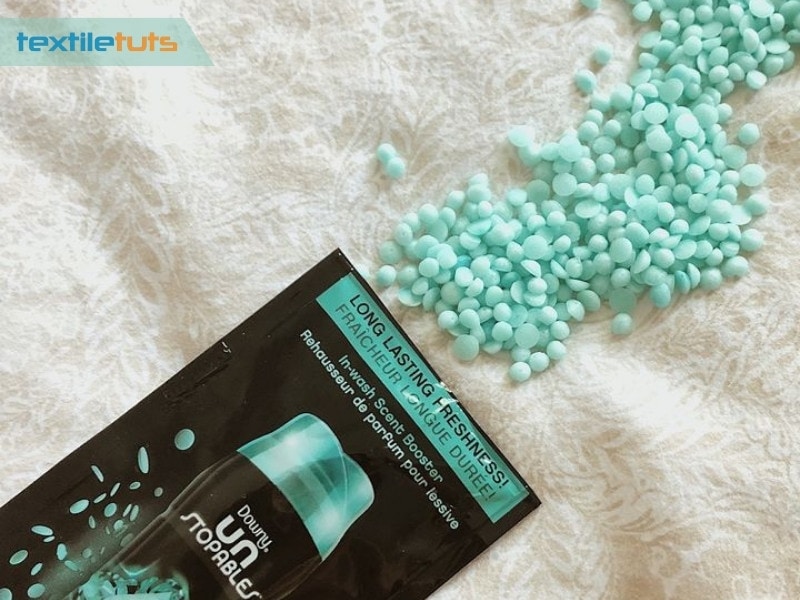 Based on the experiences shared by various users, Downy Unstopables can potentially stain clothes. Several users reported that the product left stains on their garments, particularly when not completely dissolved before adding clothes and in cold water scenarios.
The beads need enough water and agitation to dissolve and disperse throughout the load fully. If non-dissolved beads come into contact with fabrics, especially delicate or lighter-colored ones, they can potentially leave a blue or purple mark.
Some people may mistakenly put these scent beads directly on the clothing or overload the washer with them, which can lead to staining.
Also, using the product in a short or cold wash cycle might not allow the beads to dissolve fully, increasing the risk of staining.
The stains were observed on various fabrics, including cotton and dark clothing. While users appreciate the scent of Downy Unstopables, the risk of staining and the difficulty of stain removal has caused dissatisfaction.
However, this is not a universal experience, as others have not faced such issues. Nonetheless, given the shared experiences, caution is advised when using this product.
How Do Downy Unstopables Stain Clothes?
Downy Unstopables are small, scented beads that dissolve in water during washing, releasing a long-lasting fragrance onto your clothes. However, in some cases, these beads may not fully dissolve or rinse entirely from the fabric, which can lead to staining. Here's how it can happen: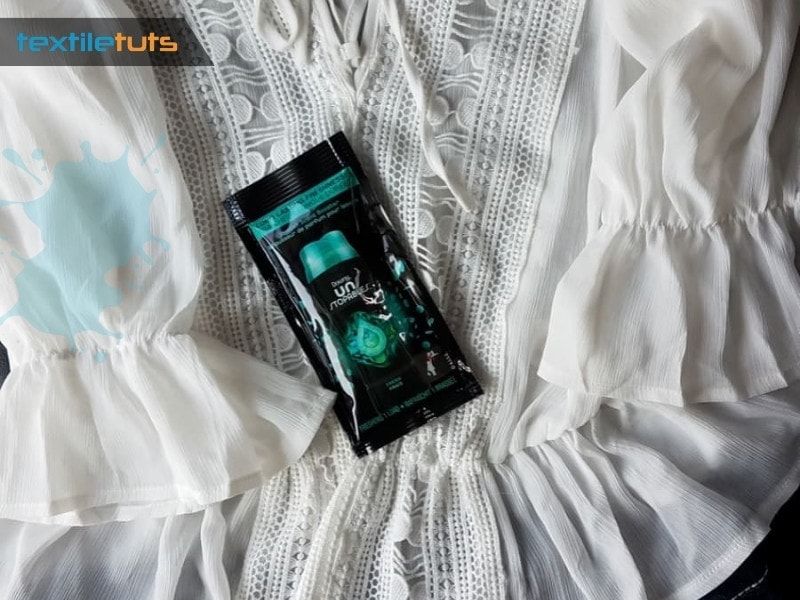 Incomplete Dissolution
The beads are meant to dissolve in water, releasing the scent and spreading it throughout the laundry. If the beads do not fully dissolve, they can become trapped in the fabric fibers, leading to spots or streaks of concentrated fragrance beads. This can give the appearance of staining, especially on light-colored fabrics.
Water Temperature
Downy Unstopables are formulated to dissolve in water, releasing their unique fragrance. However, the beads may only dissolve partially if the water temperature is too low.
When not properly dissolved, these undissolved pieces can stick to your clothing fabrics, leaving stains or streaks particularly visible on darker clothes, and using hot water instead of cold guarantees the complete dissolution of the beads, thereby avoiding potential staining.
Residue Buildup
If you consistently use too many beads or frequently, residue can build up on your clothing over time. This can result in a visible accumulation of the scented beads, which might be mistaken for staining.
Fabric Type
The nature and texture of certain fabric materials enhance the odds of stains developing. Delicate fabrics, like silk or wool, or clothes with a rough surface, may trap the Undissolved Unstopables beads within their fibers, resulting in noticeable stains once dried.
Please always check the care labels on your clothes to ensure they're suitable for use with in-wash scent boosters.
Washing Machine Factors
The type of washing machine you use and the cycle you select can also play a role. If the machine doesn't provide enough water for proper dissolution and rinsing, the beads might not completely wash away from the fabric.
HE (High Efficiency) machines use less water, which increases the concentration of the scent beads, and may need to be more efficient at entirely dissolving them.
Also, if the beads are placed in the machine late in the washing cycle, they may need more time to dissolve completely, resulting in potential staining. Adding the beads at the start of the wash cycle is recommended.
Product Quantity
Using excessive Downy Unstopables can also lead to stains on your clothes. More beads mean more concentrated fragrance and color in your washing machine. If these extra beads do not fully dissolve, they can stick to your clothes and leave residue or streaks that appear as stains once the clothes are dry.
How to Remove Downy Unstopables Stains from Clothes?
If you've noticed Downy Unstopables stains on your clothes, you can try a few methods to remove them. Remember that these methods' success may vary depending on the fabric type, the severity of the staining, and the specific laundry products you have available. Here are some steps to try: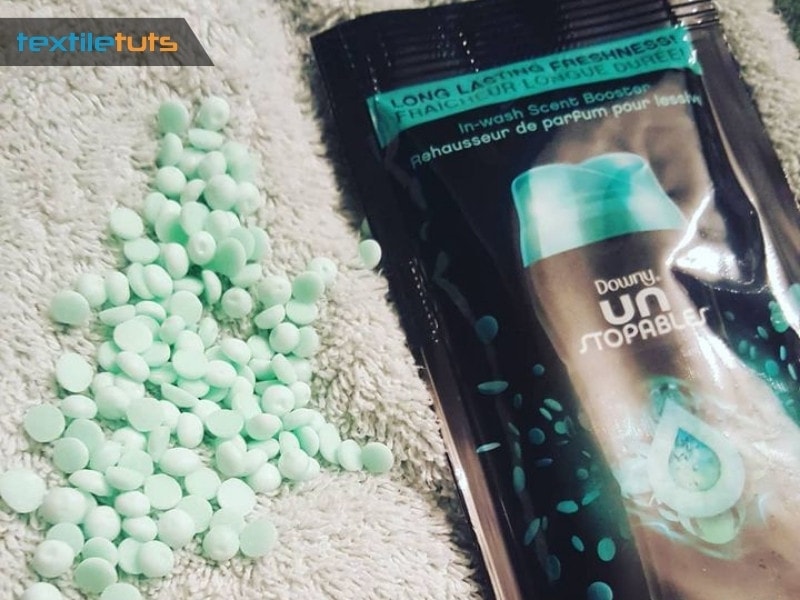 Re-Wash the Clothes
The simplest solution is to re-wash the stained clothes using a regular detergent and an appropriate wash cycle. Make sure to follow the care instructions on the clothing label and use the recommended water temperature.
Vinegar Soak
Vinegar can help break down and remove residue. Fill a basin or sink with a mixture of equal parts water and white vinegar. Soak the stained clothes in the solution for about 30 minutes to an hour. Then, wash the clothes as usual with detergent.
Baking Soda Paste
Baking soda can act as a gentle abrasive to help remove residue. Make a paste by mixing baking soda with a small amount of water. Gently rub the paste onto the stained areas using a soft cloth or your fingers. Allow the paste to sit for a short while before washing the clothes.
Pre-Treating with Dish Soap
Apply a small amount of liquid dish soap directly to the stained areas. Gently rub the fabric together to work the soap into the stain. Let it sit for a few minutes, and then wash the garment as usual.
Enzyme-based Stain Remover
Consider using an enzyme-based stain remover. Apply the stain remover to the affected areas and allow it to sit for the recommended amount of time before washing the garment.
Use of Stain Remover
Using a stain remover can be your last resort if the stain remains present. There are several ones available in the market specially designed for laundry purposes. Always follow the instructions on the stain remover.
Professional Cleaning
If the stains persist, taking the stained clothing to a professional cleaner might be a good idea. They have experience with a wide range of stains and fabrics and may be able to remove the residue effectively.
Why Some Laundry Products Stain Clothes?
Laundry products can sometimes stain clothes due to various factors, including the composition of the products, the interaction with fabrics, and the conditions in which they are used. Here are some common reasons why laundry products might cause staining:
Incomplete Dissolution
Some laundry products, like powdered detergents or boosters, may not fully dissolve in water during the wash cycle. When these undissolved particles come into direct contact with fabric, they can leave residue that appears as stains.
Residue Buildup
Over time, if too much detergent or laundry additives are consistently used, a residue can build up on fabrics. This residue can attract dirt and other particles, leading to the appearance of stains.
Dye Transfer
Some laundry detergents contain brightening agents or enzymes that can loosen color molecules from fabrics. This can lead to dye transfer, where colors bleed from one fabric onto another, resulting in stains.
Fabric Interaction
Different fabrics react differently to laundry products. Some fabrics might be more prone to absorbing or retaining certain chemicals, leading to discoloration or staining.
Chemical Reactions
Laundry products can contain various chemicals, some of which may react with specific dyes or fibers in clothing. These reactions can result in changes in color or appearance that mimic stains.
Hard Water Minerals
If you have hard water, the minerals can sometimes react with laundry detergents, creating particles that settle on clothing and cause stains.
Overloading the Washer
Overloading the washing machine can hinder proper agitation and rinsing, preventing thorough removal of detergents and additives. This can lead to residue buildup and stains.
Usage Errors
Not following the instructions on the product packaging, such as using too much product or not diluting it properly, can contribute to staining issues.
Quality of Products
The quality and formulation of laundry products can vary. Cheaper or lower-quality products might not dissolve as well or may contain ingredients that are more likely to cause staining.
Old or Expired Products
Using old or expired laundry products can result in changes to their composition, which might lead to unexpected interactions with fabrics and potential staining.
How to Use Downy Unstopables to Prevent Stains?
To use Downy Unstopables and prevent potential staining, follow these steps and guidelines: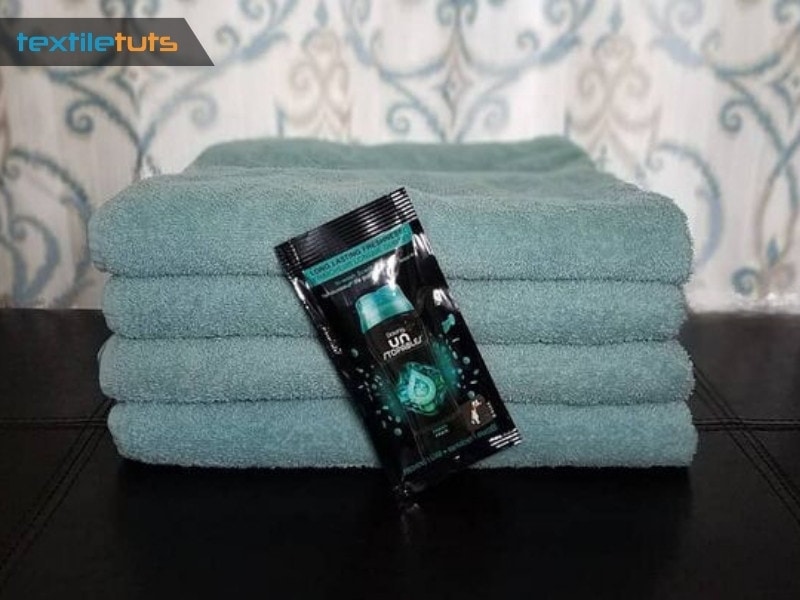 Follow Care Instructions
Always follow the care instructions on your clothing labels. This includes guidelines for water temperature, wash cycle type, and drying settings.
Add to Empty Washer
Add the recommended amount of Downy Unstopables directly to the empty drum of your washing machine before adding your clothes. Do not mix the beads with your detergent or add them to the detergent dispenser.
Load the Clothes
After adding the beads, add your clothes to the washing machine. Be mindful not to overload the machine, as this can affect proper agitation and dissolution.
Select the Right Cycle
Choose an appropriate wash cycle based on the fabric type and level of soiling. Using a longer wash cycle with extra water can help ensure that the beads dissolve and rinse away effectively.
Avoid Hot Water
While Downy Unstopables are designed to dissolve in water, using excessively hot water can reduce the effectiveness of their dissolution and might increase the risk of residue.
Minimize Overuse
Use the recommended amount of Downy Unstopables according to the product instructions. Overusing the beads can lead to residue buildup and potential staining.
Regular Maintenance
Periodically clean your washing machine to prevent residue buildup. This can help ensure that the beads fully dissolve and rinse away during each wash cycle.
Spot Test
If you're concerned about the beads causing staining on a particular fabric, consider doing a spot test on an inconspicuous area of the fabric before using Downy Unstopables on a larger scale.
Alternate Use
You don't necessarily need to use Downy Unstopables with every load of laundry. Using them occasionally can help reduce the risk of residue buildup.
Conclusion
Downy Unstopables are a popular product that adds fragrance and freshness to laundry. Several reports suggest that the product may cause staining on clothing, while the manufacturers claim that the product is safe.
To avoid this issue, please follow the instructions I have provided above, including using the recommended amount of the product, cold water, correct washer settings and avoiding direct contact with fabrics.
By taking these precautions, you can enjoy the benefits of Downy Unstopables without worrying about any unwanted stains on your clothes.
Image Source