Does Sudocrem Stain Clothes? – Tips To Safeguard Your Clothes
Sudocrem is a widely used antiseptic cream that has been a go-to solution for many skin conditions such as nappy rash, eczema, cuts, and burns. However, one common concern among parents and users of Sudocrem is whether it stains clothes.
Yes, Sudocrem can stain clothes. It is a thick white cream and can leave a residue behind on fabrics. However, these stains usually come out in a regular wash. Using a little dish soap before washing may be necessary for particularly stubborn stains.
In this blog post, together, we will dive into the topic of why Sudocrem stains clothes and explore the reasons behind it, as well as provide some tips on how to prevent and remove any stains that may occur.
Can Sudocrem Cause Stains on Clothing?
Sudocrem, a famous antiseptic healing cream, can cause stains on clothing. This cream is thick and greasy, which helps provide a protective layer over the skin to heal and soothe rashes, burns, eczema, and other skin conditions. However, this same quality can also result in stain marks on fabrics if there is any accidental contact.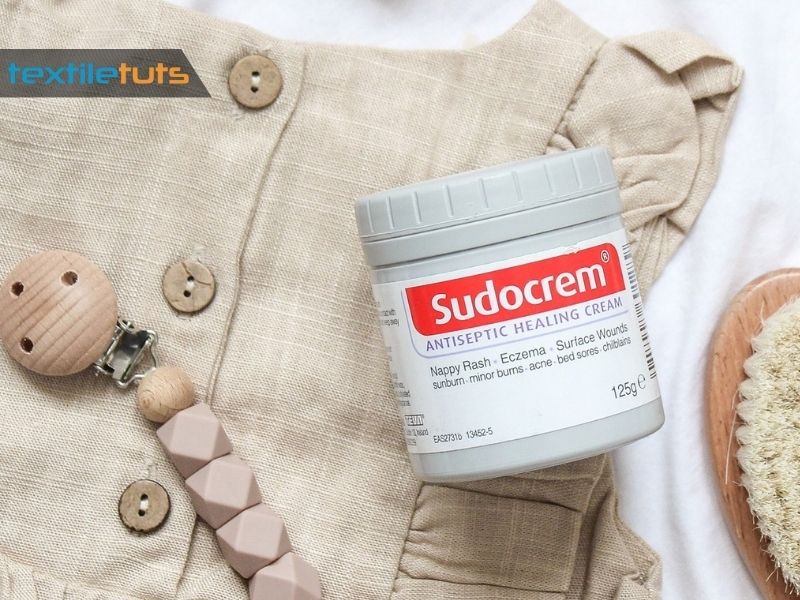 Sudocrem is a thick, white cream that contains fatty substances and zinc oxide. These can stick to the fabric's fibers and appear as a lump or a greasy mark. The stains are often tough to remove via regular washing and may require a more comprehensive treatment.
The stains are oil-based stains, which can be stubborn and resist conventional laundering methods. The key to removing such stains is to treat them as soon as possible, and applying a laundry pre-treatment often proves to be beneficial.
However, you should also consider the fabric care instructions before you try any stain removal process to avoid potential damage to the clothing material.
Treating Stains: Effective Removal Techniques
If you've accidentally gotten Sudocrem or any other type of stain on your clothing, don't worry. There are several effective techniques you can use to remove stains. Remember that it's best to address the stain as soon as possible to increase the chances of successful removal.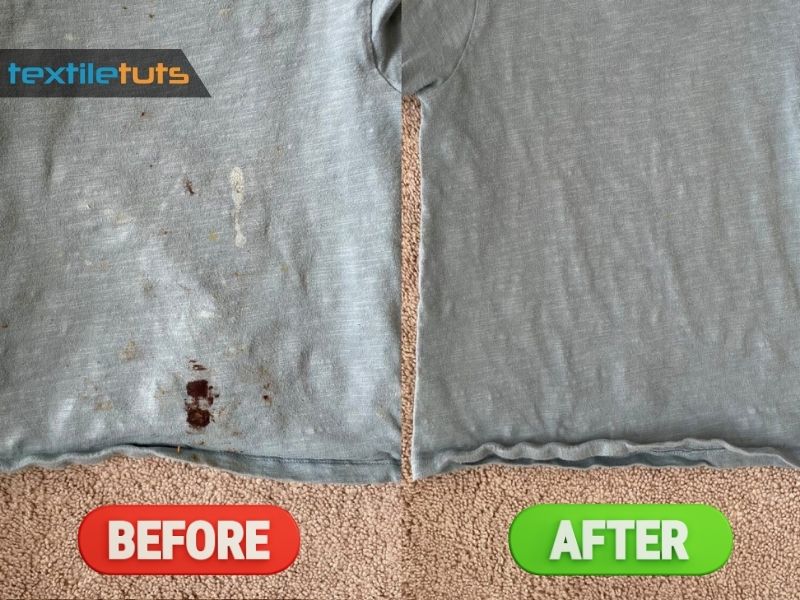 Pre-Treatment
Remove the excess Sudocrem from the fabric. Be careful not to spread it further. You can use a blunt knife or spoon to scrape off the excess.
Solvent
Use a suitable solvent like dish soap or laundry detergent to pre-treat the stain. These solvents break down the oily and waxy components of the Sudocrem. Apply a small amount of the dish soap to the affected area and gently rub it in, then leave it for a few minutes.
Hot Water
Sudocrem is resistant to cold water, but hot water could be effective. Make sure the fabric of your clothing can withstand hot water to avoid damaging it.
Washing Machine
Place your clothing into the washing machine. Add your regular laundry detergent and set the machine to a warm cycle, as hot water will better aid in removing the stain. It's also a good idea to turn the garment inside out before washing to allow the water and detergent better access to the stained area.
Stain Remover
If the stain is particularly stubborn, consider using a dedicated stain remover. Apply the stain remover according to the package instructions. Allow it to sit for the prescribed time and then launder again as usual.
Dry Cleaning
You should take the item to a professional dry cleaner if it can only be dry cleaned or if the stain persists despite the aforementioned measures. They have special chemicals and techniques that can remove tough stains like Sudocrem.
Scrape Off Excess
Use a spoon or blunt knife to scrape off as much of the Sudocrem as possible. Be careful not to rub it further into the fabric.
How to Prevent Sudocrem Stains?
Preventing Sudocrem stains on clothing involves taking a few precautions while applying the cream. Here are some tips to help you minimize the risk of staining:
Apply Carefully
When using Sudocrem, try your best to apply it carefully so it does not come into unnecessary contact with clothing. It's often easier to apply Sudocrem when your child is unclothed, so try to apply it immediately before dressing your child.
Allow Absorption Time
Give the Sudocrem enough time to absorb into the skin before putting on clothing. Waiting a few minutes after application can help prevent direct contact between the cream and the fabric.
Protective Coverings
Consider buying a few cheap sheets or blankets that you can use to cover any area where you may be applying the cream. This could be a changing table, couch, or bed. The coverings will catch any excess cream and prevent it from staining your home items or clothing.
Use Disposable Gloves
Use disposable gloves when applying the cream, if possible. They can be easily disposed after use, keeping your hands clean and avoiding the transfer of the cream to your clothes.
Apply the Correct Quantity
A very effective way to avoid Sudocrem stains is by using the correct quantity of cream. A lot of times, stains are caused by using more product than necessary. Sudocrem should only be used sparingly, a small amount should suffice to create a thin and transparent layer.
What Types of Clothing Are Prone to Sudocrem Staining?
Sudocrem is more likely to stain certain types of clothing due to their fabric composition and texture. Generally, porous, light-colored fabrics with a rough or textured surface are more prone to absorbing and retaining stains.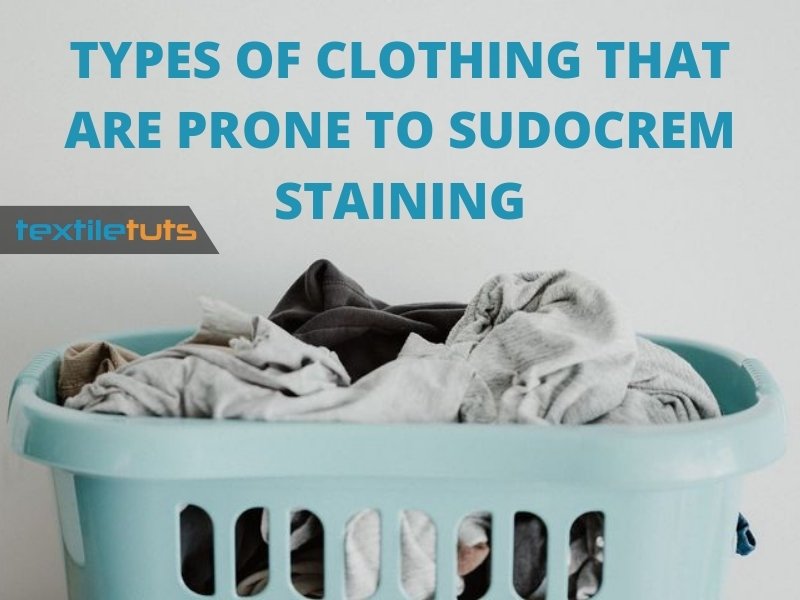 Here are some types of clothing that might be more susceptible to Sudocrem staining:
Light-Colored Clothing
Light-colored dresses, especially white or pastel colors, tend to show stains more prominently, including those from creams like Sudocrem.
Delicate Fabrics
Fabrics like silk, satin, chiffon, and lace can absorb substances more easily due to their finer weave and texture. Stains on these fabrics can be more challenging to remove without causing damage.
Cotton Clothing
While cotton is a common and durable fabric, some cotton blends or lighter cotton materials might be prone to absorbing creams and ointments.
Textured Fabrics
Fabrics with a textured surface, like terry cloth, corduroy, or textured knits, can trap cream particles in their crevices, making it harder to remove stains.
Synthetic Fabrics
Polyester can sometimes trap stains more effectively due to their less breathable nature.
Stretchy Fabrics
Stretch fabrics, such as elastane or spandex blends, can sometimes hold onto creams due to their elasticity and texture.
Loose Weaves
Fabrics with loose weaves, such as open-knit sweaters, might absorb and trap cream more easily.
Non-Water-Repellent Type
Some materials that are not water-repellent or have low water resistance can absorb the oils and ingredients in creams like Sudocrem.
Conclusion
Sudocrem is a popular and effective cream for treating a range of skin conditions, including nappy rash, eczema, and acne. While it has been known to leave white stains on clothing, but remember that this is not a permanent issue and can be treated.
Taking necessary precautions such as washing affected clothing immediately with a stain remover or using a protective barrier cream on clothing can help prevent any unwanted staining.