Does T-Cut Stain Clothes? – Effect On Clothing Fibers Unveiled
T-Cut is a popular product many enthusiasts use to remove scratches and restore the shine to their cars. However, one concern often arises is whether T-Cut stains clothes or other fabrics.
Yes, T-Cut can stain clothes. It is a strong chemical usually used for removing scratches and polishing surfaces, especially vehicles. If it comes into contact with clothing, it can leave a stain that might be difficult to remove.
In this blog post, I will explore the possible risks of T-Cut staining clothes and provide useful tips on how to clean the stain and prevent any potential damage.
T-Cut and Fabric Interaction: Can It Stain?
T-Cut can potentially stain fabrics if it comes into contact with them. The product is designed for automotive paintwork restoration and contains abrasive compounds that can remove layers of paint and imperfections from a car's exterior.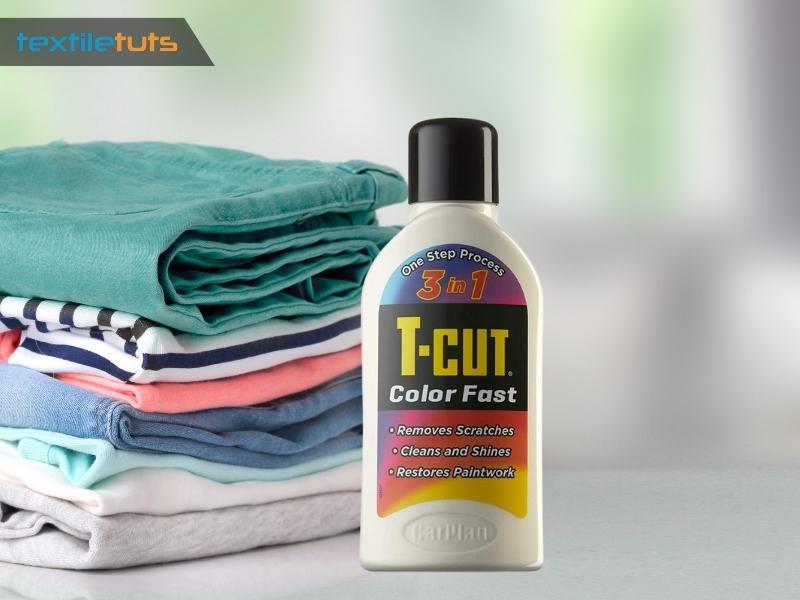 T-Cut is a color restorer and scratch remover for car surfaces, and it contains strong chemicals that can cause permanent stains on the fabric. It is essential to be cautious when using T-cut near clothing and to protect the fabric by covering it or removing it from the area.
Always wear protective clothing when using such T-Cut products. If it comes into contact with clothing, it is recommended to act quickly and immediately wash the stained area with soap and water to minimize the chances of stains.
How to Remove T-Cut Stains from Clothes?
Removing T-Cut stains from clothes can be challenging, as T-Cut is designed for automotive surfaces and not for fabrics. However, you can try the following steps to attempt stain removal.
Keep in mind that results may vary depending on the fabric type and the severity of the stain. Always test any cleaning solution on an inconspicuous area of the fabric before applying it to the stain.
Materials You Might Need
White paper towels or clean cloths
Mild dish soap or laundry detergent
Rubbing alcohol
Cotton balls or clean cloth
Stain remover (make sure it's safe for the fabric type)
Water
Clean, damp cloth
Step 1: Blot and Remove Excess
Use white paper towels or a clean cloth to blot the stained area gently. This helps remove any excess T-Cut residue.
Step 2: Pre-treat with Dish Soap
Mix a small amount of mild dish soap or laundry detergent with water to create a soapy solution. Gently apply the soapy solution to the stained area using a clean cloth or cotton ball. Blot the stain with the soapy solution, being careful not to rub too vigorously.
Step 3: Rinse and Blot
Dampen a clean cloth with water and gently blot the stained area to remove the soapy residue.
Step 4: Try Rubbing Alcohol
Test rubbing alcohol on an inconspicuous area of the fabric to ensure it doesn't damage or discolor the fabric. If the fabric is safe to treat with rubbing alcohol, dampen a cotton ball or cloth with rubbing alcohol and gently blot the stain.
Step 5: Use a Stain Remover
Apply a stain remover that's appropriate for the fabric type and follow the manufacturer's instructions. Gently work the stain remover into the fabric using a cloth or your fingers.
Step 6: Wash the Garment
Wash the clothing according to the care instructions on the garment's label. Use cold water, as hot water can set the stain.
Step 7: Inspect the Stain
After washing, inspect the stained area to see if the stain has been removed. If the stain persists, avoid drying the garment, as heat from the dryer can set the stain further. Instead, repeat the steps above or consider seeking professional cleaning help.
Step 8: Professional Cleaning
If the stain remains stubborn, you may want to consider taking the garment to a professional cleaner who has experience with stain removal.
Potential Damage Can T-Cut Cause to Clothes
T-Cut, scratch remover, is not intended for use on clothing or fabrics. and if it comes into accidental contact with clothes, it can potentially cause damage depending on several factors: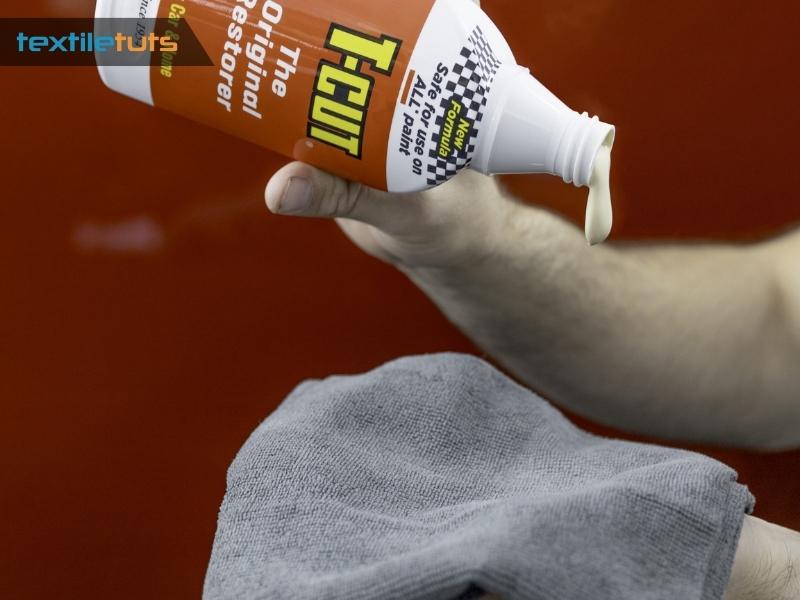 Staining
T-Cut contains chemicals that are designed to interact with automotive paint and surfaces. These chemicals can stain and discolor fabrics, leaving permanent marks that are difficult to remove.
Color Fading and Texture Changes
The chemicals in T-Cut may strip color from fabrics or cause fading, resulting in uneven patches or lighter spots on the clothing. Also, T-Cut can alter the texture of cloth, leaving it rough, stiff, or unpleasant to touch.
Chemical Reactions
The chemicals in T-Cut may react with the fibers in the fabric, weakening them and potentially causing the fabric to become brittle or prone to tearing.
Residue Buildup
Even if the T-Cut is initially removed, residues of the product can remain in the fabric's fibers. This residue may attract dirt, grime, or other particles, leading to a visibly dirty or discolored appearance over time.
Incompatibility with Dyes and Materials
Different fabrics and dyes can react differently to the chemicals in T-Cut. Some materials may be more sensitive to the chemicals and may suffer more damage.
Permanent Damage
In some cases, the damage caused by T-Cut to clothing may be irreversible, leaving you with a permanently damaged garment.
Tips on How to Prevent or Remove T Cut Stains
Preventing T-Cut stains on clothing is the best approach, as removing such stains can be challenging due to the nature of the product. Here are some tips to help you prevent T-Cut stains and steps to take if you accidentally get it on your clothes: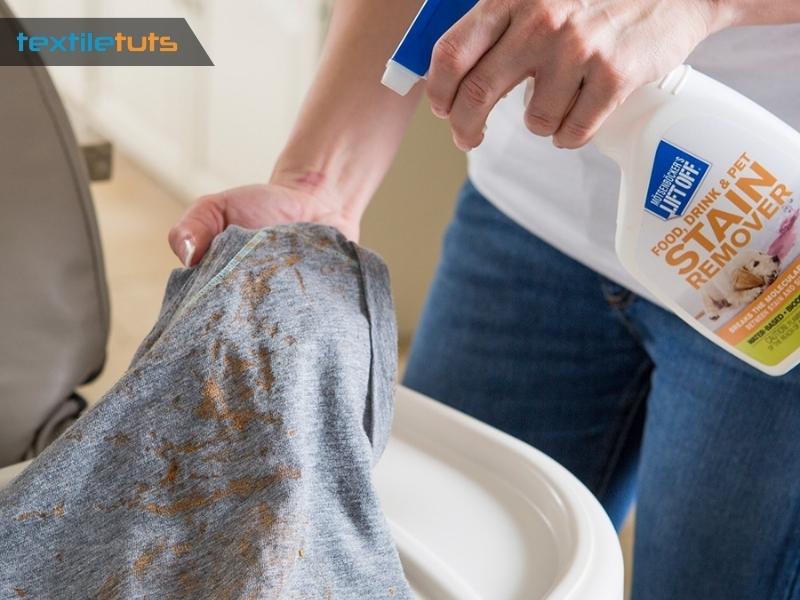 Wear Protective Clothing
If you're working with T-Cut or similar automotive products, wear old clothing that you don't mind getting stained. Additionally, consider wearing gloves to protect your hands.
Cover Clothes
Cover your clothes with a protective apron or cloth to prevent accidental splatters or spills while using T-Cut.
Cover Surrounding Areas
If you're working on a car's paint surface, cover surrounding areas like windows, rubber trim, and plastic parts to prevent accidental splatter or contact with T-Cut.
Work in a Controlled Area
Use T-Cut in a controlled and well-ventilated area. This minimizes the chances of accidental contact with your clothing.
Be Cautious
Be mindful of your movements when using T-Cut to avoid accidentally brushing against your clothes.
Conclusion
T-Cut can be helpful for removing scratches and marks from a car's paintwork. However, handling the product with care is essential to avoid any potential damage to clothing or other surfaces.
While T-Cut may not necessarily cause severe damage to clothes, it can cause discoloration or minor harm to fabrics if it comes into contact with them.
Therefore, wearing protective clothing and working in a well-ventilated area when using the product is recommended. Following these precautions, you can effectively use T-Cut without any negative consequences.