3 Best Table Loom Reviews | Buying Guide
Table looms are a popular craft item for people who enjoy being creative. They are also used by newcomers to the art of weaving so that they can learn the basics without investing too much money.
Table looms are easy to use and do not require a lot of expertise, which is why they are a great starting point for beginners. There are many tables looms available in the market today. But, which one should you choose?
In this article, we will review the top 3 best table looms along with their advantages and drawbacks so that you can make an informed decision. We will also give you an idea about the things you should consider before buying a table loom. Let's begin!
Ashford Folding Table Loom

Portable, folds flat with warp in place

5 sizes of stainless-steel reeds
3 Best Table Loom Reviews
Here are our top 3 picks of table looms. We've shortlisted them from a long line of table loom. So, read carefully to learn why they are the perfect ones.
1. Ashford Folding Table Loom: Best for New Weaver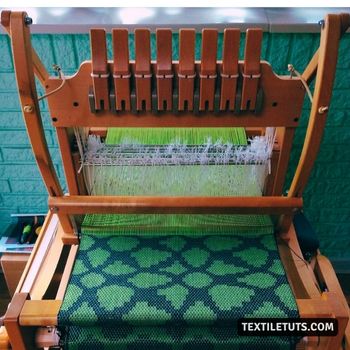 Features
Finish: Lacquered
Assembly: Required
Weight: 10.4kg (23lb)
Weaving Width: 60cm (24″)
If you are looking for an easier way to weave, the Ashford Folding Table is a great choice. The table loom comes with a complete set of accessories and, more importantly, makes it easier for you to get into weaving without sacrificing quality or style.
This table loom is a compact and portable one that is ideal for weavers of all levels. It has folds flat feature for storage and transport with your weaving in place, making the loom easy to move from room to room or take on vacation.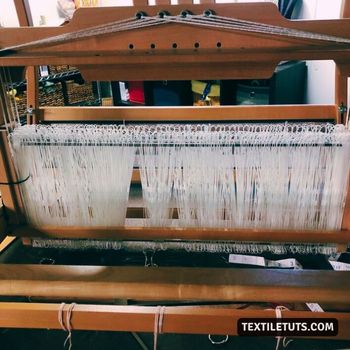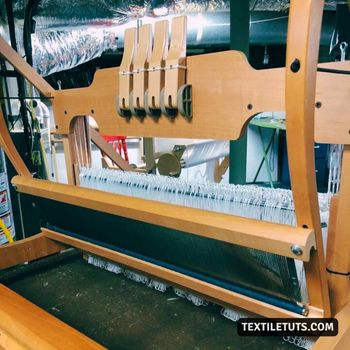 You will find a smooth lacquer finish that resists scratches and chipping in this portable loom. The surface is designed to keep your yarn from snagging as you work, allowing you to focus on the art of weaving instead of worrying about your equipment.
It has come with an adjustable overhead beater that can be raised or lowered to suit you and includes an automatic bounce back. This means that your yarn will lay flat on the table for easy weaving. You don't have to manually do this by sliding out the thread every few inches (or even every few feet), allowing you to focus on the process of weaving.
It also includes 2x lacquered shuttles that create a design on the surface of the warp. The shuttle is dragged back and forth beneath the tension of the yarn via one or more threads in succession as it goes over them. Furthermore, its 10dpi (40/10) stainless steel reed ensures decent control of the shuttle's speed. Additionally, the package includes easy to follow instruction booklet for the new weaver.
Verdict
The Ashford Folding Table Loom is perfect for new weavers because it is lightweight and portable. It can be easily set up and taken down, making it the ideal loom for on-the-go weaving. Additionally, its compact size makes it a great option for small spaces.
2. Katie Table Loom: Best for Travel and Storage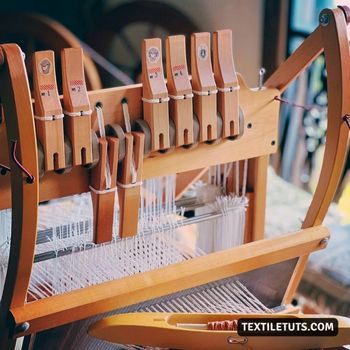 Features
Finish: Lacquered
Assembly: assembled
Weight: 6.5kg (14¼lb)
Weaving Width: 30cm (12″)
The Katie Table Loom is a compact, easy-to-use loom for beginners or occasional weaver. With its smooth lacquer finish levers and auto bounce back overhead beater, it's ideal for weaving tapestry, rugs, and placemats. The smooth lacquer finish makes it easy to clean, so you won't have to worry about getting your project dirty while working on it.
There are extra stainless-steel reeds available in 5 sizes means you can use this portable loom for a variety of projects from tapestry weaving to rug making. It has 8 harnesses and will give you a finished width of 12 inches.
The loom comes with two lacquered shuttles (36cm each), 10 dpi stainless-steel reed, and Swedish Texsolv heddles (total 320 handles). It also includes complete instructions for basic weaving techniques and step-by-step illustrated directions to do eight different projects.
It is 19 inches long by 19½ inches wide and stands about 19 inches high when assembled for weaving. The legs are also foldable, making the loom easy to pack up when not in use. It weighs about 14¼lbs.
There are several treading hooks available that may be utilized in a variety of ways. The loom comes with a step-by-step instruction booklet that will teach you how to use it successfully. This loom can be easily stored in the provided padded carry bag.
Verdict
The Katie Table Loom is the best loom for travel and storage because, unlike other looms, this Loom does not require a lot of space. In fact, it can be stored easily in a small closet or cabinet. It also has its own carrying case, so you can take it with you wherever you go.
3. Ashford Folding Table Loom: Best For Experienced Weaver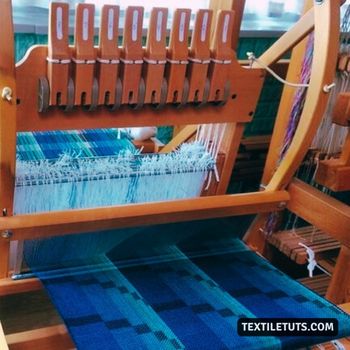 Features
Finish: Lacquered
Assembly: Required
Weight: 9kg (20lb)
Weaving Width: 60cm (24″)
This Ashford's Folding Table Loom is an 8 harness, 24-inch weaving width loom that folds flat for storage and transport. It is ideal for weavers looking for a portable loom to take with them when they travel. The Overhead Beater comes with an automatic bounce-back feature so you can weave continuously without stopping to reset the beater.
Not only is the loom sturdy, but also stylish. The 480 Swedish Texsolv heddles make threading the loom easy and smooth because of their unique spring action, which ensures that each loop is released from the eyelet after it has been threaded through a dent in the reed, resulting in very little tension loss.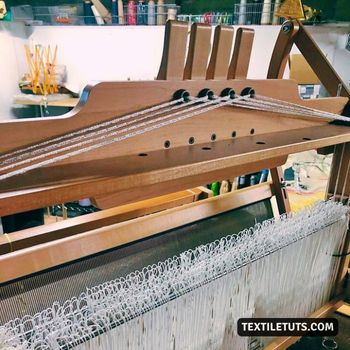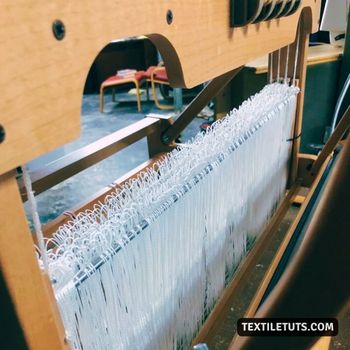 This is a really adaptable and handy instrument that doesn't just appeal to beginners but also experienced weavers who want to bring their craft on trips. Thanks to the Texsolv heddles and a 10dpi stainless steel reed, as well as various beaters accessible for the loom. These features have made the loom easier to use.
Moreover, the loom also comes with an excellent instruction booklet that will guide you through warping up your loom and weaving your first project.
Verdict
This table loom is best for experienced weavers because it is easy to set up and use. It is also portable so that the weaver can take it with them wherever they go. This loom has a wide weaving width, which allows the weaver to create large pieces of fabric.
Things to Consider Before Buying Table Loom
If you are a beginner, this small guide should help you choose the right table loom for your needs. All looms have strong and weak sides, and it's up to you to decide what is more important for your needs. Here are some basic aspects that you should keep in mind while purchasing a table loom.
Check the Weight of the Loom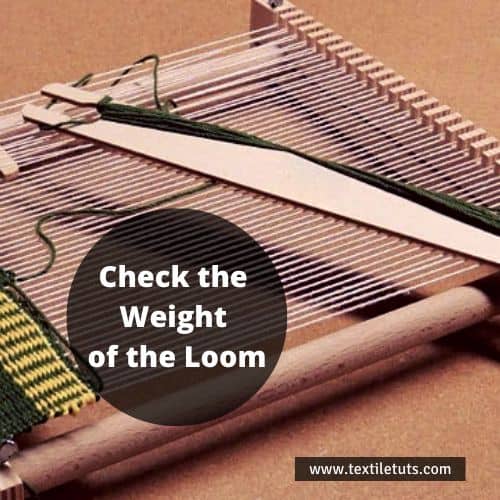 If you are a beginner, lightweight is very important so that you can lift it in and out of your working space with ease. It should have an adjustable height stand to work on different types of looms at different levels. Higher weighing looms are best for more experienced weavers, and they can even be fixed on a stand.
Check the Size of the Loom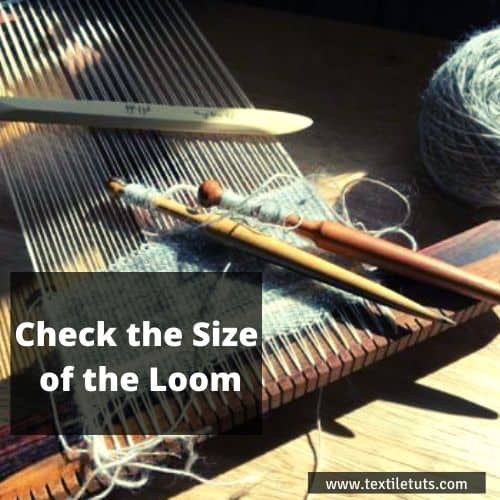 The weaving width is important to consider while buying a weaving machine for home. You'll find some table looms at a lap size, ranging from 16 inches to 32 inches. At the same time, some of them are tabletop where you can weave wide fabrics like bedspreads and curtains, etcetera with ease. These generally range from 60 up to 100 inches, depending on the peg spacing and the number of harnesses. Choose the size that will fulfill your project requirements.
Check the Type and Quantity of Pegs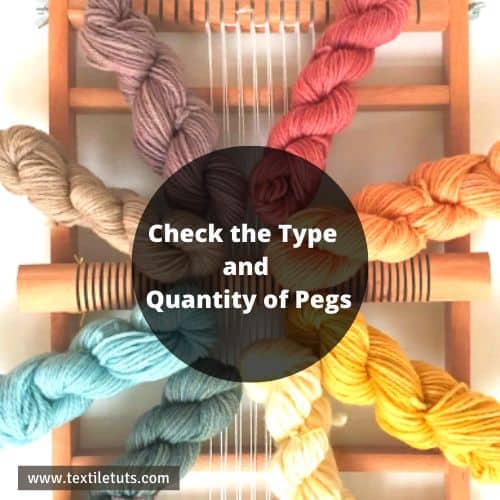 The type and quantity of pegs play an important role in determining the final beauty of your finished fabric. Various types, such as metal, plastic, or wooden, perform different functions.
Wooden pegs are used for basic looms and give a firm grip to the warp, whereas plastic ones are a bit flexible and provide a soft grip. Metal can be fixed or telescopic, fixed being more sturdy but difficult to maintain, while the telescopic ones have a good storage capacity and are easy to carry around.
Check Features Such as Reeds, Distaffs, and Sticks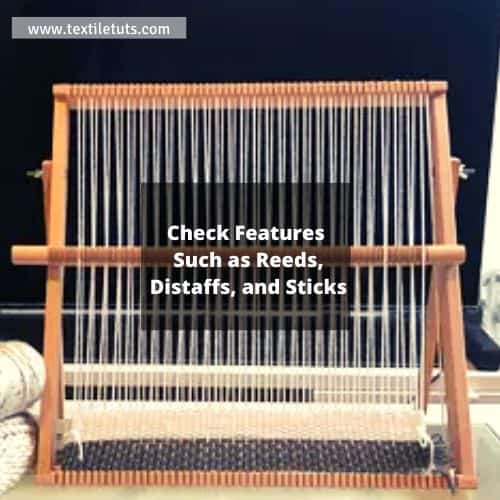 The reed holds the warp threads together in place on the loom from where they get threaded through heddles so that you can weave your fabric. It is placed at one end of the loom, which usually has 14-20 slots for holding different-sized warps (threads). Distaffs and sticks come with some table looms, and these are used to maintain tension, support the warp and attach or collect other things like waste yarn.
Check for Carrying Handle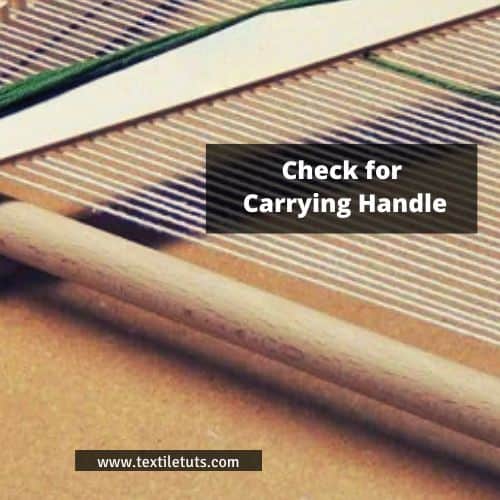 The perfect table loom should have a good sturdy carrying handle on one side. This makes it easier to carry them around everywhere you go without much effort.
Check the Warranty Period
Most of the leading loom brands offer a 1-2 years warranty which is usually applicable if no human damage occurs. Contact the customer care service first before approaching the dealer if any problem arises. They will provide proper guidance about maintenance, etcetera for your loom under this cover period (Please note that some dealers don't pay heed to requests or issues during this time).
Frequently Asked Questions
What is a table loom used for?
A table loom is used to weave a table runner, placemat, or scarf. Normally, table looms are used to weave flat pieces of cloth. That's why you'll find many scarve weaving looms that fall under this category.
How do you weave on a 4-shaft loom?
There are many ways to weave on a 4-shaft loom. The most common way is to use a shedding device (such as a reed) to separate the warp threads into two sets and then alternately raise and lower each set of threads in order to create the desired pattern.
Is it possible to translate 4 shafts into 8 shaft looms?
There isn't really a way to translate 4 shaft patterns onto an 8-shaft loom. While it is possible to do some basic manipulation of the threads, it's not really feasible to create more intricate designs or patterns.
What's the difference between weaving and loom?
Weaving is the process of interlacing two or more sets of threads in a series of intersecting loops to form a cloth. On the contrary, a loom is a machine used for weaving.
What kind of loom should I buy?
The best loom for you is the one that suits your needs. Some people prefer to have a lot of different hooks and eyes, while others want less complicated looms with just two sets of patterns per row.
Final Words
This guide was designed to help you identify the right table loom for your needs by highlighting the 3 best products in this category. By now, you should have a brief description of each product and its features to choose the one that suits your taste and requirements perfectly.
The same logic applies when buying any other type of loom. You'll want to determine what kind of projects you plan to work on, the level of difficulty, and the size frame you're looking for when purchasing a loom from any other category. With this guide in hand, it will be much easier to find the best table looms for your money.
As always, Happy Crafting!
REFERENCES