Are Sewing Needles Magnetic?
An unorganized sewing machine bed is a crafters nightmare. I don't know about you, but it's a pet peeve of mine.
And the most frustrating part seems to be those garment-making accessories, like tiny needles and buttons lying all around the workstation.
So, whether you're looking to make your own DIY compass or organize your workstation a bit more, the most common question that arises is – are sewing needles magnetic. Because if they are, then we can easily gather them using a simple magnet.
Now, I have both good news and bad news for you. But first, let me answer your question without further chit-chat.


Are Sewing Needles Magnetic?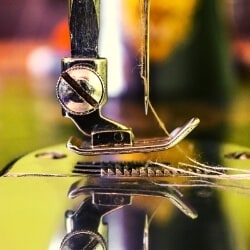 It depends on the materials it's made of. But since most of the needles found in the market are one or another variation of stainless steel, it's safe to say the ones you've got are 'SOMEWHAT' magnetic. What does that supposed to mean, you ask?
Well, stainless steel is an alloy that contains Iron in some proportion. Since iron is magnetic, that proportion will dictate how much magnetism your needle will exhibit.
Furthermore, even if your needle is made of austenitic stainless steel—which is non-magnetic—it may still show affinity to magnets. Why? Because it's got Nickel coating. And Nickel is a ferromagnetic material. Meaning, it gets strongly attracted by magnets.
In summary, if your sewing needle has any amount of ferromagnetic material (iron, cobalt, nickel, etc.), it'll get attracted by magnets. But since the attraction force is weak, we'll have to improve its magnetism to suit our use case.
How to Organize Your Sewing Needle through Its Magnetic Property?
Here are some techniques that you can implement to improve the magnetism of your sewing needle.
Technique #1: Using Actual Magnets
The first is to use the Actual Magnet. Yes, you can use Magnet with any machine that is made of metal  and keep the needles attached. We're all very familiar with this type of use of Magnet.
In this case, 'Magnet' holds stuff built with iron, cobalt, etc. And if you've ever attended a science class on the properties of metal, then you already know that these material's electron spins in the same direction as the 'Magnet' when they're held together closely.
Thus, making these materials 'Magnetic' but not actual/original Magnets. Interesting, right? 😊
Technique #2: Making the Needle a Temporary Magnet
What if the needles were 'Magnet' itself? Wouldn't that be super easier than getting an 'Actual Magnet'? You can make a 'temporary magnet' by the technique called 'Single Touch Method.'
You put a needle in a paper and rub a 'Magnet' over it in one singular direction for about 100 times, and you get yourself a 'Magnetic' needle that will attach to your machine (Metal).
This technique is applied only for 'ferromagnetic' materials. Plastic or any low-verged electron flowing materials won't apply to this.
Technique #3: Getting a Magnetic Board
Rather than a technique, you can call it a 'tool association,' where you get yourself a 'Magnetic Base' or 'Magnetic Board' to keep all the needles and necessary stuff attached. It's very similar to the ones we see in the kitchen as a knife holder.
Why Does It Matter?
Organizing Your Stuff
The heavy sewing machine accessories like needles, spools, etc., are mostly designed with magnetic materials. And organizing these near you is very necessary for a successful and hassle-free sewing operation.
Plus, organizing all the necessary tools gives you an upper hand in productivity. You don't want your spool on a desk and the needles in another.
To make use of time to its maximum and get productivity to the highest, organizing these tools is vital as you can see that this is a question of productivity for a sewer.
Professionals always organize their stuff in the most 'easy to get' way possible. In the case of sewer, it's no different. An idea comes to reality when all the tools are ready to execute at any moment.
Sewers or Knitting workers choose Magnets to organize their production tools in a 'ready at hand' manner, so they don't have to lose time over 'Finding' a spool or a 'Needle.'
Making a Compass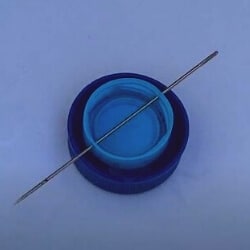 You can use your sewing needle as a compass as well. It'll come in handy when you'll decide to dive deep into the woods for thrilling adventures.
Just follow the second technique that we mentioned, but magnetize the two ends using two different sides of the magnet. And then insert the needle into a cork. Keep the cork on the middle.
Now, place it on a bowl full of water, and you should see the needle aligning on the north.
How Does It Help in a Professional Setup?
Professionals are very fast-paced workers. In garment manufacturing facilities, the pace of workflow is a crucial matter where 'Delay' means fatal error.
So, no one would like to waste a moment over 'Finding a Proper Needle' or a similar tool. To help professionals organize their tools at hand, Magnets come in very handy.
Even for beginner sewers, it's a perfect practice to get acquainted with 'Magnets' or 'Magnetic' materials. To keep one's work environment clean and well organized.
Final Words
I hope the question regarding are sewing needles magnetic is answered. This article tried to help you know and understand your options at hand to overcome the inconvenience of low magnetism of regular sewing needles.
To conclude this article, I advise you to try the third technique as I found it to be the easiest fix.
Indeed, practice will make you more efficient in your craft, and an organized sewing table can facilitate that endeavor greatly.