How to Hem Stretch Fabric By Hand?
After stitching your knit leggings by hand entirely, you wouldn't want to hem them using a sewing machine.
After all, garments made by hand have an impressively creative touch to them altogether.
Now, hemming is not an entirely different process from stitching, but they do have their differences nonetheless.
That is why we will be answering your question regarding how to hem stretch fabric by hand in our comprehensive article.
Along with that, we will also be discussing more details regarding a stretch fabric – so you will know how to handle them better.
Take your time to go through the article, and you will start hemming in no time!
What Is A Stretch Fabric?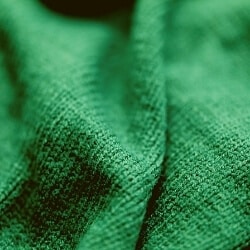 Although the name of the fabric already gives away most of what it is, we will indulge in a detailed discussion regarding it.
Materials in the Fabric
This synthetic textile type of fabric contains elastic fibers in it, which causes it to stretch more than any other type of fabric out there.
Knit or woven fabrics are usually the ones that are known as stretch fabric. But other than that, you will find that lycra, spandex, and elastane are also categorized under this type of cloth.
Types of Stretch
There are generally two types of stretches that you will have to consider. First, there's 4-way stretch, which can be stretched both vertically and horizontally, and they are often found in thinner materials.
On the other hand, you will find 2-way stretches in heavier stretch fabrics.
What Type of Garments Are Made from This?
Garments that are made using stretch fabrics are very popular nowadays, and there's a reason behind that. They take the shape of one's body and are usually very comfortable to use.
They are also softer than many other fabrics and are used for sportswear and activewear mostly. But you can make bodysuits and sweaters using them as well.
How to Hem Stretch Fabric By Hand?
You might wonder as to why you should hem stretch fabric by hand when you can just use a machine instead. But there are good reasons behind putting so much effort into the process.
For instance, you will have better coordination and control while you are at it, which will make the finished product much nicer. Furthermore, it is also preferable when you are sewing a delicate fabric.
Therefore, we have explained the steps of hemming a stretch fabric by hand in this section of the article. Once you go through the steps properly, you will find the process to be rather convenient.
Choose the Proper Needle for the Fabric
Using just about any needle for your fabric would not be wise – you will have to choose one carefully. And the size and type of it will depend entirely on the fabric itself.
That is because the quality of the stitches on the garment will depend on the needle. A proper needle can enhance the garment, while the wrong one can potentially ruin it.
If you are hemming knit fabric, then a fine needle will be enough. But be a little choosy if you are working on other fabrics.
Choose Proper Thread
Now that you have chosen a needle for your material, you need to choose a thread for it. Not that there's any particular thread for certain fabrics, but we would still recommend polyester threads.
That is because if the thread stretches along with the fabric, then that will significantly improve the quality of the garment.
Other than that, you should choose one with a similar color to that of the fabric itself, as it will make the hemming even less visible.
Secure the Thread
After you are done choosing the right needle along with the right thread, you will have to begin the process of sewing.
Position the needle and the fabric in your hand, and then secure the thread in the fabric by placing the needle into it. Make sure you start from the edge, as it will make the process more convenient for you.
Start from Left to Right
Now, you will have to start from the left to the right.
Basically, once you put the needle through a few threads of the fabric, you will need to move the needle from the left edge towards the right side. Make sure there's not much distance as you move the needle.
Move to the Right
Once you have moved the needle from the left to the right, it's time to move it back from the right to the left.
In this part, what you will have to do is go in the right direction and insert the thread again. While you move from the right to the left, you will have to go through a few threads of the fabric's hem.
Pull the Thread; Do Not Tighten It
Afterward, you will need to pull the thread. But you have to do it gently while making sure that you are not tightening it way too much.
The tightness should be just enough to secure the stretching while making sure that it does not come in the way of the other stitches in the garment. Conversely, you should also make sure that the tightness will not cause the material to curl up.
Repeat the Steps
Once you have come this far, all you have to do is repeat the previous 4 steps until you have completed the entire hem.
Final Words
We hope this article has answered your question regarding how to hem stretch fabric by hand. Once you go through it properly, you will realize that the process isn't entirely difficult. But it will surely require a lot of your time and effort.
REFERENCES: