Garment Exports in Bangladesh Reached Record High in 2021-2022 Fiscal Year
As the dust settles on a turbulent 2020-2021 fiscal year, Bangladesh has managed to come out of it with strong and impressive economic performance in many industries. Chief among them is the nation's garment industry, which is experiencing an unprecedented surge in exports.
Despite being hit by the COVID-19 pandemic and general economic downturn last year, Bangladeshi factory owners have managed to not only maintain but expand their businesses this fiscal year. The country's garment exports for 2021-2022 have now reached record breaking levels; representing a major success story for Bangladeshi business and international trade alike.
| Product Category | Exports (in billion USD) | % of Total Exports |
| --- | --- | --- |
| Knitted Apparel and Accessories | 23.21 | 44.56% |
| Woven Apparel and Accessories | 19.40 | 37.37% |
| Home Textile | 1.62 | 3.11% |
| Leather and Leather Goods | 1.24 | 2.38% |
| Agricultural Products | 1.16 | 2.23% |
| Jute and Jute Goods | 1.12 | 2.16% |
| Others (including services, chemicals, etc.) | 4.16 | 8.00% |
Breakdown of Bangladesh's Total Exports in 2021-22
In this blog post, we will be exploring how Bangladesh achieved such high numbers despite challenging times as well as highlighting some of the issues that still need addressing within its manufacturing industry if continued growth is to be had.
Overview of Bangladesh's Garment Export Industry in 2021-2022
Bangladesh is a major exporter of ready-made garments (RMG) and textiles, with a significant contribution to the country's economy.
| Fiscal Year | RMG Exports (in billion USD) | % Change in RMG Exports |
| --- | --- | --- |
| 2020-21 | 31.456 | 12.55% |
| 2021-22 | 42.613 | 35.47% |
Comparison of RMG Exports in 2020-21 and 2021-22
In the fiscal year 2021-2022, Bangladesh's garment exports saw an overall growth of 7.14% compared to the previous year. The country earned a total of $39.73 billion from exports, of which $38.70 billion came from the RMG sector alone. This indicates that the RMG sector continues to dominate Bangladesh's export market, accounting for over 97% of total export earnings.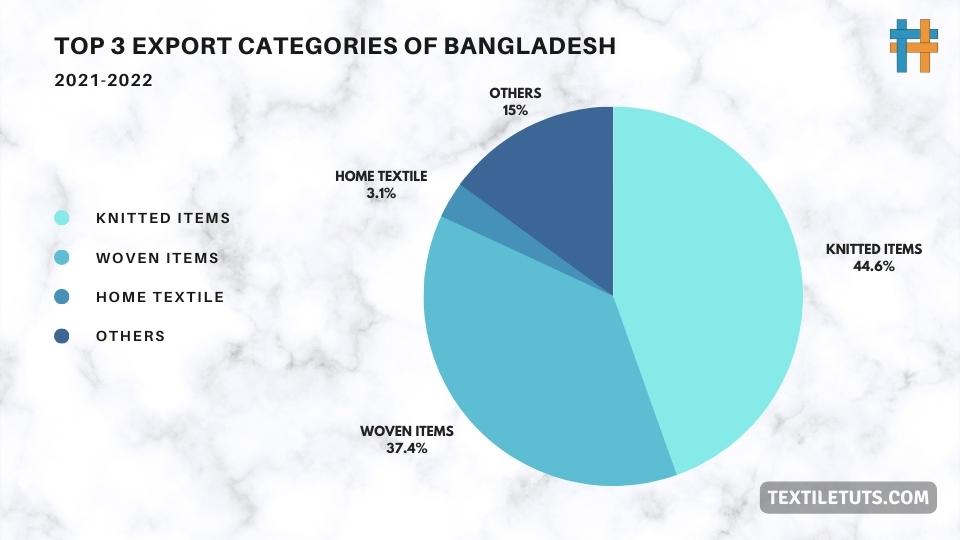 The United States remained the largest export destination for Bangladesh's RMG products, with a share of 34.10%. Other significant export destinations included Germany, the United Kingdom, France, Spain, Italy, Canada, the Netherlands, Belgium, and Turkey. These ten countries together accounted for over 84% of Bangladesh's total RMG exports.
The country's knitwear exports grew by 5.29%, earning a total of $19.14 billion, while woven garment exports grew by 9.12%, earning $19.56 billion. Among the knitwear products, T-shirts, jerseys, and pullovers were the top products, accounting for 41.71%, 13.42%, and 11.29% of total knitwear exports, respectively.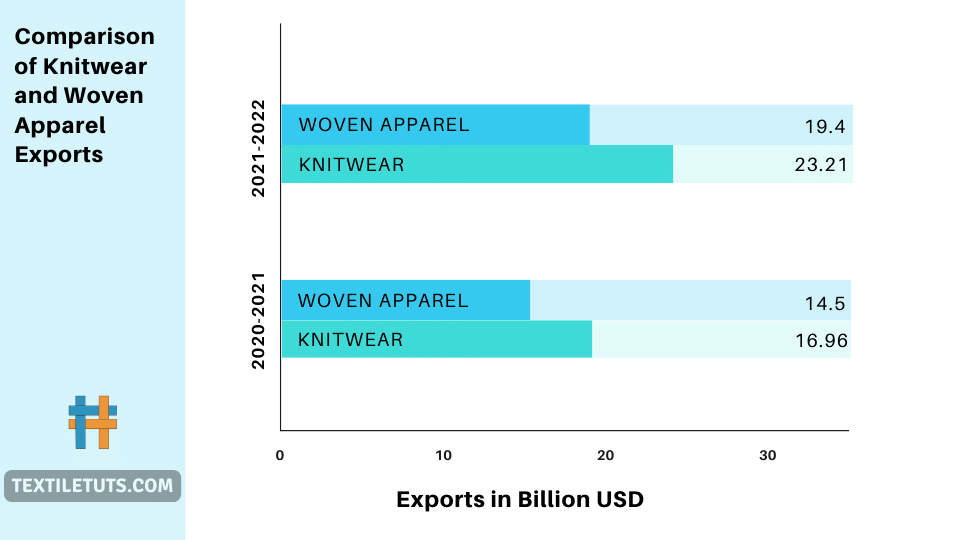 | Product Category | % Change in Exports |
| --- | --- |
| Knitwear | 36.88% |
| Woven Apparel | 33.82% |
% Change in Exports of Knitwear and Woven Apparel in 2020-21 and 2021-22
Among the woven garment products, trousers, shorts, and jackets were the top products, accounting for 24.27%, 16.69%, and 14.66% of total woven garment exports, respectively.
Overall, Bangladesh's garment exports have shown positive growth in the fiscal year 2021-2022, with the RMG sector continuing to be the driving force behind the country's export market. The sector's growth is driven by the country's competitive labor costs, a large and skilled workforce, and a favorable business environment for investors.
| Product Category | Home Textile Exports (in million USD) in 2020-21 | Home Textile Exports (in million USD) in 2021-22 | % Change in Exports |
| --- | --- | --- | --- |
| Home Textile | 1132.03 | 1621.93 | 43.28% |
Comparison of Home Textile Exports in 2020-21 and 2021-22
Factors Driving the Record-Breaking Growth of Garment Exports in Bangladesh 2021-2022
In FY22, Bangladesh experienced a record-breaking growth of garment exports due to the rebound of global economy. Export earnings exceeded $52 billion, however this amount was not as high as expected due to increased production costs.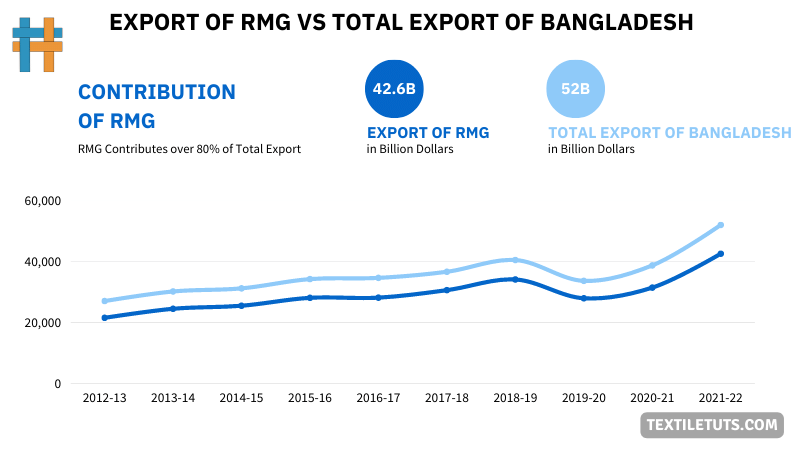 Woven garment export increased 33.82% while knitwear export achieved 36.88% growth compared to FY21.
1. Global Demand Post-Pandemic
The pandemic caused a substantial decline in demand for many products, including clothing and apparel. With vaccination efforts underway and countries gradually reopening their economies, demand for fashion items is on the rise again. This has led to an increased need for garments from Bangladesh, resulting in higher exports and revenues.
2. Factory Closings in China and Vietnam
Due to rising labor costs and higher environmental standards implemented by Chinese government, many garment factories have been closing or relocating their operations outside of China. This has provided an opportunity for Bangladesh to benefit from these factory closings and capitalize on the increased demand in global markets.
3. Price Hikes for Raw Materials Globally
Raw materials such as cotton and synthetic fibers have seen significant price hikes over the past year due to supply chain issues related to Covid-19 disruptions. As one of the largest producers of low-cost garments, Bangladesh has been able to take advantage of these higher prices by producing more goods at lower costs compared to competitors. As a result, it has become more competitive in global markets.
Challenges Bangladesh Faces in Further Expanding Its Garment Exports
Bangladesh has experienced strong growth in its garment industry over the last few decades, becoming the world's second-largest apparel exporter after China. However, Bangladesh faces a number of challenges as it seeks to further expand its garment exports.
Competition from Other Low-Cost Producers
Bangladesh faces tough competition from other low-cost countries such as Vietnam and Cambodia in the global textile market. These countries have lower production costs than Bangladesh, making them attractive to buyers looking for the cheapest prices. As a result, Bangladesh needs to find ways to differentiate itself and make its products more attractive compared to other low-cost producers.
Increasing Labor Costs
Although labor costs are still relatively cheap in Bangladesh compared to other countries, wages have been increasing rapidly in recent years due to inflation and government policies aimed at improving working conditions. This has made it more expensive for companies producing garments in Bangladesh, reducing their competitiveness on price. To remain competitive, Bangladeshi firms need to increase efficiency and productivity.
High Tariffs for Exported Goods
Many countries impose high tariffs on imported goods from Bangladesh which make it difficult for Bangladeshi firms to sell their products abroad. This makes exporting garments from Bangladesh more costly than exporting from other countries with lower or no tariffs, reducing the competitiveness of Bangladeshi firms.
Global Economic Factors
In addition to local factors that affect Bangladeshi apparel exports, global economic factors can also play an important role. For example, next year may be difficult due to global inflation and recession as some buyers with good inventory would be careful in placing new orders. Such economic uncertainty can reduce demand for Bangladeshi garments and reduce export earnings.
Strategies for Bangladeshi Companies to Capitalize on This Growth Opportunity
To capitalize on the growth opportunity in Bangladesh's garment exports, companies must adopt strategies to differentiate themselves from other low-cost producers such as Vietnam and Cambodia. Here are a few steps that Bangladeshi companies should take:
1. Increase Efficiency and Productivity
Efficiency and productivity can be improved by modernizing production processes, investing in labor-saving technologies, and improving supply chain management. This will help reduce costs, increase output, and make Bangladeshi garments more competitively priced compared to other countries.
2. Invest in Quality Control
By investing in quality control systems and ensuring products meet international standards, Bangladeshi firms can differentiate their products from those of their competitors. This will give them an advantage in the global market and allow them to command a premium price.
3. Invest in Branding and Marketing
Investing in branding and marketing can help Bangladeshi firms create a strong presence in global markets, helping them establish a good reputation for quality products. This will increase demand for their garments and further boost exports.
4. Develop Strong Relationships with Buyers
Building strong relationships with buyers is essential for Bangladeshi companies looking to capitalize on growth opportunities. By establishing trust with buyers through regular communication, suppliers will be able to secure better prices and more orders from abroad.
5. Offer Innovative Products
Finally, Bangladesh's garment industry should look for ways to offer innovative products that stand out from the competition. This could include developing new fabrics, utilizing unique designs and prints, or creating customized garments for specific markets.
By offering something different than other countries' offerings, Bangladeshi firms can capture more market share in the global textile market.
By following these strategies, Bangladeshi companies have a good chance of capitalizing on the growth opportunities in the global garment industry.
With a focus on increasing efficiency and productivity, investing in quality control systems and branding, and offering innovative products, Bangladesh can compete with other low-cost producers to become an even bigger player in this lucrative market.
Comparison of RMG Exports in Bangladesh, India, Pakistan, and China (2021-2022)
The table compares the exports of ready-made garments (RMG) in four countries:
| Country | RMG Export Earnings (FY 2021-22) |
| --- | --- |
| Bangladesh | $42.613 billion |
| India | $8.127 billion |
| Pakistan | $19.33 billion |
| China (First 8 Months) | $220.302 billion |
Comparative Table of RMG Exports in Bangladesh, India, Pakistan, and China (2021-2022)
Bangladesh, India, Pakistan, and China, for the fiscal year 2021-2022. According to the data, Bangladesh's RMG exports increased the most by 35.47% to $42.613 billion.
Pakistan recorded the highest value of textile exports worth $19.33 billion, which contributed to around 61% of the total exports.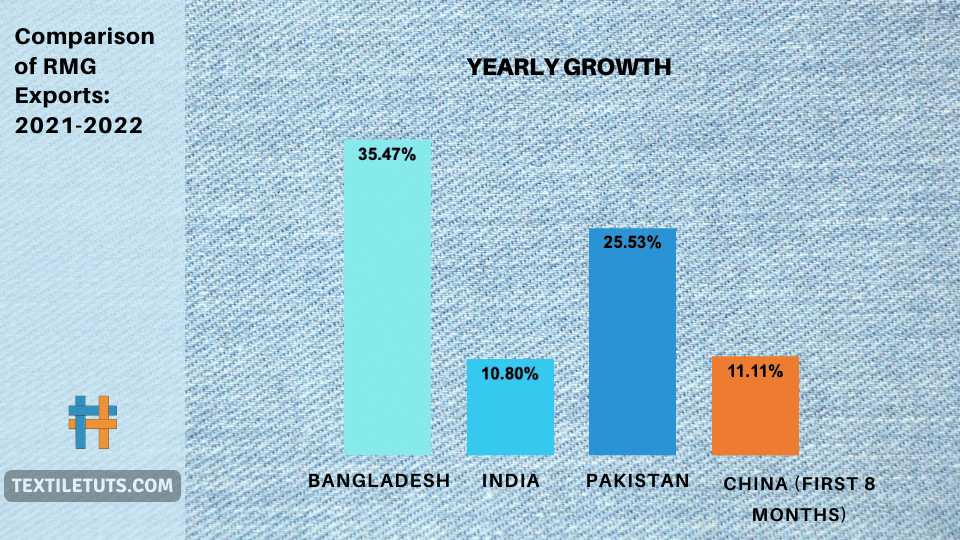 China's RMG exports were the highest at $143.361 billion, with a YoY growth rate of 16.2%.
India's RMG exports stood at $8.127 billion, showing a growth of 10.8% over the previous fiscal year.
Conclusion
It's no surprise that garment exports in Bangladesh experienced a surge of success in 2021-2022 fiscal year. From its plentiful labour, ample resources, and growing wealth of talented manufacturers, the country is truly beginning to take advantage of the numerous factors that have positioned it for such growth.
As a result, there has never been a better time to explore opportunities for Bangladeshi companies looking to capitalize on this latest booming industry. While this success does come with a certain degree of challenges experienced by emerging industries, with the right approach, Bangladesh can build on their momentum and strive for even greater success for years to come.
In short, the bright future of garment exports in 2021-2022 paints an encouraging picture for both local companies as well as industry supporters from outside the country.
REFERENCES: