Unpacking The Question: Does Neosporin Stain Clothes?
Neosporin is known for its effectiveness in preventing infections and speeding up healing. However, many people have noticed that it can leave stains on clothes. This can be a significant concern, especially if you wear expensive or delicate fabrics.
Neosporin ointment is thick and greasy, which can stain clothes, and has a yellowish color that can discolor certain fabrics. Additionally, the bacteria-fighting antibiotic agents might cause chemical reactions with the fabric, leading to stains. These stains may not be noticeable but can become visible over time.
This blog post will explore the ingredients that make up Neosporin and how they can affect fabrics. You will get tips for preventing and removing stains so you can continue to use this helpful ointment without ruining your favorite clothes.
Can Clothes Get Stained by Neosporin?
Neosporin is an over-the-counter ointment used to prevent minor cuts, scrapes, or burn infections. Although it is not colored and seems like it shouldn't leave a mark, as it is an oil-based product. This means that if it comes into contact with clothing, it can leave a greasy stain.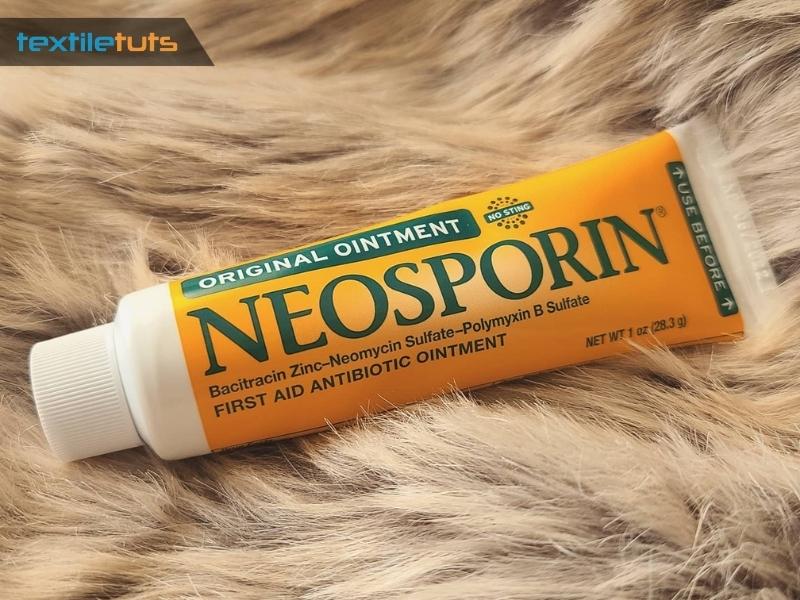 It's not really the Neosporin itself, but rather the petroleum jelly base in which the medication is suspended that causes the staining. Like any other oil, it can stain fabric. The oil leaves a residue that soaks into the fibers of the clothing, which often leads to a greasy or darkened spot.
Removing these stains can be somewhat tricky and might require specialized cleaning products. A good laundry detergent specializing in removing oil-based stains can do the trick.
It is always recommended to apply Neosporin carefully to avoid contact with clothing. If you need to dress the wound, placing a bandage over it before putting on clothes is best.
Why Does Neosporin Stain Clothes?
Neosporin is a common topical antibiotic that is often used for minor wounds, cuts, and burns. The primary ingredients in Neosporin are Neomycin, Polymyxin B, and Bacitracin. This particular medication helps to prevent infection in wounds and promotes faster healing.
However, using Neosporin might stain your clothing. This happens because the petroleum jelly base carries the medication in the ointment. Petroleum jelly is an oil-based substance. Like other oil-based products, it doesn't mix well with water and can create spots or stains on fabric.
When you apply Neosporin on a wound or scrape and it comes into contact with your clothing, it may leave an oily stain.
These stains can be difficult to remove with regular washing, especially on lighter-colored or more delicate fabrics. It's similar to what you would experience with other greasy or oily substances, such as salad dressing or butter.
Moreover, Neosporin also contains other components like cocoa butter and cottonseed oil, which may contribute to potential staining.
However, don't let a potential stain deter you from using the product if necessary. If you get some Neosporin on your clothes, the best course of action is generally to treat the stain as soon as possible.
How to Remove Neosporin Stains from Clothes?
Removing Neosporin stains from clothes can be a bit challenging due to the oily nature of the ointment and the potential for the antibiotics to interact with fabric fibers. Here's a step-by-step guide to help you remove Neosporin stains from your clothes:
Materials You'll Need
Liquid dish soap or laundry detergent
Stain remover or pre-treatment solution
Clean white cloth or paper towels
Old toothbrush or soft-bristle brush
Cold water
Step 1: Blot the Excess
If the stain is fresh, use a clean white cloth or paper towels to gently blot and absorb as much of the excess Neosporin as possible. Do not rub, as that can push the stain deeper into the fabric.
Step 2: Apply Dish Soap or Detergent
Place the stained area under cold running water to help flush out some of the oils. Avoid using hot water, as it can set the stain.
Apply a small amount of liquid dish soap or laundry detergent directly to the stain. Gently rub the fabric together to work in the soap. Let it sit for about 10-15 minutes.
Step 3: Use a Brush
Gently scrub the stained area with an old toothbrush or soft-bristle brush. This helps work the soap or detergent deeper into the fabric fibers to break up the oily residue.
Step 4: Pre-Treat the Stain
Apply a commercial stain remover or a homemade solution (a mixture of equal parts water and hydrogen peroxide) to the stain. Follow the instructions on the stain remover's label or apply the homemade solution and let it sit for a few minutes.
Step 5: Rinse and Inspect
Rinse the stained area under cold water to remove the soap or detergent and stain remover. Inspect the stain. If it's still visible, repeat steps 2-4 until the stain starts to fade.
Step 6: Wash the Garment
Wash the garment separately from other clothes, following the care instructions on the clothing label. Use cold water and an enzyme-based laundry detergent, as these detergents are effective at breaking down oily stains.
Step 7: Check Before Drying
After washing, check the stained area before drying. If the stain is still visible, avoid putting the garment in the dryer, as heat can set the stain. Instead, repeat steps 2-6 before drying.
Step 8: Dry as Usual
Once the stain is fully removed, you can dry the garment according to its care instructions.
Ways to Prevent Stains When Using Neosporin
Preventing stains when using Neosporin involves applying the ointment in a way that minimizes contact with clothing and taking precautions to avoid transferring the ointment to fabric. Here's how you can prevent stains when using Neosporin: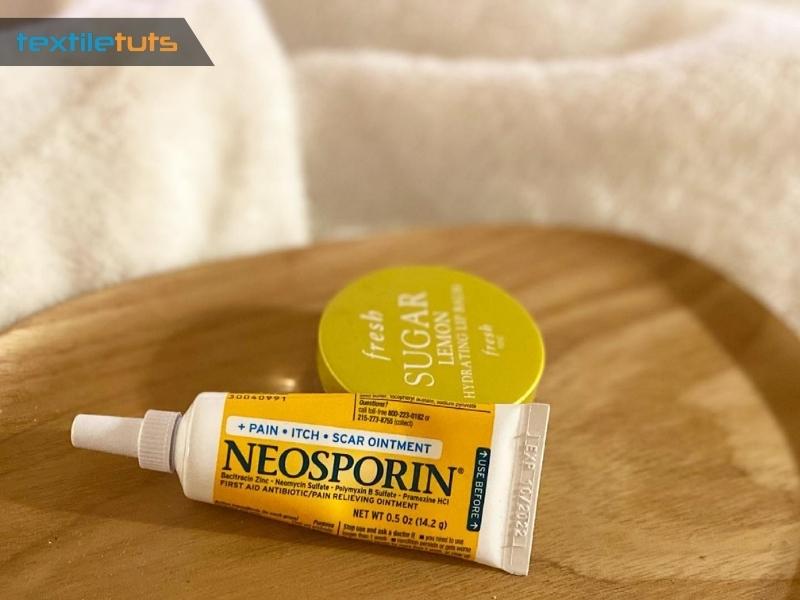 Use Sparingly
You only need a small amount of Neosporin to be effective. Using too much can lead to excess ointment being wiped off onto your clothing or bedding and causing stains. A thin layer will do the job perfectly fine, ensuring that there's no extra to rub off onto fabrics.
Apply Correctly
When applying Neosporin, apply it directly to the wound and not to the bandage. Also, avoid getting the ointment on the edges of the bandage as this can easily transfer onto your clothes once the bandage is on.
Protect the Area
If the wound is at a place where it might come into contact with your clothes or bedding, consider covering it with a piece of gauze or a bandage to keep the ointment off your fabrics.
Change Bandages Regularly
Changing bandages frequently will not only promote better healing, but it will also help prevent any ointment from seeping through and contacting your clothing.
Apply Before Bed
If possible, apply Neosporin before bed and let it work its magic overnight. This will minimize the chances of it coming into contact with clothing or furniture during day-to-day activities.
Do Your Laundry Correctly
If a Neosporin stain does occur, the right laundry techniques can often remove it. As soon as you notice the stain, use a laundry pre-treatment and wash the item as you normally would. As a rule of thumb, avoid using hot water, as heat can set this type of stain.
Final Thoughts
Neosporin is a commonly used topical antibacterial ointment that works well on minor cuts, scrapes, and burns. While it is an effective product, it is known to sometimes leave stains on clothes.
Be aware of this possibility when using the ointment and take precautions to prevent stains. If a stain does occur, treat it promptly to avoid permanent damage to the fabric.
Testing a small, inconspicuous area of fabric before applying to a larger area is recommended to avoid any potential staining. With proper care, Neosporin can be a valuable medication in your first aid kit without causing any damage to your clothes.