Can You Wash Light Gray With White?
Washing clothes is an essential part of our daily routine, and we all have our preferences when it comes to maintaining the color and quality of our clothes. However, one question that often arises is whether or not it is safe to wash light grey clothes with white ones.
Yes, you can usually launder light gray items with white ones without significant color transfer. However, to maintain the whiteness of the white things, it is generally better to wash them separately. Over time, cleaning white items with colors can become dull or grayish. Also, please always test a new gray item for colorfastness before washing it with whites.
Here, you will learn about whether or not you can wash light grey clothes with white ones. I will explore the washing method, and the type of detergent to used and what are the risks associated with mixing colors and provide tips on how to prevent discoloration and damage to your clothes.
Can You Launder Light Gray Items With White Ones?
Washing light gray clothing with white clothing can sometimes be done successfully, but there are a few things to consider to prevent any potential color transfer or damage to the garments: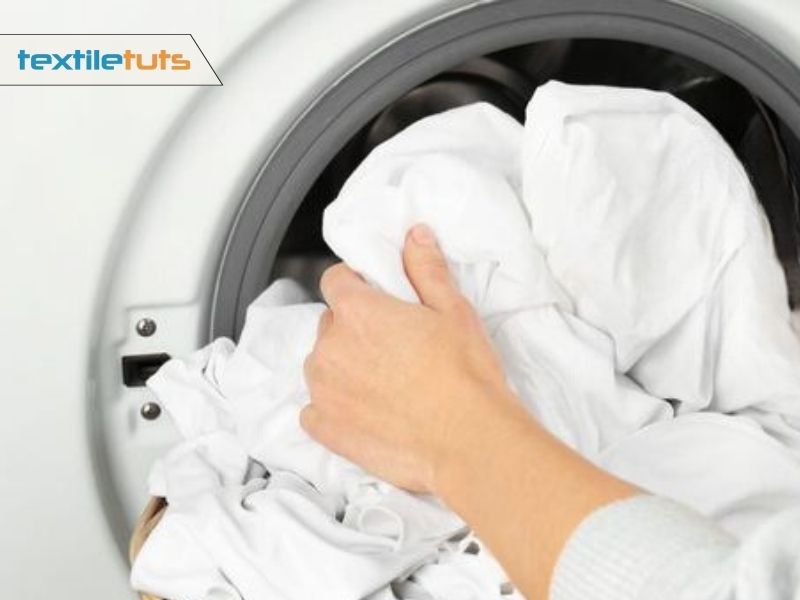 Similar Shades
Light gray and white are both light colors, so they have a better chance of being washed together without causing significant color bleeding. However, it's still a good idea to check the care labels on both garments to see if there are any specific washing instructions.
Separate Similar Colors
Separating your laundry into similar color groups is a good practice if you're worried about color transfer. In this case, you could consider washing light gray and white clothing with other light colors like pastels and pale shades.
New Clothing
Light gray clothing might release some excess dye during its first few washes if it is new. To avoid color transfer to the white dress, washing the gray items separately might be best until the dye bleeding decreases.
Use Cold Water and Mild Detergent
When washing light gray and white clothing together, use cold water. Cold water is less likely to cause colors to bleed compared to warm or hot water. Use a gentle, color-safe detergent to minimize any potential color fading or bleeding.
Delicate Cycle
Consider using the delicate or gentle cycle if your washing machine has one to reduce wear and friction when washing these lighter items.
Test First
You could run a quick test to see how the colors will interact by washing a small, inconspicuous portion of one of the light gray garments with a white garment. This will give you an idea of whether there's any color transfer.
Avoid Overloading
Don't overload the washing machine with too many clothes. Overloading can cause more friction between garments, potentially leading to color transfer or damage.
Use a Color Catcher
Color catchers are laundry sheets that are designed to absorb excess dyes released during washing, preventing color bleeding. You can place a color catcher sheet in the washing machine to help prevent any color transfer.
When Should You Avoid Washing Light Gray with White?
While it's generally possible to wash light gray items with white ones, there are situations where you might want to avoid doing so to prevent potential issues. Here are some scenarios when you should consider washing light gray and white items separately: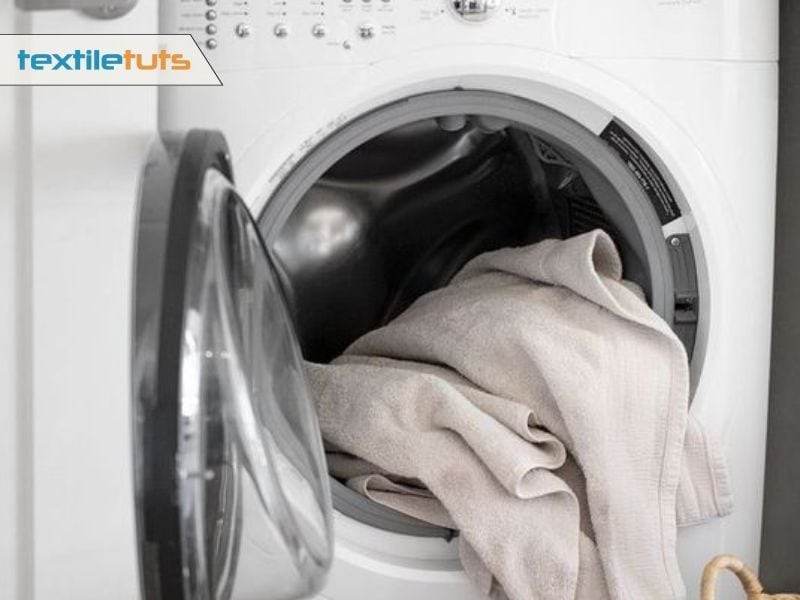 New, Unwashed Gray Items
New light gray items, especially those that haven't been washed before, can release excess dye during the first few washes. This dye can potentially transfer to white items and cause discoloration.
It's a good idea to wash new light gray items separately or with similar colors until the dye bleeding decreases.
Differing Fabric Types
If the light gray and white items are made from different fabric types with varying care requirements, washing them separately is better. Other fabrics can react differently to water temperature, detergents, and washing cycles, which could lead to damage or color transfer.
Heavily Soiled Items
Washing your light gray goods alongside white items may cause the white clothes to pick up dirt or stains if your light gray items are really dirty or stained.
Vivid or Dark Grey Items
Color bleeding is more likely to occur if the light grey goods contain a hint of more profound or more vibrant undertones. In this situation, washing them separately from white goods is safer.
Mismatched Care Instructions
Always check the care labels on both the light gray and white items. If the care instructions differ significantly, washing them separately is best to ensure that each item receives proper care.
High-Risk Items
It is advisable to err on caution and wash the white goods separately from any potential color bleeders if they are incredibly pricey, fragile, or prone to color absorption.
Prior Color Bleeding
Do not wash your light grey goods with white items if you've already had problems with color bleeding to avoid repeating the same mistake.
Best Approach for Washing Gray and White Clothing Together
You can effectively clean Gray and White clothing without worrying about color bleeding or damage by implementing the right techniques. Here's a comprehensive guide to help you achieve the best results: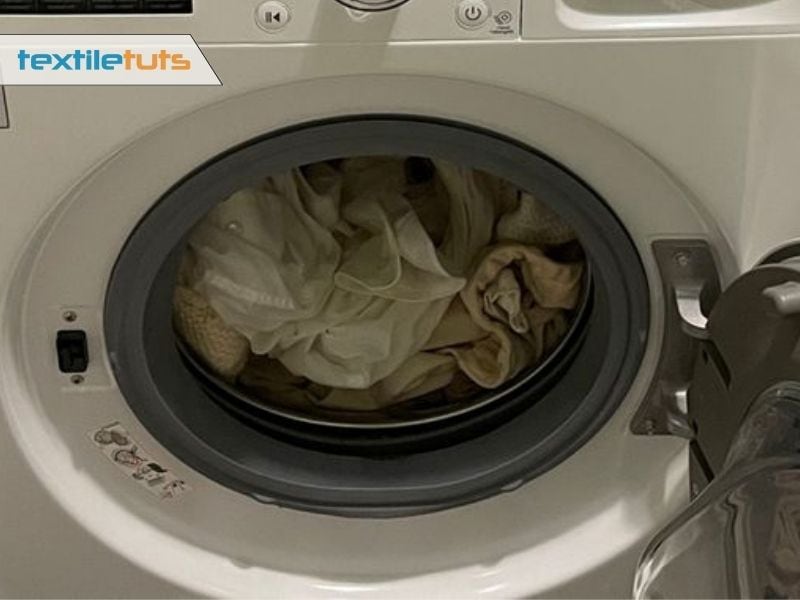 Step 1: Sort Clothes According to Color
The first step in washing grey and white clothing together is to meticulously sort your laundry. Keep the light grey and white items together in one batch, but steer clear of including darker shades that might transfer color.
This preliminary sorting minimizes the risk of color bleeding and ensures that your white garments stay pristine.
Step 2: Choose the Right Detergent
Selecting the appropriate detergent is crucial for preserving both the light grey and white colors. Opt for a mild, color-safe detergent that won't compromise the vibrancy of the fabrics.
Avoid using harsh chemicals or bleach, which can potentially alter the shades and compromise the integrity of your clothing.
Step 3: Pre-Treat Stains
Treat stains promptly before tossing your clothes into the washing machine. Pre-treating stains help increase the chances of effective stain removal during the wash cycle, ensuring that your garments look their best.
Step 4: Set the Right Water Temperature
Cold water is your ally when washing light grey and white items together. Cold water minimizes the likelihood of color bleeding, helping maintain your garments' original hues. Set your washing machine to a cold water wash cycle to ensure optimal results.
Step 5: Use a Gentle Cycle
Many washing machines offer a delicate or gentle cycle ideal for lighter fabrics. Utilize this setting when washing grey and white clothing to reduce friction and wear.
The gentle cycle ensures that your garments are cared for, prolonging their lifespan and appearance.
Step 6: Air Dry Clothing
When it comes to drying, air drying is the preferred method for maintaining the colors and quality of your clothing. If possible, hang your light grey and white garments in a well-ventilated area to dry naturally.
This method prevents heat damage and color fading that can occur with machine drying.
How to Sort Clothes for Laundry Success?
Sorting clothes before doing laundry is a crucial step that can significantly impact the effectiveness of your wash and help preserve the quality of your garments. Here's how to sort clothes for laundry success:
Separate by Color
Group dark colors together: Black, navy, dark gray, deep red, etc.
Group light colors together: Pastels, light gray, white, pale yellow, etc.
Keep white clothes separate: White clothing should ideally be washed on its own or with other whites to prevent color transfer.
Sort by Fabric Type
Group similar fabrics together: Cotton, synthetics, delicates (silk, lace), denim, etc.
Washing different fabrics together can lead to uneven wear and damage.
Consider Soil Level
Separate heavily soiled items from lightly soiled ones.
Washing heavily soiled items separately prevents dirt or stains from transferring to other clothes.
Check Care Labels:
Read the care labels on each garment for specific washing instructions.
Follow any temperature, cycle, or drying recommendations to prevent damage.
Sort by Water Temperature
Sort clothes that require cold water wash from those needing warm or hot water.
This ensures each garment receives the appropriate water temperature for effective cleaning.
Delicate vs. Sturdy
Separate delicate items (lingerie, silk, lace) from sturdier ones (jeans, towels).
Delicate items need gentler treatment to avoid damage.
Avoid Zippers and Hooks
Turn garments with zippers, hooks, or other metal hardware inside out to prevent snagging on other items.
Consider Size
If you have a variety of sizes, washing similarly sized items together can help ensure an even wash.
Sort Gym Clothes and Towels
Group gym clothes and towels together, as they might have sweat or strong odors that you wouldn't want to transfer to other clothing.
Separate Delicates for Hand Washing
Items labeled for hand wash should be treated separately and gently hand washed.
Final Words
While washing a white fabric with light gray might be challenging, it is feasible with the appropriate method. Before washing, it's a good idea to separate your clothes by color.
You should also carefully check each item's care label to ensure the right washing procedure is being used. Additionally, using a color-safe bleach or a laundry detergent specially formulated for washing whites can help prevent color transfer.
With careful attention and proper washing techniques, you can successfully launder your light grey and white clothing together without any issues.