Best Yarns for Crocheting Slippers – No Shrinkage, Guaranteed!
Have you ever gotten tired of store-bought slippers that are either not comfortable enough or get torn pretty easily? If yes, then you are not alone – because we all face this from time to time.
And since we are pretty tired of facing it, we have taken the responsibility of making some slippers for ourselves – using the best type of yarn for slippers, that is.
However, it does sound easier said than done because, for that, we will need to find yarns up to that caliber. Hence, we have done hours of research to find yarns that will be perfect for making slippers – which you will get to know about right here.
1. Bernat Softee Chunky Ombre Yarn

Can be used for various purposes

2. Lion Brand Yarn Birch Tweed Yarn

3. Patons Classic Wool DK Superwash Yarn
Why Wool & Acrylic Are Better Choices for Knitting Slippers?
Wool and acrylic are two of the most popular choices for knitting slippers. Both materials have their own advantages and disadvantages, but overall, wool and acrylic are better choices for knitting slippers than other materials like cotton or polyester.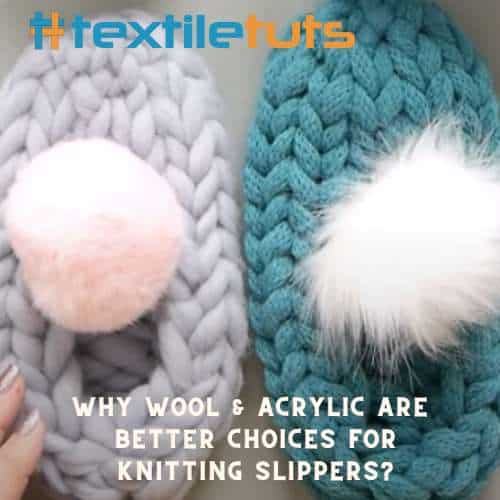 Wool is a natural fiber that is strong and durable. It is also warm and breathable, making it a good choice for slippers that will be worn in cold weather.
Interestingly enough, wool can also be worn in summer since it is a good conductor of heat, which helps keep feet cool in warm weather.
Acrylic is a synthetic fiber that is less expensive than wool and easy to care for. It is also lightweight and soft, making it a comfortable option for slippers.
Overall, wool and acrylic are better choices for knitting slippers because they are strong, durable, and comfortable. They are also easy to care for and relatively inexpensive. If you are looking for a pair of slippers that will last longer and keep your feet warm and cozy, wool or acrylic is the way to go.
Top 3 Yarn Choices for Slippers
Here are our top picks –
1. Bernat Softee Chunky Ombre Yarn
Features
Material: Acrylic
Color: Shadow
Weight: 0.17 Pounds
Number of Pieces: 1
Product Care Instructions: Machine Wash
There are tons of yarn options out there that will be great for slippers. But not all of them tend to provide great value for money. If you are looking for one that will be worth the investment, then you should totally check out this yarn.
What makes this yarn particularly suitable for slippers is that it is super bulky. This trait of the item allows it to be used for other purposes as well – for instance, you can use it to make accessories, crochet garments, etc.
Despite being bulky, you can work efficiently and quickly with these yarns, thanks to their amazing stitch definition. This aspect makes them rather versatile as well, so you won't feel the need to get another yarn for your projects.
While being easy to work with, this yarn is durable as well. It has been made using 100% acrylic, and the quality will not deteriorate even when you machine-wash it. It won't shrink or felt, no matter how many times you wash it. Hence, you will not have to worry about its longevity at all.
What makes the yarn even better is that it comes with a knitting gauge of 11sts. On the other hand, you will also be getting an 8mm needle with the yarn, which will make the process of knitting stitches for your slippers a lot easier.
But the benefits of this yarn are not limited to just that. It also comes with a crochet gauge of 8sc and 9 rows. You can use the 8mm needle in this case as well – making your projects much more efficient and smooth.
Verdict
This is a bulky yarn used for various purposes.
2. Lion Brand Yarn Birch Tweed Yarn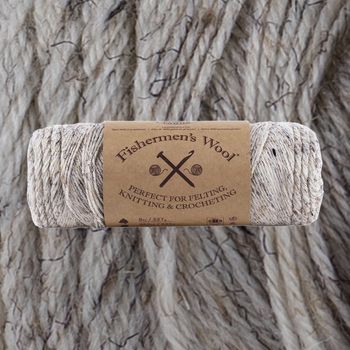 Features
Material: Wool, Acrylic
Colour: Birch Tweed
Weight: 0.38 Pounds
Number of Pieces: 1
Product Care Instructions: Hand wash
Not many yarns have ample resistance to water, which might make you think twice before washing your slippers. However, if you use this yarn, you can wash them without worrying about shrinkage – find out more right here.
If you use this yarn for your slippers, then you will always feel comfortable because its wool material makes it really soft and warm. With a mix of lanolin oil and 78% authentic virgin wool, it will provide the coziest feeling.
This aspect of the yarn makes it suitable for multiple other uses as well. For instance, you will be able to make fishermen sweaters, scarves, hats, etc. Hence, even if you primarily get it for sweaters, it will be useful in other aspects too.
What makes it even more versatile is that it can be used for felting once it has been machine washed. On the other hand, you can dye it as well according to your convenience.
Other than that, it is not a good idea to machine wash the yarn – rather, you should always stick to hand washing it and then lay it flat to dry. Make sure to use a gentle detergent for the purpose.
Despite being soft and comfortable, the yarn is rather long-lasting as well. Other than wool, the yarn also contains acrylic as one of its contents – so you can expect the yarn to be sturdy.
Verdict
This is a soft and comfortable yarn that will last long.
3. Patons Classic Wool DK Superwash Yarn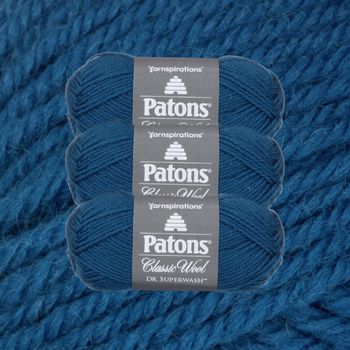 Features
Material: Wool
Color: Off-White
Weight: 5.6 Ounces
Number of Pieces: 3
Product Care Instructions: Machine Wash
Tired of slippers that do not last long? Well, once you use this yarn for making your slippers, you can never go back – because it is going to last a lifetime. But its longevity is not its only benefit – there are a lot more that we will discuss.
This double knitting weight yarn will make using your slippers more convenient for you. With this, you can easily machine wash and dry it without taking the hassle of doing it by hand – this will save both your time and energy.
At the same time, this yarn will provide comfort like none other. Since it is made of wool, it is bound to provide warmth, and it will be soft enough to make it cozy for you. Once you use this, you can't switch to other materials.
On the other hand, this yarn excels in the sector of stitch definition. It also knows how to keep the details right. Hence, you won't be able to spot any imperfections in your slippers once you use this.
Whether it is for crocheting or for knitting, this item comes with the perfect gauges for that. With a knitting gauge of 22sts and 28 rows, alongside a crochet gauge of 17sc and 20 rows, you can accomplish versatile projects.
No need to worry about running out of the yarn because you will be getting 3 in the package. Each of the yarn is about 50g, so you will be getting about 150g of yarn.
Verdict
Here is a versatile and soft yarn for slippers and more.
Things To Consider Before Buying
Not every yarn type is suitable for making slippers – similarly, not all of them will stand up to your expectations and fulfill your requirements. To make sure you don't make any wrong purchases along the way, you need to be careful.
For instance, when getting a yarn, you need to focus on a lot of aspects that match your criteria. Starting from the durability of the yarn to the comfort that it provides – you need to see it all.
But focusing on so many aspects can seem to be quite hassle-some. That is why we have made a list of all the key factors – just for your convenience. If you keep all of these in mind, then your purchase will be satisfactory.
Shrinkage & Felting
While we may want to shrink our over-sized Nike t-shirts, the case is not the same for our shoes. That's why we need yarns that do not shrink. Also, typical wool yarns are susceptible to felting, which we don't want either. That's why we chose super-wool and wool-acrylic blends. You won't have to worry about felting or shrinkage at all.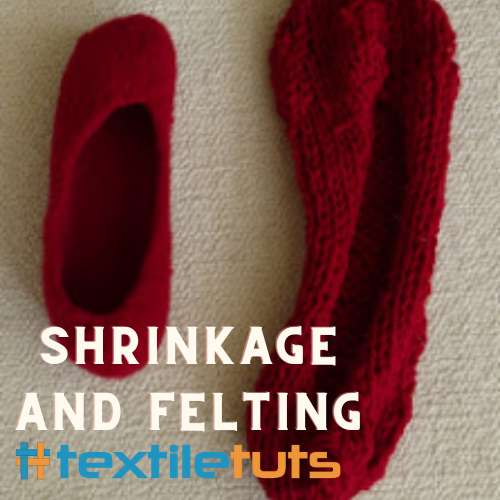 Material
If you want your slippers to feel good after you wear them, then you really need to focus on the material of the yarn. Whether it is durability or comfort, it all depends on the material.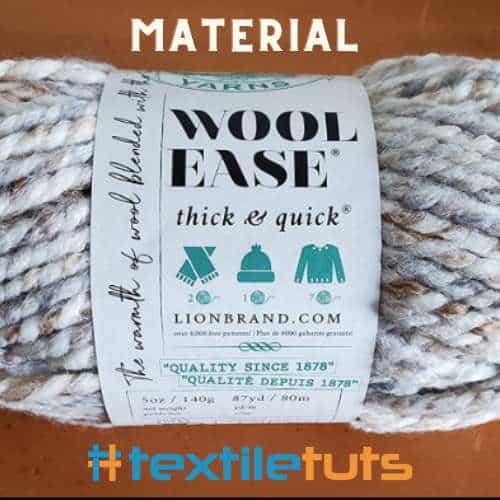 For slippers, we would suggest you go for wool because it tends to be the best in terms of comfort and durability.
Color of the Yarn
You surely wouldn't want your slippers to be boring, so you should look for colorful yarn options to design your slippers.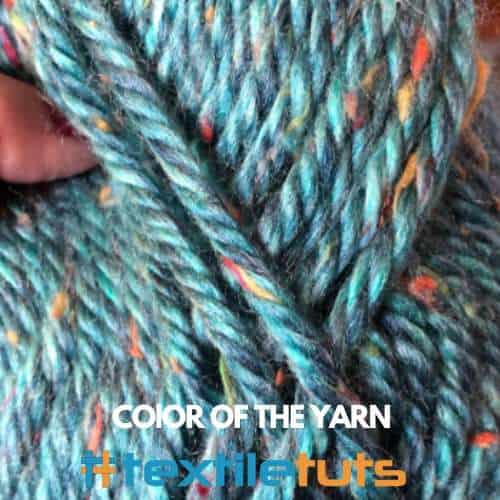 Even if the options are not multi-color or color-changing yarns, try to go for a vibrant color to make sure it looks good.
Knitting and Crochet Gauges
When choosing yarn for slippers, checking the knitting and crochet gauges is quite important.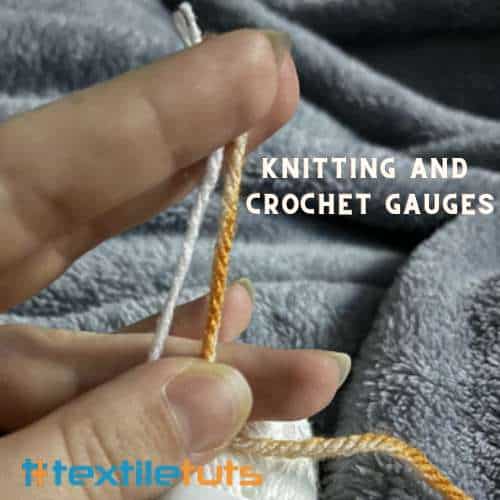 So, make sure to check those when looking for a yarn because it will also let you know which needles you should be using.
Machine-Washable or Not
You need to wash your slippers every once in a while because they will obviously get dirty. But washing can be another hassle if you cannot put it in the machine.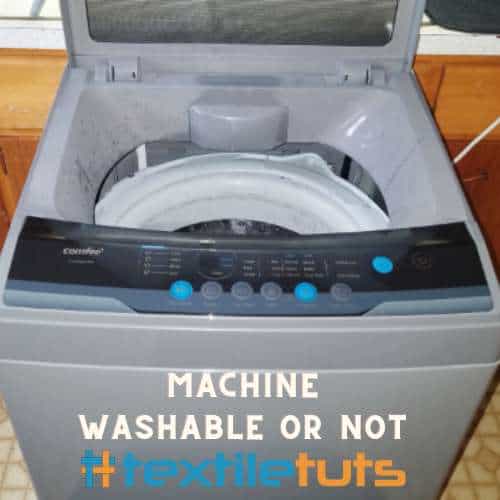 Hence, go for yarns that can be even washed in a heavy-duty washing machine because that will save a lot of hassle for you.
Softness
We have talked about how comfort is important when it comes to slippers. And most of the comfort comes from the softness that the material provides.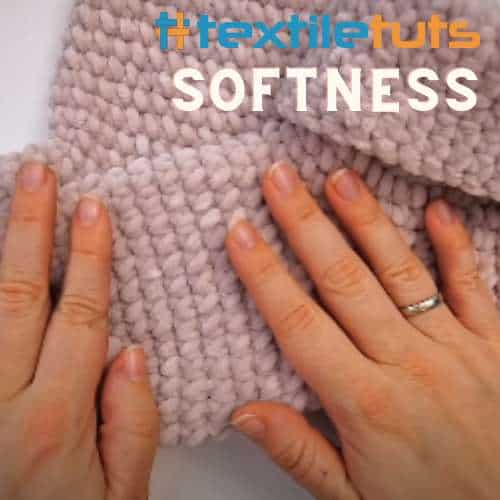 Again, wool would be a really good choice in terms of softness. However, make sure you are not allergic to wool before you get wool yarn.
Multi-Purpose
If you are into knitting or crocheting, then chances are you will be using your yarn for more than just the slippers.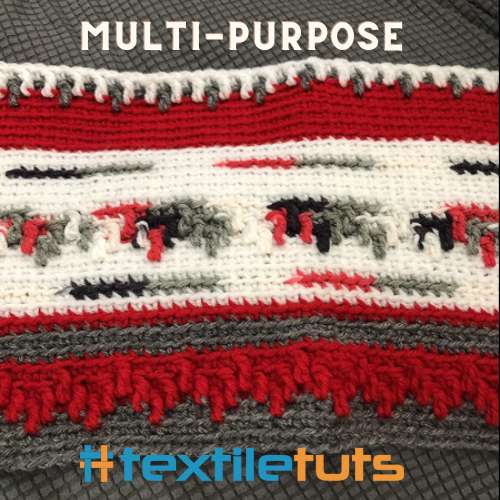 In that case, you should look for multi-purpose yarns that can be used for various projects.
Value for Money
Another important aspect to look for is whether or not the yarn provides good value for money. You wouldn't want to invest your time and money into something that isn't worth it.
So, try to get a yarn that will be worth the investment.
Ease of Use
You wouldn't want your project to become stressful for you. Hence, you should go for a yarn that is easy to use.
To make sure that the yarn is fairly easy to knit or crochet, go through its reviews.
Frequently Asked Questions
What is the best yarn to use for knitting slippers?
The best yarn for knitting slippers would either be wool or alpaca. What makes them ideal for the purpose is that they are both comfortable and durable – hence, making the perfect slippers.
What can I use for crochet slipper soles?
For your crochet slippers, you can use wool felt or suede leather soles. In most cases, if you are using wool yarn for the slippers, then wool felt soles would be suitable. Suede leather soles are good for other material yarns.
How many yards of yarn do I need for slippers?
The yards of yarn needed for slippers will surely depend on the size of the slippers themselves. However, you can estimate the work to be done within 200-300 yards of yarn.
What is the most durable type of yarn?
The most durable type of yarn is wool. That is why wool is the most preferred yarn for use unless the user has an allergy to wool. Acrylic is also a pretty durable yarn material.
Can I use slipper yarns for other purposes?
Yarns, in general, can be used for various purposes. So, if you buy a set of yarns or one yarn to make slippers, you can use the rest for other purposes as well.
Final Words
Things always turn out to be better and up to your expectations when you make them yourself, and that is why we highly encourage you to get the most suitable yarn for crocheting your slippers.
With the ideal yarn, you will realize that making slippers is actually quite fun – and we are glad that our article could help you with that.
REFERENCES