Yarn Count Calculator and Converter
If you have yarns lying around and don't know their counts, you can use this calculator to get the standard yarn counts in both direct and indirect systems.
We have also added another calculator through which you can convert your yarn's count to other popular direct and indirect yarn counting systems.
Yarn Count Calculator from Length and Weight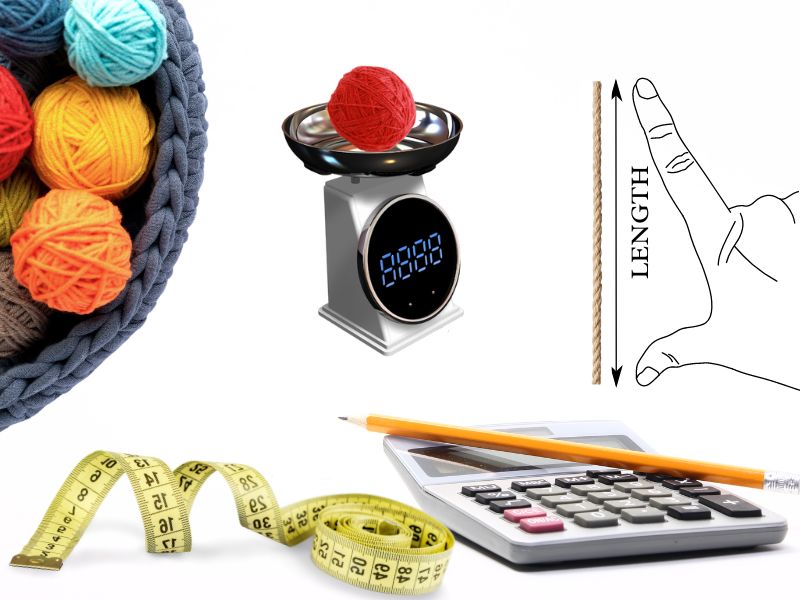 Yarn Count Converter
How to Use Our Yarn Count Calculator
Well, it's pretty straightforward.
Measure the length of your yarn or filament with whatever measuring device you have. You can input the values in Meters or Centimeters or Yards or Inches.
Weigh your yarn on any type of scale you have at your home. Remember a precise weighing scale will ensure an accurate measurement. And do not forget to make sure that your yarn or filament is dry and conditioned.
Input the length and weight in our calculator and you will get your yarn count in different measuring systems.
Short Overview of Yarn Count Systems
| Count | Meaning |
| --- | --- |
| Tex | Weight in gms per 1000m of yarn |
| Decitex | Weight in gms per 10,000m of yarn |
| Metric Count (Nm) | Lengths in 1Km per 1Kg |
| Denier | Weight in gms per 9,000m of yarn |
| English Count (Ne) | Lengths in 840 yds per 1 lb. |
| Worsted Count (Cwst.) | Lengths in 560 yds per 1 lb. |
| Woollen Count (Wysw) | Lengths in 256 yds per 1 lb. |
| Jute Count | Weight in lbs. per 14,400 yds. of yarn |
| Linen Count (Lea) | Lengths in 300 yds. per 1 lb. |
| Dewsbury Count (Wdew) | Length in yds. per 1 oz. |