Does Bio-Oil Stain Clothes? – The Friendly Skincare
Bio-Oil, a renowned skincare product, is known for its effectiveness in diminishing scars, stretch marks, and uneven skin tones. It is an oil-based product, which usually raises concerns about its potential to stain clothes.
Yes, like many oils, Bio-Oil can potentially stain clothes due to its oily composition. Bio-Oil generally does not cause permanent staining if handled appropriately. It's best to allow the oil to fully absorb into your skin before dressing or wearing clothes that you don't mind potentially getting stained.
In this blog post, I will explore the facts that cause Bio-Oil to stain clothes and provide some tips on how to prevent staining and remove any marks that may occur. I will also let you know about the fabrics most susceptible to Bio-Oil stains.
Can Bio-Oil Cause Stains on Clothing?
Bio-Oil is widely recognized for its numerous skincare benefits, most commonly used to improve the appearance of scars, stretch marks, and uneven skin tone. However, one frequent concern about using Bio-Oil is whether it can cause stains on clothing.
Bio-Oil is an oil-based product, and like most oil-based products, it can potentially leave stains on clothing and other fabrics. If applied excessively or if clothes are put on immediately after application without allowing the oil to absorb into the skin fully. These stains can sometimes be more prevalent on lighter-colored clothing.
The chances of staining can increase depending on the fabric type. Certain fabrics like silk and satin are more susceptible to oil stains.
To avoid staining your clothes, it's recommended to let the oil completely absorb into your skin before getting dressed.
If a Bio-Oil stain occurs, treat it immediately with a grease-fighting laundry detergent or dish soap. This can help remove the oil from the fabric and avoid any lasting discoloration.
What types of Clothing are Susceptible to Bio-Oil?
Almost any type of clothing can develop a stain if it comes into direct contact with Bio-Oil, but the susceptibility of different types of fabrics can vary. Here are some examples of fabrics that could be more susceptible to Bio-Oil stains: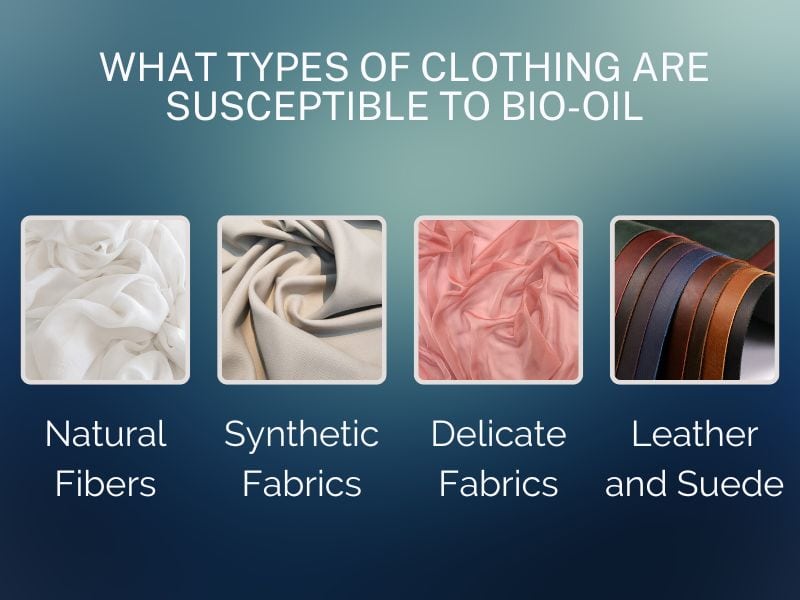 Natural Fibers
Cotton: Cotton is a widely used natural fiber that quickly absorbs liquids and oils. While it's comfortable to wear, it's also prone to staining.
Silk: Silk is a delicate and luxurious natural fiber easily stained by oils. It's advisable to be cautious when using products like Bio-Oil while wearing silk clothing.
Synthetic Fabrics
Polyester: Polyester is a standard synthetic fabric that doesn't absorb liquids as readily as natural fibers. However, it can still develop stains if the oil is not promptly removed.
Nylon: Similar to polyester, nylon is relatively resistant to absorption but can still be stained by oils.
Blends: Many clothing items are made from blends of natural and synthetic fibers. These blends' absorbency and stain susceptibility can vary based on the fiber ratio.
Delicate or Sheer Fabrics
Chiffon: Chiffon and other delicate or sheer fabrics are often prone to staining due to their lightweight and porous nature. They can easily pick up oils and develop visible stains.
Leather and Suede
These materials can also be prone to oil stains, and oil stains on these materials can be particularly challenging to remove.
How to Remove Bio-Oil Stains from Clothes?
Prompt action can increase your chances of successful stain removal if you've accidentally stained your clothes with Bio-Oil or any other oily substance. Here's a step-by-step guide on how to remove Bio-Oil stains from clothes: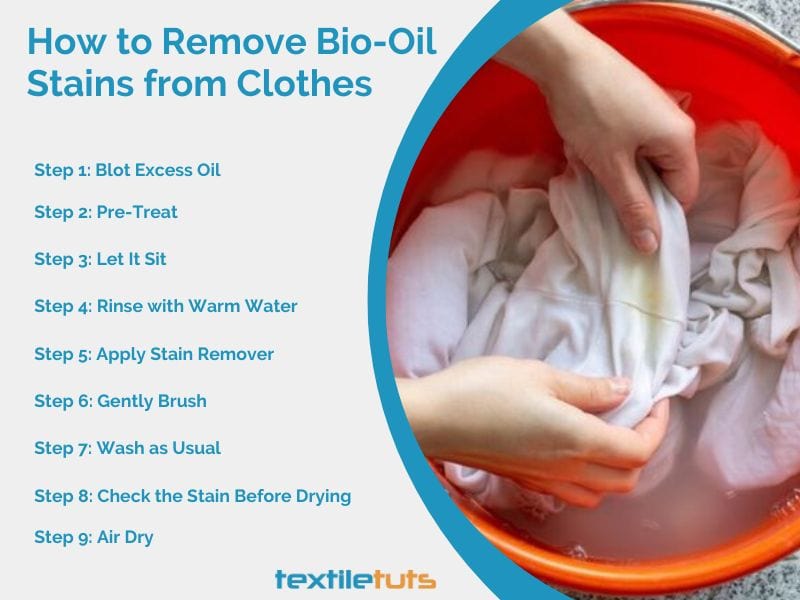 Materials You'll Need
Paper towels or clean cloth
Dishwashing liquid or laundry detergent
Stain remover or pre-treatment solution
Water
Soft-bristle brush or toothbrush
Washing machine
Step 1: Blot Excess Oil
Use a paper towel or clean cloth to blot the stain gently. Avoid rubbing, as this can spread the stain further.
Step 2: Pre-Treat
Apply a small amount of dishwashing liquid or laundry detergent directly onto the stain. Gently rub the detergent into the stain using your fingers.
Step 3: Let It Sit
Allow the detergent to sit on the stain for 10-15 minutes. This helps break down the oil.
Step 4: Rinse with Warm Water
Rinse the stained area with warm water. This helps remove the detergent and some of the oil. Do not use hot water, as it can set the stain.
Step 5: Apply Stain Remover
Apply a stain remover or pre-treatment solution directly to the stain. Follow the product's instructions for application.
Step 6: Gently Brush
Use a soft-bristle brush or a toothbrush to scrub the stain gently. Be cautious not to damage the fabric.
Step 7: Wash as Usual
Wash the garment as you normally would, following the care instructions on the clothing label. Use the warmest water temperature recommended for the fabric.
Step 8: Check the Stain Before Drying
After washing, check the stained area before putting the garment in the dryer. If the stain is still visible, avoid using heat, as heat can set the stain. Instead, repeat the stain removal process.
Step 9: Air Dry
Once the stain is completely gone, you can air dry the garment. Avoid using the dryer until the stain is fully removed, as heat can set residual stains.
Important Tips
Act quickly to treat the stain before it sets.
Always check the care label of the clothing for specific washing instructions.
Test any stain removal method on an inconspicuous area of the fabric before applying it to the stain.
Avoid using heat (hot water, dryer) until the stain is completely removed to prevent setting the stain.
Stubborn stains might require multiple treatments, so be patient and persistent.
Preventing Stains: Precautionary Measures
Preventive measures can help minimize the risk of Bio-Oil and other oily product stains on your clothing. Here are some precautions you can take: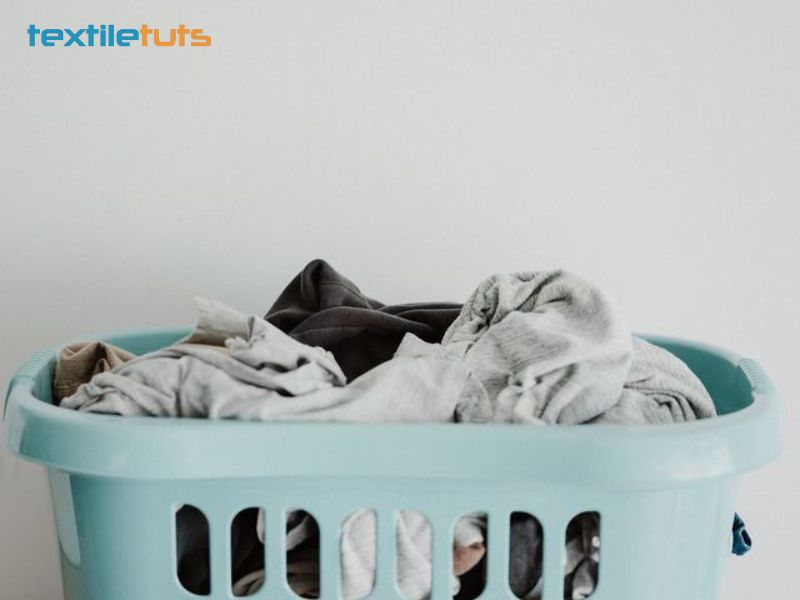 Apply Sparingly
Use Bio-Oil sparingly and make sure it's fully absorbed into your skin before putting on clothing.
Wait Before Dressing
Allow the Bio-Oil to absorb before wearing clothes. This can reduce the likelihood of transfer to the fabric.
Clothing Choice
Wear clothing made from less absorbent fabrics, such as synthetic blends. Avoid wearing delicate or light-colored clothing when applying Bio-Oil.
Protective Barriers
Consider using a thin cloth or towel as a barrier between your skin and clothing while applying Bio-Oil. This can help prevent direct contact and potential transfer.
Spot Test
Perform a spot test on an inconspicuous area of the fabric before applying Bio-Oil to larger areas. This can help you assess how the fabric reacts to the oil and whether staining is likely.
Handle with Care
Bio-oil containers should always be handled with utmost care to avoid spillage. Never hold the bottle from its top or by its cap, instead grip it from the body to avoid slipping.
Application Techniques
Apply bio-oil gently and in a controlled manner. Excessive application will result in unnecessary spillage or staining. Use just enough to cover the area without unabsorbing the excess product lightly.
Use in an Appropriate Setting
Avoid applying bio-oil near fabric materials such as bedding, clothing, or upholstery. Any accidental spillage on these surfaces can cause staining. A tiled surface, or one easily wiped clean, is ideal.
Follow Instructions
Read and follow the usage instructions provided on the Bio-Oil packaging. This can include guidance on the application and potential staining.
Wash Hands
Wash your hands thoroughly after applying Bio-Oil to avoid accidentally transferring it to your clothing.
Prompt Action
If you accidentally spill Bio-Oil on your clothing, try addressing the stain using the removal steps mentioned earlier as soon as possible.
Conclusion
Despite its numerous benefits for the skin, Bio-Oil poses a risk of staining clothes due to its oily consistency. However, this is not solely exclusive to Bio-Oil but is a common attribute of most oil-based products.
To prevent potential staining, it is advised to let the product fully absorb into the skin before getting dressed, and if staining occurs, attending to it immediately improves the chances of completely removing it.
Thus, while Bio-Oil does have the potential to stain clothes, conscientious application and quick stain treatment can effectively mitigate this concern. Your optimal skincare routine should not be compromised due to this minor drawback.