Blowroom : Function & Operations
If you're interested to venture into the world of spinning, especially the domain of ring spinning, you must know about the inner workings of a top-of-the-line blowroom section. This is the very first step of manufacturing yarn, and it comprises of quite a few numbers of machinery. Actually, the highest!
What is Blowroom?
Blowroom is the segment where the delivered compacted bales are turned into an even lap of a certain length. And this is done by opening them into small tufts first. Then, these fibers are cleaned with the help of beaters & mixed homogeneously, or they are blended with different grades of bale. These are the operations that are usually carried out in a blowroom section.
Besides, this section has a cleaning accuracy of 40-70%. In ring spinning, it is responsible for contributing up to 10% of the total manufacturing costs. Well, the two most widely used brands of blowroom machinery are from Rieter, Switzerland, and Trutzschler, Germany.
Functions of Blowroom
From the above section, you may have already got an idea about its functions. Anyway, these are the major ones –
Opening the compacted fiber bales.
Cleaning the fibers for enhanced quality of yarn.
Blending the diverse categories of fibers to lessening the manufacturing cost.
Forming lap from packed down cotton bales.
Basic Operations Involved in Blowroom
The basic operations can be categorized into 4 sections. Take a look at them –
1. Fiber Opening
Opening the compacted bales into small flocks.
Converting the cotton flocks into as tiny as possible
Flocks or the tufts weight is condensed to roughly 0.1 mg.
2. Fiber Cleaning
Elimination of dust, fragmented seeds, dry leaves, stems, and other external ingredients from the fibers.
3. Fiber Mixing or Blending
Same or different grades of fibers get mixed and blended altogether to manufacture quality yarn and lessen the raw material cost.
4. Lap or Chute Formation
Transferring the opened up and cleaned flocks into a thin sheet form called a lap. It has a fixed width and constant length.
Blowroom needs to make sure that raw materials fed to the card are even.
This is implemented through the precise wt. of laps collected from the scuthcher.
In the modern blowroom line, the chute feed system also forms the lap.
Operating Zones in the Blowroom
Operating Zones
Functions
Examples
01. Gradual Opening
Gradually opening the fibers out of the bales into small tufts.
a) Automatic bale opener.

b) Unifloc – Reiter, Switzerland. c) Blendomat – Trutzschler.

02. Extensive Cleaning
Cleaning the trash particles (unit size beyond 500 µm)
a) The Step Cleaner.  

b) Uniclean of Reiter.

03. Blending or Mixing
Mixing homogeneously or blending the fiber evenly.
a) Integrated Multimixer, Trutzschler.
b) The Unimix, Reiter.
04. Fine Cleaning
Eliminating macro-dust (unit size 50- 500 µm)
a) RN cleaner, Trutzschler.
b) Uniflex, Reiter.
05. Intensive Cleaning
Eliminating micro dust (unit size 15- 50 µm)
a) ERN cleaner, Reiter.
b) Kirschner beater.
06. Lap or Chute feeding to the card
Even lap or chute feed to the card
a) Lap feed.
b) Chute feed A11, Reiter.
Opening
Firstly,  fibers are opened up, forming small tuft or flock and reach to the card as lap or chute where it gets opened to a single fiber stage. These stages of the opening must be discussed:
Opening the flocks in Blowroom.
Opening the fibers in Card and Open End spinning.
Factors That Influence Opening and Cleaning
The accuracy of opening and the intensity of cleaning & fiber damage are primarily dependent and influenced by:
Firstly, the nature of opening device
Secondly, RPM of the opening device
Besides, amount of penetration through the material
Furthermore, form of feed
Most importantly, distance of the feed material from the opening device
Style of the grid
Area of the grid exterior
Grid airflow settings
Condition of pre-opening
Breadth of the feed web
Material delivery rate
Arrangement of the instrument in the machine series.
Opening Devices Used in Blowroom
| Type | Appearance | Description |
| --- | --- | --- |
| Rollers | | Small diameter, widely used, e.g. in step cleaners. |
| Drums | | Large diameter, e.g. in the mono-cylinder cleaner. |
| Quilted Shaft | | Shaft with many long beater rods, hardly used |
| Multiple-blades Beater | | Two, three, or more arms. Now used only in old blowroom lines. |
| Spiked Lattice | | Endless belts with transverse wooden or plastic bars in which needles are set, gives very gentle opening. |
| Picker | | In the bale picker and blending grab (both outdated). |
| Carding Bars or Plates | | The devices associated with the carding drums of the card. |
Cleaning
Elimination of the contamination and foreign tools as well as increasing the cleanness of the raw materials affect the ultimate yarn quality.
Cleaning Index CT = (DF-DD)/DF  x 100%
DF= Dirt amount in the feed material
DD= Dirt amount in the delivery material
Significant Machine Parts of Blowroom
Grids
Firstly, grids are horizontal trough-shaped devices that consist of several individual multilateral bars or blades. And combining all of these they form a rack under the opening segment.
Elements used in the grid –
Perforated and slotted sheets,
Triangular segmented bars,
Angular bars and
Multilateral Blades.
Different Blowroom Lines
Trutzschler Blowroom Line

Automatic bale opener Blendomat BO-A 
↓
Multifunction separator
↓
Multimixer
↓
Clenomat cleaner
↓
Foreign part separator
↓
De-dustex
↓
Chute feed

Rieter Blowroom Line



Unifloc 
↓
Uniclean
↓
Unimix
↓
Uniflex/Unistore
↓
Chute feed
Trutzschler Blowroom Line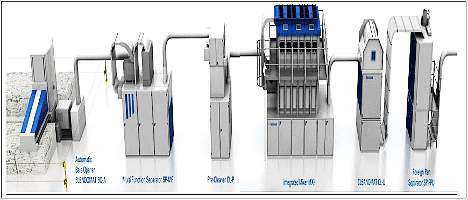 Specifications of Blendomat BDT
Firstly, gentle, gradual, and uniform opening.
Productivity up to 1500 kg /hr.
Besides, easy to operate.
Marginal maintenance.
Moreover, wide range application.
Furthermore, able to maintain 3 groups of bales at a time.
Hence, able to process 180 bales per lay down and continuous production for 48 hours.
Thus, process both by lot and constant bale supply
Above all provides process visualization interface
Specifications of Multi-Function Separator
In downstream of the Automatic Bale Opener BO-A, the Multi-Function Separator SP-MF is positioned. All the tasks function consistently at all times. The manufacturing rate is up to 2,000 kg/hr, which is maintained by an incorporated microcomputer control.
Utilizes suction pressure of BLENDOMAT
Heavyweight cleaning
Metal elements separation
Dust elimination
Wastage feeding
Specifications of Multimixer
Trutzschler Multimixer system proposes distinct resolutions for every task, in the area of single-component staple fiber mixing.
Specific mixer scopes for every task
Supreme homogeneity due to precise and reproducible blending
Uniform appearance of products by improving the mixing
Specifications of Clenomat Cleaner
Finest opening and cleaning altogether with exceptionally smooth fiber handling, at 1,000 kg/hr, and even more.
Firstly, easily set the amount of cleaning by means of exclusively modifiable cleaning elements even at the time of production
Secondly, faultless adaptation to each cotton by the aid of specifically advanced wire and saw tooth rollers
Besides swift raw material alteration by the help of extremely adjustable roll drives
Moreover, sparkling machine due to direct suction that allows handing out of even humid fibers
Furthermore, superior yarn quality and enhanced running performance in Open End and ring spinning through specific stable dust cleaning of the cotton
Hence, elimination of maintenance expense due to maintenance-free electric motor and belt drives
Thus, stable observing and accuracy control by means of incorporated Trutzschler microcomputers
Specifications of Foreign Part Separator
Firstly, this machine offers the state of the art separation technology.
Secondly, it has some unique technologies such as its diversified function, number of detection units and lighting technology as well
Besides, difficulties regarding the identification of opaque, colorless, and white PP (polypropylene) have been fixed.
Furthermore, it permits the exposure of transparent and semi-transparent polypropylene parts as well as fluorescent parts.
Hence, incorporated high-performance dust deduction module makes this arrangement an upright choice in rotor spinning mills.
Specifications of De-dustex
Firstly, superior accuracy dust separator at the termination of the cleaning line.
Secondly, efficiently eradicates even micro-units of dust
Moreover, convenient for Open-End and air-jet yarn applications.
Rieter Blowroom Line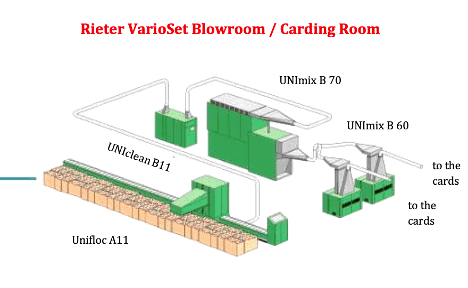 Specifications of Unifloc
Firstly, collects fibers consistently from all the bales of a laydown;
Secondly, opens up the fibers gradually and gently;
Opens up to the smallest flock or tufts;
Formation of flocks of equal size;
Besides, in a single up and down, process as many bales as possible;
Moreover, universally appropriate as easy to operate;
Furthermore, right at the beginning of the process starts blending fibers;
Thus, allows the blending of fiber from multiple constituents (fiber origins).
Specifications of Uniclean
Firstly, superior cleaning of the fiber due to free fiber movement and the use of adaptable grid bars.
Secondly, large dust removal surface makes sure thorough dust cleaning even at greater production rate.
Besides, simple visual test allows quick value assessment of wastages.
Moreover, the Uniclean is intended for delivery speed of up to 1400 kg/hr (card sliver).
Furthermore, with effective cleaning, fiber realization is up to 2% greater than the conventional ones.
Most importantly, the energy required for wastage transportation is small as a result of alternating extraction.
If the bale opener, Unifloc, is handing out diverse varieties, the working format exact to the fiber is spontaneously designated on the Uniclean B 12.
Uncomplicated machine configuration all through operation by means of VARIOset.
Thus, connection to Unicontrol blowroom control system is available.
Specifications of Unimix
Firstly, Uniform blending.
Besides, Extraordinary throughput
Moreover, Simple arrangement
Furthermore, Few wearing parts
Delivery speed up to 800kg/h
Eight chamber blending
Hence, Extended storage capacity
Thus, Amazing degree of flexibility for diverse materials
Specifications of Unistore
Firstly, It is a fine cleaning machine.
Secondly, blend cotton is provided to this machine for thorough cleaning.
Flocks of cotton are transformed into a very tiny size, and cotton is cleaned by eliminating contamination (leaves, sand) without further harm to the fiber.
Besides, RPM of the beater, number of spikes, and grid bar setting perform a significant role for the cleaning of cotton.
Frequently Asked Questions 
1.
Is the lap feed system better than the chute feed system?
No. In carding, fibers are individualized and brought into single fiber stage. The chute feed system is basically feeding the small tuft or flock to the carding machine. It is more convenient for carding machines to process these tufts of fiber rather than the lap. Besides, it minimizes the manpower needed for the lap feeding system. Moreover, the chute feed system provides a greater production rate.
2.
Why blowroom is separated from other machinery in spinning mills?
Cotton bales come with a lot of contaminants, and cleaning is a major function of blowroom. This section is always polluted with dust, trash, and impurities. Fiber has been cleaned up here numerous times in different machines. As the number of contaminants is much higher in this section, that is why it is kept separated so that the cleaned fibers don't get mixed with the contaminants again.
3.
Why 100% cleaning is not done in the blowroom?
Well, There are two reasons mainly behind this. Firstly, more cleaning gets more wastage. Hence, If wastage is too much higher, the profit margin gets lower, which ultimately results into loss for the spinning mills. Secondly, more cleaning needs more RPM of beater , which leads to more damage to the fiber. So, keeping these in mind, cleaning up to 70% is a general practice in the blowroom.
References: