Is Carbon Fiber Bulletproof – The Myth VS The Reality
Is carbon fiber bulletproof? Some people seem to think so. They see it as this magical material that can withstand any kind of attack. I mean, it can stop a speeding bullet, so it must be able to protect us from John wick with his 9mm. Well, as much as we all want to believe that carbon fiber can do anything, the short answer is unfortunately no. It turns out that carbon fiber is not bulletproof (or even close to it).
But don't worry – while it might not be able to stop a bullet, carbon fiber still has plenty of amazing benefits that make it an awesome material for many different applications.
Is Carbon Fiber Bulletproof? – Origin of the Myth
The rise of carbon fiber being bullet-proof is related to its properties and usage, anyone can get confused with the properties of carbon fiber and bullet-proofing. Especially when it's known that carbon fiber is used in building bullet-proof vests.
Let's have a look at the Properties of Carbon Fiber,
Carbon fibers are strong, durable, and flexible.
Used in a variety of applications. (For example, Composite materials, Armor materials, Construction materials, etc)
High stiffness, high tensile strength, low weight, and chemical resistance.
High density means better force and Impact resistance.
Tolerate high temperatures and low thermal expansion.
It's lighter than steel.
It is one of the strongest and most durable materials available today. It is often used in a variety of applications, ranging from automotive manufacturing to aerospace engineering. However, they are not bullet-proof directly but rather used in the different layers of bullet-proof vests.
Is Carbon Fiber Bulletproof? – The Cold and Hard Reality


While carbon fiber is an incredibly strong and durable material, it is not bulletproof. No material is completely bulletproof. The term "bulletproof" is a misnomer. It would be more accurate to say that materials are bullet-resistant. Even the most bullet-resistant materials will eventually succumb to the immense force and energy of a bullet.
For more proof, you can check out the simulation run to see what happens when a bullet hits carbon fiber here. However, there are other materials that can withstand a bullet.
Bullet Vs Vest
Usually, the carbon fiber helps to break up the bullet, while the other layers help to capture and dissipate the energy from the bullet. Bulletproof vests are also often fitted with rigid plates made from materials such as aluminum or ceramic in many different layers, which provide additional protection for vital body parts such as the chest and abdomen.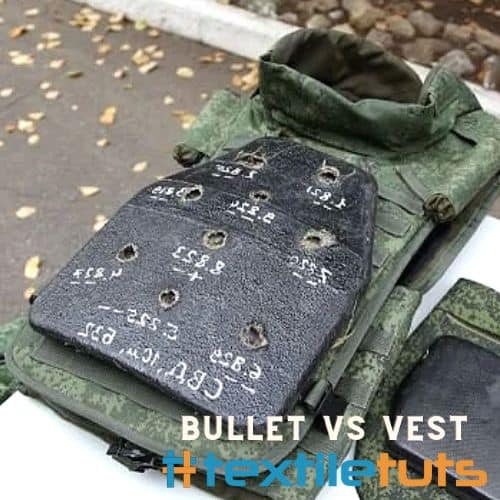 Bulletproof Vests or Body Armor
A bulletproof or bullet-resistant vest is an essential piece of equipment for law enforcement and military personnel. The vest is designed to stop bullets from penetrating the wearer's body. A lot of research and many factors go into account while making a vest, and choosing the right armor material for the composite is the most important one.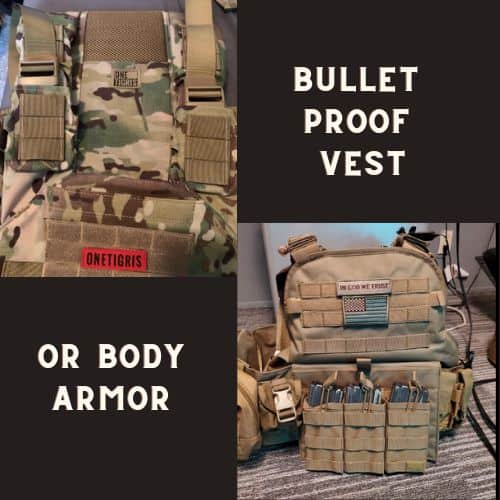 It is typically made from a combination of materials including carbon fiber, Kevlar, and other synthetic fibers in many layers. The number and thickness of layers vary depending on the level of protection required, but typically a vest will have at least two layers of carbon fiber and one layer of another material such as Kevlar.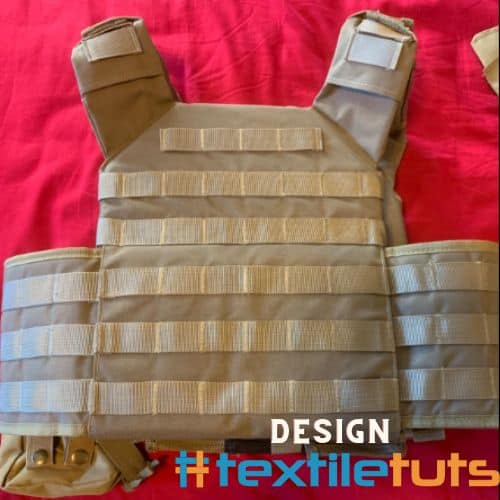 Let's introduce you to some armor materials that are used to make bullet-proof vests.
Carbon Nanotube
This variation of carbon fiber is stronger and bullet-proof. The structure of a carbon nanotube is a lightweight, cylindrical tube made of bonded carbon atoms. Nanotubes are hollow cylinders formed from carbon atoms linked together in a repeating hexagonal pattern/shape. NanoArmor© Advanced Rifle Plates uses advanced carbon nano-tube technology to stop a wide variety of ammunition while minimizing blunt force trauma.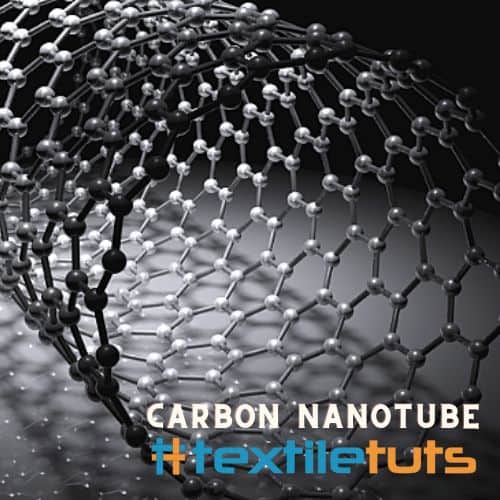 Types of Different Carbon Nanotubes
Single-walled carbon nanotubes (SWCNTs) The strongest type of carbon nanotube and, the most expensive. Best If you need the absolute highest level of protection
Multi-walled carbon nanotubes (MWCNTs) are less strong than SWCNTs, but they are less expensive and easier to produce.
Graphene nanoribbons are similar in strength to SWCNTs, but they are even more expensive.
Carbon nanofoam Graphene nanoribbons are similar in strength to SWCNTs, but they are even more expensive.
Kevlar
Kevlar is a type of plastic with a very high tensile strength. It is a polymer that has repeating units to form chains units linked together to create bigger molecules. The molecules of Kevlar are parallel to one another and tightly bound, making the material reasonably bulletproof.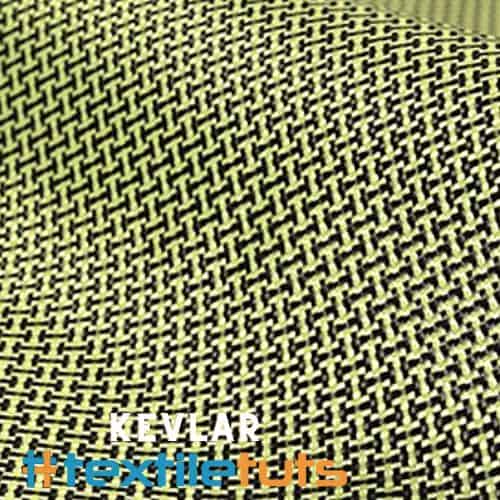 Kevlar vests absorb and dissipate the energy of bullets by trapping them in the web of strong fibers, taking away the impact and kinetic energy of the bullet.
Types of Different Kevlar
Kevlar 29: This type of Kevlar is often used in bulletproof vests and other body armor. It has ultimate tensile strength, making it resistant to tearing and puncturing.
Kevlar 49: This type of Kevlar is often used in aircraft and automotive applications. It has a high resistance to heat and flame, making it ideal for high-temperature environments.
Kevlar 119: Most popular Kevlar used in building bulletproof armor vests. It has high abrasion resistance, making it resistant to wear and tear.
Aramid
Aramid fiber is made by taking extremely thin fibers of synthetic materials and twisting them together. This creates a thread that can be woven into fabric. Aramid fiber is a synthetic material that is used in bulletproof vests and other types of armor.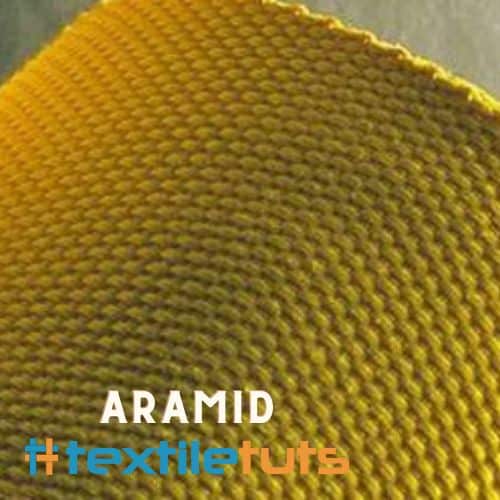 It has great tensile strength, making it capable of withstanding significant impact force. Aramid fiber is also lightweight and breathable, making it a popular choice for safety gear.
Types of Different Aramid
Poly (p-phenylene terephthalamide) or PPT is a high-performance polyethylene fiber that is used in bulletproof vests and other forms of body armor. PPT has high tensile strength, making it an ideal material for bulletproofing.
Poly (m-phenylene isophthalamide) or PMI is a high-performance polyethylene fiber that is popular in building cost-friendly bulletproof vests and other forms of body armor.
Poly (o-phenylene isophthalamide), or POMI, is a thermoplastic resin typically used in injection molding. POMI resins are known for their high strength and stiffness, as well as their resistance to heat, chemicals, and wear. POMI resins are also used in the manufacture of bearings, gears, and other mechanical parts.
Poly (hexamethylene adipamide) commonly known as HMA, is a thermoplastic that belongs to the family of nylons. It was one of the first synthetic polymers to be created and has been widely used in various industries since its discovery in the 1930s. Known for its toughness and resistance to heat, this material is frequently used in automotive applications as well as in the production of textiles and carpeting.
Frequently Asked Questions
Can carbon fiber break?
The answer to this question is yes, carbon fiber can break, Carbon fiber is not indestructible, and it can break under certain circumstances. One common way that carbon fiber breaks are if the material is not thick enough. For example, a carbon fiber bulletproof vest may stop a small-caliber bullet, but it will not be able to withstand a high-powered rifle shot.
What makes a carbon fiber break?
Carbon fiber composites are often held together with an epoxy resin, which can weaken over time and cause the carbon fiber to break. Carbon fiber composites can also break if they are damaged at the site of impact. A sharp blow to carbon fiber will typically cause the material to fracture. As a result, carbon fiber is a strong and durable material, but it is not invulnerable.
What is carbon fiber?
Carbon fiber is organic polymers as chain-bound molecules by carbon atoms. Carbon fiber is a material made of extremely thin fibers of carbon. It is incredibly strong and lightweight, making it perfect for use in armor and other protective gear.
How thick is bulletproof armor?
Bulletproof armor is typically about 2 to 3 millimeters thick. It is important to remember that even if a bullet cannot penetrate a fiber vest, it could still cause serious injury.
What is the actual color of carbon fibers?
Carbon fiber can be black, gray, or even colored, depending on the manufacturing process. For example, carbon fibers used in automotive applications are often colored, while those used in aerospace applications are usually black. The color of carbon fibers can also be altered by adding dyes or pigments to the manufacturing process. This can be used to create custom colors and designs.
Which is stronger fiber-glass or carbon fiber?
Both fiberglass and carbon fiber are strong materials. But carbon fiber is stronger than fiberglass. This is because carbon fiber has a higher tensile strength than fiberglass.
Last Words
Is carbon fiber bulletproof? Let's find out. I'll get a gun and you can stand in front of me. Ready? Shoot! Just make sure your insurance is paid up first. They just pierced through your fancy new armor like it was nothing. As it turns out, carbon fiber may not be quite as invincible as we once thought- but that doesn't mean it can't still hold its own against everyday dangers.
If you want to learn more about the different types of ballistic materials out there and how they stack up, keep reading our blog for more exciting posts coming soon!